Ben Poole releases his brand new studio album Anytime You Need Me on Friday 14th September 2018 via Manhaton Records. It follows his acclaimed 2016 album Time Has Come and Live At The Royal Albert Hall that was recorded by the BBC in 2014.
Anytime You Need Me was recorded at Superfly Studios in Ollerton, Nottinghamshire and produced  by King King drummer Wayne Proctor. "It was an absolute joy to work again with Wayne," said Poole. "He has a great ear and knows me well as an artist, and the result is amazing."
The new studio album marks a point in Ben's career where he feels he's really found himself as an all-round guitarist, singer and song-writer. The best representation on a studio record so far of the attitude, energy and excitement that he brings to his live shows. The album is said to be a melting pot of rock, blues and soul but with a pop sensibility in the songwriting allowing it to feel accessible throughout. The overall sound showcases a lot of grit and a swagger, with special emphasis on guitar tones and instrumental performances from everyone who played on the album.
For Anytime You Need Me Poole has said he was ready to do something harder hitting and more guitar based than previous album Time Has Come. While the main focus remained the writing of great songs more focus was given to Ben Poole the artist. The team was kept small and avoided having too much outside influence on the direction of the music. The album was co-written by Poole with Wayne Proctor and Steve Wright.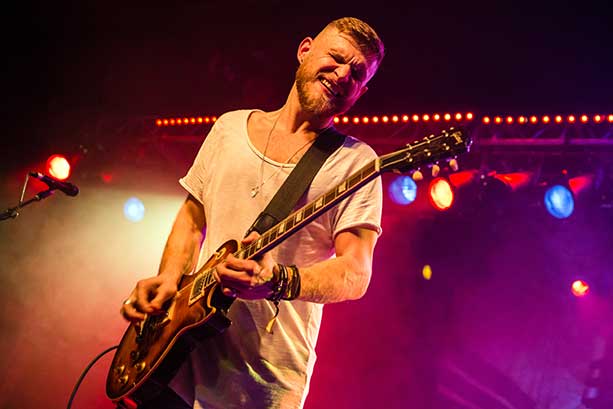 To celebrate the release of Anytime You Need Me Ben Poole will embark on a 14 date UK tour in November and December. Tickets for all concerts can be booked by clicking here.
BEN POOLE – NOVEMBER/DECEMBER 2018 UK TOUR

Latest Music Bar, Brighton   Wednesday 21 November
The Stables, Milton Keynes  Thursday 22 November
Old Schoolhouse, Barnsley   Friday 23 November
The Meeting Room, Elland  Saturday 24 November
The Beaverwood Club, Chislehurst  Wednesday 28 November
Oran Mor, Glasgow   Thursday 29 November
Cafe Drummonds, Aberdeen  Friday 30 November
The Green Hotel, Kinross   Saturday 1 December
Früit, Hull  Wednesday 5 December
Real Time Live, Chesterfield   Thursday 6 December
The Ropewalk, Barton upon Humber  Friday 7 December
Half Moon Putney, London  Wednesday 12 December
The Musician, Leicester   Thursday 13 December
The Railway, Winchester   Saturday 15 December