Ahead of their November UK headline tour Bad Touch have got together with the tour's special guest Mollie Marriott and recorded 'Baby Get It On', a special new single released on Monday 23rd October as a free MP3 download.
'Baby Get It On' can be downloaded from Planet Rock by clicking here. The song was recorded at Decoy Studios and mastered at Abbey Road Studios.
There's also an official music video for 'Baby Get It On' out now that you can view here at Ramzine. The video has already attracted over 43,000 views.
'Baby Get It On' was written by Ike Turner – who arguably wrote the first ever rock & roll number with 'Rocket 88' back in 1951 – as a duet sung with his then-wife on Tina Turner on her second solo album Acid Queen, released in 1975 after she had taken on that character role in the film adaptation of The Who's Tommy. You can catch Ike & Tina Turner performing the song on US TV show The Midnight Special the year the album came out by clicking here.
Bad Touch and Mollie Marriott have produced a genuine rocker with their version of the song, and we can but presume audiences will get to see the acts perform the song live on stage together during their tour.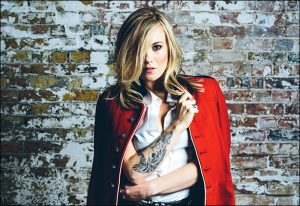 "We're excited to be taking to the road in November with Mollie," said Bad Touch lead vocalist, Stevie Westwood. "She's got a killer voice. It's going to be a lot of fun."
The tour is being sponsored by Planet Rock in association with The Gig Cartel. For a full list of dates and how to purchase dates check out Ramzine by clicking here.
You can also check out Bad Touch on Soundcloud by clicking here and Mollie Marriott by clicking here.