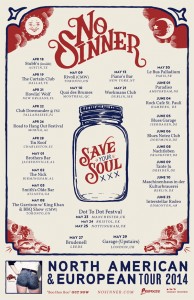 Vancouver-based rock 'n' blues quartet, No Sinner, have released a brand new single from their debut album Boo Hoo Hoo, a version of Nina Simone's Work Song.
Boo Hoo Hoo has already caused a stir in Europe, bolstered by the video to its title track, and is set for release on June 24th in North America via Noisey/Vice. Fronted by vocalist, Colleen Rennison, whose voice has been compared to Janis Joplin and Tina Turner, No Sinner's  gritty blues-rock infused sound shines through on a stripped down acoustic version Work Song.
In support of the album, No Sinner  are about to embark on their biggest tour yet. They will take in the USA and Canada before flying o Dublin in Ireland. "Where I've always wanted to go and play," Rennison commented, "When you stroll down Temple Bar the sound of Johnny Cash and Bob Dylan songs played on penny flutes and fiddles spill into the street. Music is alive in Dublin and having already been there to visit family (I'm Irish on both sides), it will be great to triumphantly return with my merry henchmen in tow." They will then be entering Great Britain and play gigs as part of the Dot To Dot Festival and elsewhere, before taking in mainland Europe.
You can watch a cheeky video of Work Song performed live while trespassing outdoors, featuring Rennison and guitarist Eric Campbell.