Autumn Owls formed and began preparing ideas in 2007, when the Dublin three-piece of Gary McFarlane (guitar, vocals), Adam Browne (bass) and Will Purtill (drums) began writing and recording in a converted shed.
Autumn Owls recorded their first full-length album 'Between Buildings, Toward The Sea' in April 2012, working with Brian Deck (Califone, Modest Mouse, Iron and Wine) in Chicago. The disc is released on Epitonic records (www.epitonic.com).
Generally, the theme of this consistently surprising album is the exploration of vast empty spaces, as glimpsed beyond our humdrum existence.
The kinetic energy of 'Semaphores' with the fluxing yawns and restoring forces, embraces a cautious warning from the deep shadows. The drizzle of contouring guitars spiral in ever dizzying circles, whilst the rasping drums filter like washed-up granules on an evening tide. This track is bountiful and distracting.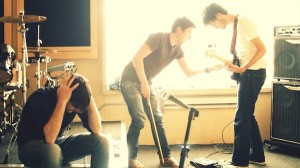 'Unconvinced' has a queasy atmosphere. It feels unbalanced and awkward. Like taking first steps in the morning air. A jangling guitar is a precursor for an abrasive musical interlude that seems to take you deeper into the heart of the marrow. All the while, Gary's vocals limp awkwardly towards an unseen goal.
'Spider' is reticent and angular. The voice hides itself into nooks. Guitars peek out of corners. When you eventually falter upon the stubborn clingingness of the misty web of rhythms, you feel trapped by the sticky pleasures found inside.
'Spare Room' is a simply daubed song, illustrated by rasping guitars and stalky drum work. 'Kiss The Wine' has a fresh feel. A casually waltzing pulse cradles you, and will try to lead you up to a cold, enamel alter. It is only then that you will start to feel an uneasy presence, as the lumbering deep sounds create a gloomy forewarning.
Clanking 'Great Atlantic Drift' navigates in with some resonant guitar shapes and hesitating drums . Cold vocals shimmer against a rolling surface, as the song gradually gathers both momentum and dignity. 'Quarantine' has an array of sounds that twist like shoaling sand eels in the cloudy depths .
'The Arched Pines' starts as if it is constructed like a giant scaffold, created out of discarded pieces of junk metal. This song has a progressive edge. It shines like ancient amber held against a strong sun. The bass plays tricks on you, as it sneaks around the drums. But it is the gentle flowering of the piece that you will remember long after your first listen.
Experiencing 'Byways of the Lifeless' is like clinging to a craggy rock face. A bitter wind will sting your face, as the brittle granite cuts deep into flesh. A constant beat batters your head. From time to time, a howl of wind threatens to knock you from your hold fast.
'All The Lights in New York' starts as a limp canvass of sounds. It flaps and flutters in the soggy air. But the song is transformed gradually into a laborious, grinding, algae covered hulk. This gigantic hulk manages to free itself from the sticky marine surface, and it manages to hoist itself up, looming dangerously on an empty horizon.
'Borrowed Suit' begins with a spray of notes,squeezed out and smeared against the flat. Viscous words exude vividly downwards, and these gird against encrusted guitars that frown and grimace beneath.
The orbital motion of this album, and the experimental nature of the compositions, may not be to everyone's taste. But this is an unusually atmospheric recording and will whisper into your heart, if you allow it.
8/10