Badgerfest 2021 took place at The Bread Shed in Manchester. The opening night displayed a taste of what was to come with some of Manchester's finest heavy metal underground acts.
From the outset it's clear that Basement Torture Killings are serial killer obsessed, they begin by playing clips from various horror films before catapulting into straight-up gnarly snuff-and-grind (if this is not a genre yet, it is now). Basement Torture Killings are not a band who sing about teddy bears and rainbows, however, they do murder teddy bears during their live performance. When what could have been pig intestines (!?) is handed to a crowd member he fully embraces this as he dances with them in his mouth. The vocalist now with blood all over her face from tonight's antics, the guitarist with tights over his face concealing his identity, the crowd successfully hyped – Basement Torture Killings have been a great band to really get things going!. Before we know it they are playing their last track of the set 'Armchair Psycho' from the 2020 album Lessons In Murder.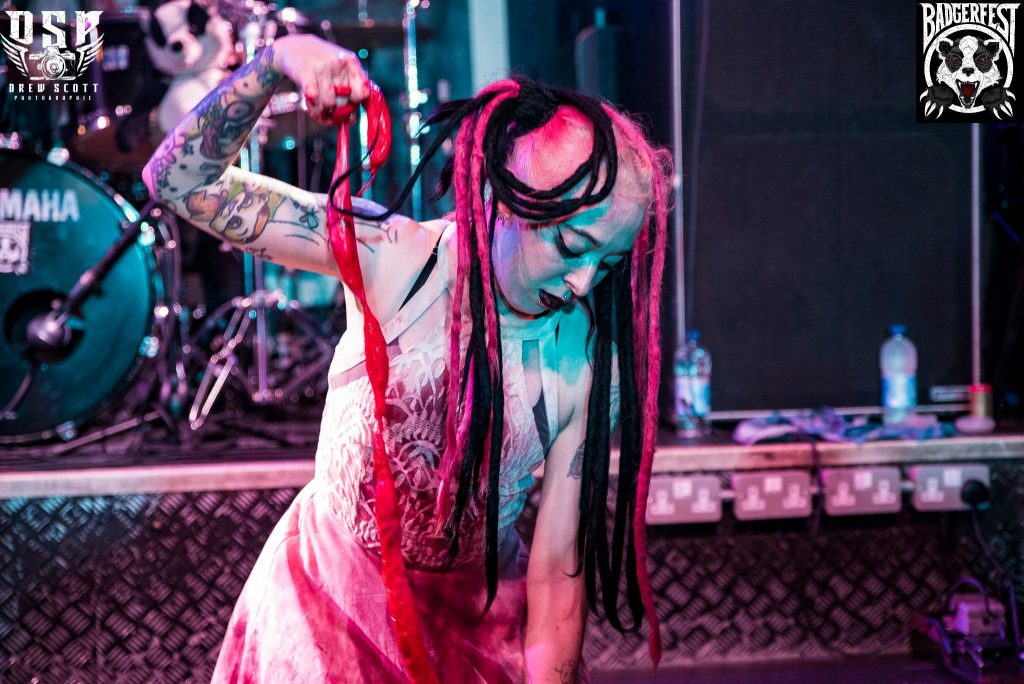 Next up are Agvirre, who bring a different vibe to the venue. It's still got aggression to it, but it's more atmospheric and experimental – a good band to let your head get lost in while watching them live. Music that can inspire a new perspective in your mind. Agvirre bring the visuals too with pretty displays of blue-bells and nettles, helping you to find the beauty in the chaotic sounds – the astral and the whimsical and then the hurt and pain.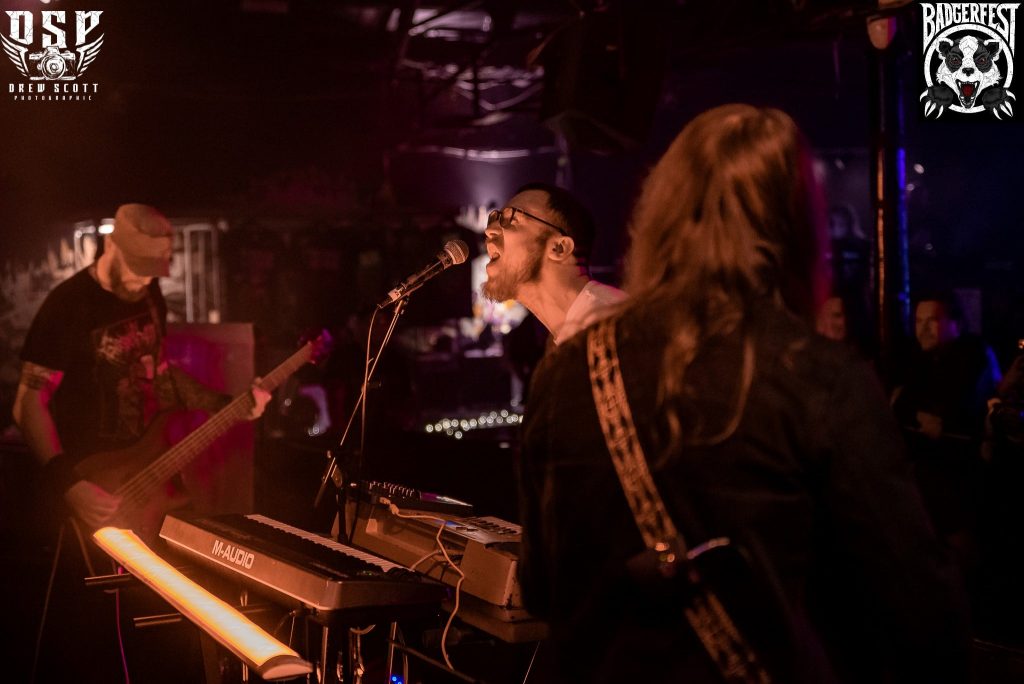 Shout out to the guy who was stood next to me and kept howling along to the music… it worked well, but obviously was not meant to be part of the band's performance. 😂
Tonight's headliners were Foetal Juice, a death metal grind band from Manchester. By this time in the night, spirits were extremely high, many had ploughed through several pints, it was a right party! They played a series of tracks from their 2020 album Gluttony. The lyrics of Foetal Juice can be quite funny, while also disgusting and heavy, their music aggressive, fast and loud. Vocalist Dez knows how to get the most out of the audience – this is a fun band to see live!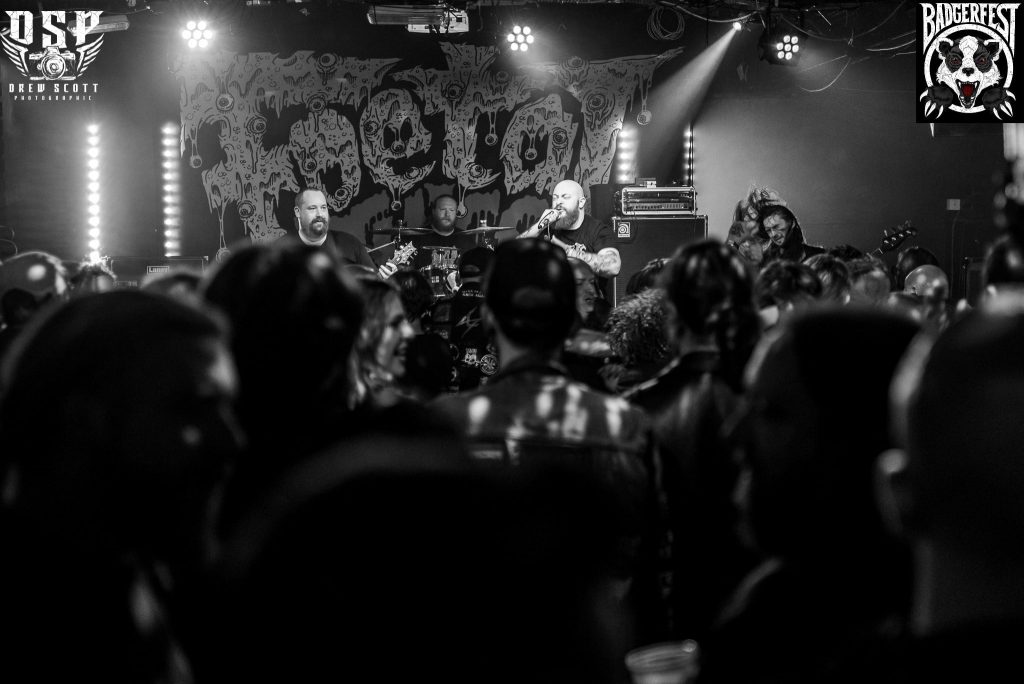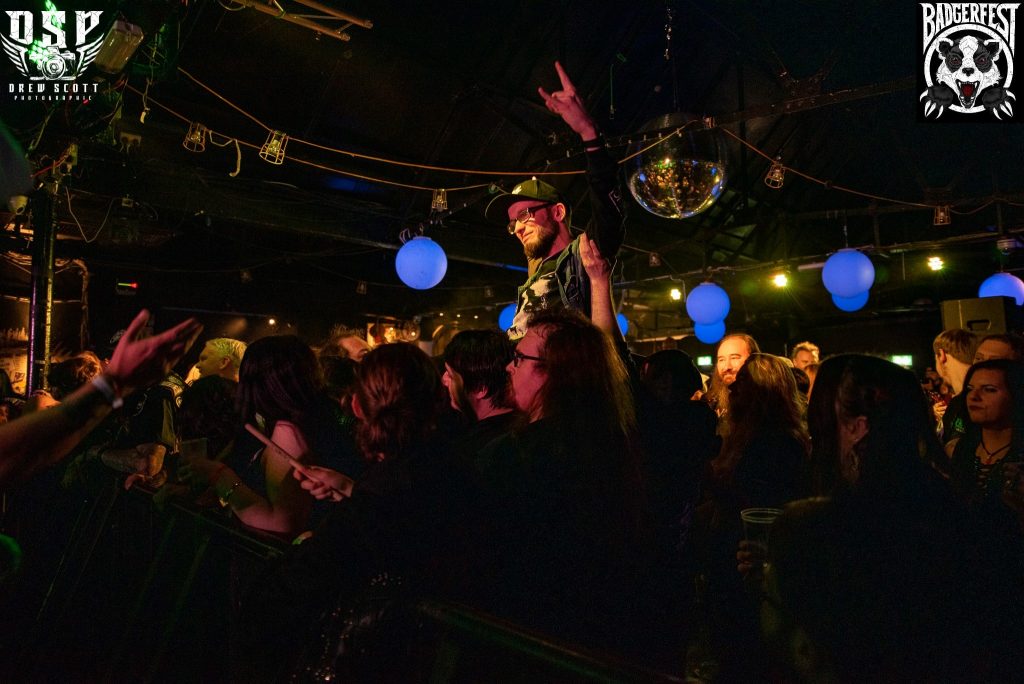 Check out the music…