As a fan of Uriah Heep since Look At Yourself in 1971, I inevitably wondered if a book charting the first decade of the five they have been in existence would provide anything new… well, the answer is a definite yes. Steve Pilkington, in penning Decades: Uriah Heep In The 70s, has put together an always informative and entertaining text which throws up many nuggets from the sublime ([The Demon and Wizards artwork by Roger Dean] "was also part-collage: the wizard's wings, for example, are real butterfly wings"), to the ridiculous: the 'burnt on the retina image' of Lee Kerslake and John Wetton jumping stark-bollock naked from a fourth-floor hotel room into the swimming pool below… fortunately without damage to them or the pool!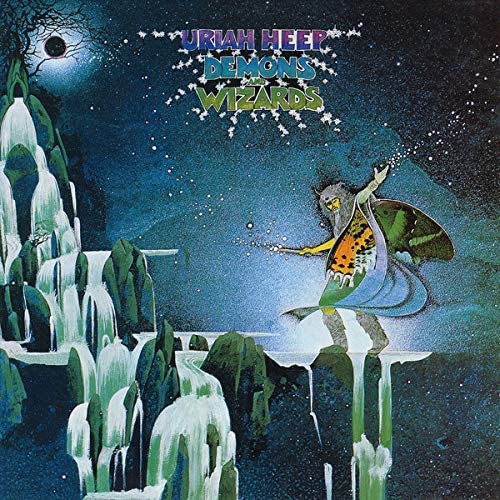 This is part of a series of books from Sonic Bond Publishing under the "Decades" moniker; Alice Cooper, for example, is also available and reviewed on RAMzine.
The best parts for me are the insights and opinions by Steve as he looks at each album in detail; having done my own 'dissection' of Very 'Eavy, Very 'Umble' as one of our RAMzine Classics, it is great to compare notes and to frown as he criticises some of my favoured tracks on later albums – it's opinion, still enlightening and importantly, brutally honest.
It's a well-woven story around the various line-ups and albums that doesn't overdo the trivia (but includes sufficient for fans like me) nor does it hide the reality – Heep, like many of their contemporaries, were driven relentlessly by management and label into an endless cycle of album/tour/album/tour/tour/album that the poor members were frequently exhausted and took solace in various concoctions that led to break-ups and worse. Sad to say that of the members in this short space of time in the band's illustrious fifty-year career, Thain, Byron, Wetton, Kerslake, Hensley and Bolder are no longer with us… but what a legacy they left and this book goes some way to capture and immortalise this great band.
Although it is about the 70s, Steve does bring it all up to date and briefly covers the evolutions from '80 to 2021. We also get his playlist and all of the albums ranked… we disagree again, but only slightly, Steve!
This is a thoroughly enjoyable and well-written document of a band that always deserved more. It will appeal to fans of a good rock'n'roll read but is especially valuable to Uriah Heep fans who will enjoy, as I did, the re-evaluation of some brilliant albums in light of Steve's erudite commentary.