Ahead of our full coverage in the next issue of RAMzine, we conclude our festival highlights for another year. Sunday can be the best day: you have had a great time and you get to have a proper sleep tomorrow. Or the worst: it's the last day and you have to leave.
This has been an interesting Download – Friday was full of classic rock, Saturday was had a big nu-metal streak through it, so Sunday is the erm…alternative day (?) We've got a bit of everything from Amon Amarth to Smashing Pumpkins today. Something for everyone it seems. this could be a good closer to the weekend or just an excuse to pack up early. The headliner is Tool. Confusing to many as they haven't released any new material since 2006, and never hit the heady heights Slipknot and Def Leppard have reached. Yet, to their fans its a huge deal as this is their first UK gig for 13 years…but I digress. This is the last batch of highlights before our big juicy bootylicious review in the next issue of RAMzine.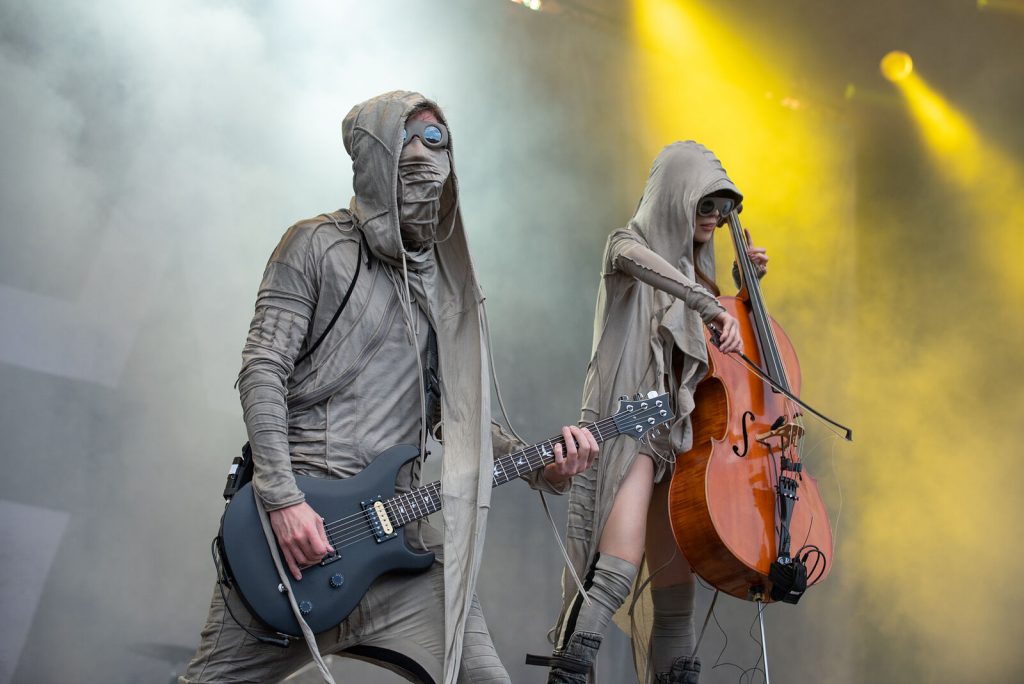 Sunday morning is a bit of a blur, although Red Hook, I Prevail, Underoath and many more put on great shows – things start making more sense with concept alt-rockers Starset on the Zippo stage. They feel like a band who has been around forever but in truth, they only formed in 2013. As expected this is really something special, Possibly one of the bands to have a live cellist and violinist on stage, swapping their space-suits with postapocalyptic dessert rags –  Dustin Bates and co are welcome back anytime. Sounding almost pitch-perfect and getting the crowd to sing along this is the perfect band for Sunday lunchtime at DL.
Quick jog over to the main stage to find hard rockers (is that right?) Godsmack. And right on cue, the sun pops up to say hello. No doubt this is a band a  lot of Downloaders have wanted to see for many years, and maybe they have, but a great turn out nevertheless. Only a 9 track set, sadly not including 'The Enemy', but we got some nods to 'Back In Black', 'Walk This Way' and 'Enter Sandman' all with two drumkits set up leading to 'I Stand Alone'. Fans are sure to go home smiling.
Looking ahead at today's schedule, and it is Sunday, the best plan is to now set up camp at the main stage (not literally, leave your tent in the village you numpty). Despite the big, chunky gaps there's a lot of beef in the metal stakes (or steaks) coming up. I mean what would a rock/metal festival in the late 2010s be without Amon Amarth. Memories of seeing this band back in 2013 when they only had time for 3 tracks to main stage dominance this year. The drums are on top on a Viking helmet, fire blazing in the air, changing backdrops – this is Viking metal as Odin intended. We even get a warrior battle mid-set. This really gets the headbangers out in force. A very substantial set.
The next course in our Sunday dinner is lamb. Lamb Of God to be specific. Randy Blythe and co. have been a staple of Download since its early days. After joining Slayer and all on tour over the past year or so, it's surprising Slayer aren't headlining. Back to LOG, this is a HEAVY set. Exploring their back catalogue, they get the crowd to do a Ric Flair style 'Wooooo!' as well as encouraging the biggest circle pit in DL history.  For some, this might be the wildest set they've seen, but if you have seen LOG before – you know this is the usual. Highlights come from '512' which documents Blythe's time in prison, and of course their most popular track 'Redneck'. Although this seems like another day at the office for LOG, it's still very much enjoyable. Sad to say they clashed with Anthrax, but you have to take a risk sometimes.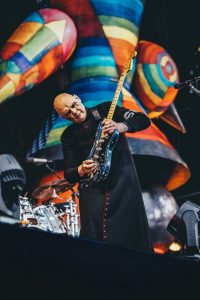 The next act on the main stage is a bit of a gear shift. Grunge-era alt-rockers The Smashing Pumpkins step on a stage already filled with giant multi-coloured dolls/ornaments/whatever they are. Dressed like a bald wizard, Billy Corgan and co start out strong with 'Zero' and make their way to 'Bullet With Butterfly Wings'. Although this is kind of what we were expecting, it's a somewhat subdued set following Amarth, LOG, Godsmack, etc. Corgan announces: "I've always wanted to play Donnington Park since I listened to the Monsters Of Rock cassette" that's a really nice way to acknowledge the legacy of the festival.  The only issue is, you kind of headlined the first Download with your other band Zwan, remember them? Anyway, Billy introduces dark-folk musician Mykur on stage to join them for an alternative version of Black Sabbath's 'Snowblind'. It's weird but great. Moving on, the Pumpkins play 'Cherub Rock' and finish the set with some lesser-known tracks. What? No '1979' or 'Today'? There are people in the audience who have wanted to see this band for over 25 years and I don't think this is what they wanted… OK, they have a new album out but still not what was really expected from Corgan and co. Maybe he was distracted by NXT UK on the other side of the field.
Another HUGE gap while they set up for the headliners, Tool, so it's time to check out the other stage-closing acts. At the Avalanche stage are a band that really should be on the main stage. That statement is starting to lose meaning now (I've most likely said it that much) is Enter Shikari. They have been at it for around a decade and getting more popular each album they release so why are they here? Also, I'm sure they fit in with Tool's demographic. Anywho…having toured their latest album The Spark for more or less forever, this is a band who has worked for the double-overspilling Avalanche tent. Filled with awesome tracks like 'Juggernauts', 'Anaesthetist', and then their famous 'Quickfire Round'. A novel way to cram all their older tracks in this set but I can't help but feel ripped. I mean SlipKnot and Def Leppard never did this. To be fair, Shikari keeps the party going on a Sunday evening.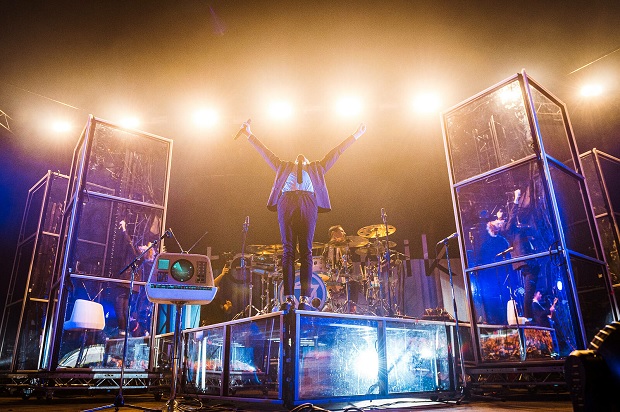 On to the Zippo stage where we get to say a fond farewell to a staple of metal festivals for the past 30 plus years, Slayer. Last time we can do that with relevance. Extremely tight and precise set. If you have seen Slayer on their farewell tour, this is nothing different, despite being their last UK performance. This whole quarter of the site are moshing, headbanging or circling. Fair enough this band have been working hard since the mid-1980s and faced a lot of hardships in their time, but there could have been something special in this set. Finishing the gig with 'Reign In Blood' and 'Angel Of Death' is how it should be. Why aren't they headlining for that matter?
So Tool the screens usually used to broadcast the band to the further regions of the festival is now used for Tool's graphics. Fantastic, eh? Understandably, this is a significant setlist for the Tool fan community. Not so much for the rest of us. The musicianship is very respectable and this is all great but I have to point out the main stage is a bit of a ghost town. With all due respect, this should be Slayer's slot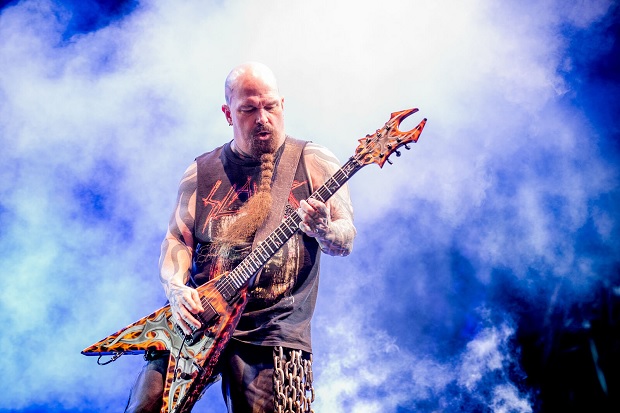 Sunday could have gone either way. With a band like Tool headlining it was either time to pack up your camping gear or one last time to soak up the atmosphere. Just didn't click with everyone. Smashing Pumpkins were a let-down, but bands like Enter Shikari, Godsmack, and Slayer made up for it somewhat. Possibly the 'weakest' day of the weekend, which is unfortunate as Download has had some awesome Sunday headliners in the past. Next year sees the 40th anniversary of 'Monsters Of Rock' so maybe we may see some classic bands like Rainbow, Judas Priest, Saxon, etc.
Overall this has been a decent Download festival. Some great bands, some good bands, some disappointments and some bands I'm not sure are on the right stage. For a fuller, more fleshed out review check out the big, fat review in the next issue of RAMzine (issue 24). Until then, keep rockin'