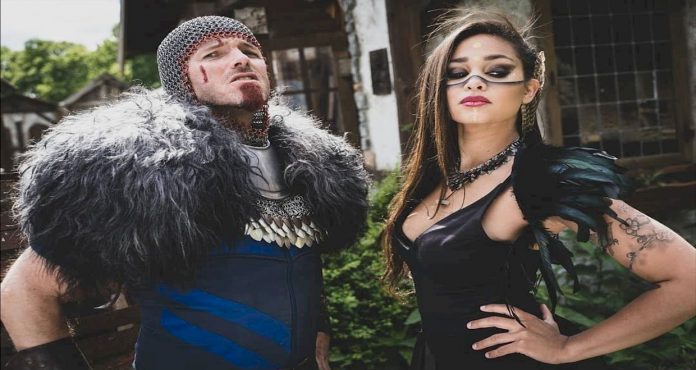 If you take a bunch of earnest musicians, tell them to 'dress up' in medieval costume (but don't supervise the results) and give them a bunch of silly/serious folk tunes to play, you might well end up with a bardic folk-rock comedy routine with a touch of Mittelalter-Metal thrown in… you'll likely end up with a project like: Feuerschwanz (from Erlangen) in Germany.
If you insist on translating their name, by the way, it means "Fire Tail" — not that it matters much, because the band name is as facetious as their output: At the front is Feuerschwanz himself (vocals & guitars) who becomes war-leader for the band's adventures and takes the guise of crusader in this ensemble of mythologicaly misunderstood misfits. The former Merlons (of Nehemiah) folk rock composer Peter Henrici and Fiddler's Green violinist Tobias Heindl (with the bassist Andre Linke) came up with the concept of a lighthearted, 13th century, spectacle-rich, chick-heavy, showband back in 2004. It's evolved a lot since then…
After an appearance at Wacken (in 2011) the band grew a loyal fan base and saw their albums enter into the charts. In June 2019, the band signed a new agreement with Napalm Records and celebrated their 15th anniversary as a band on their Metfest tour. It is fair to suggest that the band tend to reduce medieval fairy tale topics into somewhat inane, superficial and egotistically bacchanalian messages — and that's what makes them so much fun! Puerile? Yeah, why not!
So having doggedly and stubbornly toured themselves into the upper echelons of folk-metal, the sextet (it now also includes: Johanna von der Vögelweide on fiddle & hurdy gurdy, Sir Lanzeflott on drums, Jarne Hodinsson on bass, Prinz Hodenherz on pipes, guitars & vox and Hans der Aufrechte on guitars) are about to release the latest chapter: Das elfte Gebot (The eleventh commandment) via Napalm records on 26th June 2020.
Of course, coming from Feuerschwanz, this new release is stuffed with humorous bantering, fast melodies, and a lot of frivolous decadence. It is also quite heavy!
"The message of our lyrics comes from our hearts, is extremely important to us which is why they're put quite clearly without beating around the bush. A clear message needs an adequate sound", says the Viking singer (and piper) Prinz "Hodi" Hodenherz, and, yes, it's true — we detected obvious nods to Iron Maiden, Testament, Ghost and Gloryhammer.
For recording, the band worked with Subway To Sally's Simon Michael Schmitt, who managed to achieve a sound that sits casually between medieval rock and straight heavy metal.
Album opener "Meister der Minne" is a chugger and a dark tugger. (the Minne might mean: "remembrance") So this is marked by dark clouds, splintery guitars and swagged-out drummery.
The title track "Das Elfte Gebot" (the Eleventh Commandment, which the band tells us, incidentally, is: "live life to the fullest...") is a song about dealing with (our own) fragile mortality (something we have become used-to over recent months). The message is: Live as if death is waiting to take you… and the song comes across perhaps as less crazy — more brutal — than you'd expect from a comedy-rock showband… These are dark times indeed.
"Lords Of Powermet" is the first song to feature English lyrics (in the chorus, BTW) and it's about a group of religious fanatics who worship a "holy horn" — as expected it's an epic romp and crammed with blatant irreverence. It's a standout song because the drums are furious, the range is huge, and the guitars are biting.
"Metfest" has a jingling, rushing beat with a big chorus. Like all popular folk music, this sounds faintly Celtic in origin, but retains the hammersound you'd expect from Germanic metal grandeur. But, there's also not-a-little euro-campness in the style… but who cares? Sing it loud now: Metfest! … Metfest! … Metfest!
Fans of stupidity will be delighted to see that this release comes with a bonus cover disc, titled: "Die sieben Todsünden" (The seven deadly sins) that brings grand interpretations of songs such as: Powerwolf's "Amen & Attack", Sabaton's "Gott mit uns", Rammstein's "Engel" and (the oddest choice of all) Ed Sheeran's "I See Fire".
"We sat and tried to find a common denominator for those "deadly sins". We all have different musical preferences and so there's quite some songs that are faves to some and sins to others. We won't tell which is which though…" offered Feuerschwanz.
Probably the highlight on the bonus disc is the Seeed cover "Ding" (German for thing) that features the Swiss singer Melissa Bonny. It's possibly the most bizarre / surprising combination of everything you thought you didn't like: reggae, ragga, rap and euro junk. It's as if the Welsh group Skindred joined the Danish group Aqua to play something popularized by the German group In Extremo.
This is a fervescent metallic vitriol for those who want to diddle with folk music but don't want to commit to it just yet. It's amusive, it's adventurous and it's diversionary. Just what we need right now…
Track listing:
01. Meister der Minne
02. Metfest
03. Das elfte Gebot
04. Kampfzwerg
05. Im Bauch des Wals
06. Mission Eskalation
07. Schildmaid
08. Malleus Maleficarum
09. Lords Of Powermet
10. Totentanz
11. Unter dem Drachenbanner
Bonus Disc:


01. Ding (Seed)
02. Hier kommt Alex (Die Toten Hosen)
03. Amen & Attack (Powerwolf)
04. I See Fire (Ed Sheeran)
05. Gott mit uns (Sabaton)
06. Limit (Deichkind)
07. Engel (Rammstein)