Giant Drag have had a lot of praise thrown their way or in the case that it's only Annie Hardy that had stayed constant in the band-her way… In 2006 they were a highly thought of publication's 'pick' to make it big, they've had comparisons to bands like My Bloody Valentine and Hardy has had guest spots with the mighty Deftones. It's been seven years since they released a full album so would 'Waking Up Is Hard To Do' punch a hole and lead to commercial success or more time in the wilderness?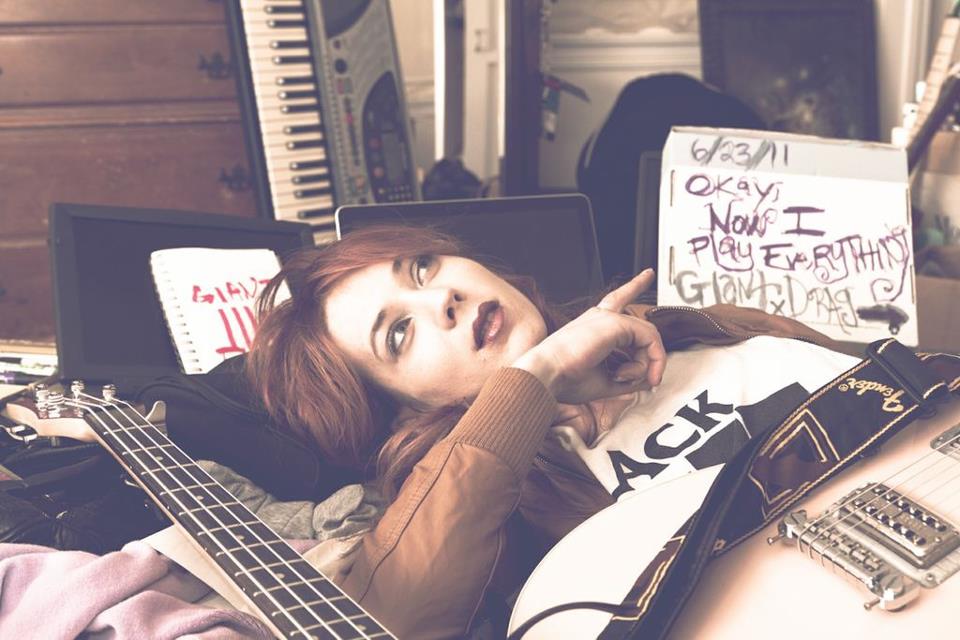 Known for their comedic and cutting titles we open with '90210', a lyrical journey! We immediately are transported into a slightly sardonic wit of Hardy, pumping beats and her frail, almost childlike voice. It builds, pulls back and teases.
'We Like The Weather' is as offbeat as it suggests, a swirling drumbeat with elements of the psychedelic, the aggression underneath give the song teeth but it does take time for it to reveal its charm.
Hardy opens with a plea to Jesus Christ to help her with her relationship; the great mix of a cracking bass line mixed with some rather neat effects from the synth blend well with the growling guitar, Won't Come Around is a belter!
'Do It' is one of the longer tracks on the album, Hardy clearly has a lot of ideas but the samey style of 'Do It' does stay longer than it needs, despite some clever harmonies that dip and clash well.
Excellent use of an almost Pixies-feel of guitar washed with Mudhoney greet us with 'Firestorm', particularly in the break down halfway through the song. The drive of the song promises so much but the relaxed feeling of Hardy's voice doesn't quite deliver!
'Garbage Hearts' is a brilliant title, the solemn drum beat lets Hardys clever and inventive lyrics flow to the front of the song, telling you an intriguing story of dissolution and hate. Just let yourself drift away on this trippy tale.
'Meowch' is a metaphor for a cat rather than actually being about a cat. I think. I'm not sure, really but the arrangement is genius and the execution and the isolation and strangeness is breath-taking.
And then we have a jazz break! 'Messif My Face' is very much stuck musically from the 60's but just listen to Hardy's distinctive phrasing and you know that we are firmly in 2013. The curl and punch of the guitar pepper this song throughout. Odd!
'Dennis The Pennis' isn't about the anarchic creation from the 1990's but the sound of the still acoustic guitar does sound like it could be from that era, this is a misstep in my opinion, sounding more like a dated Indie band than the challenges we've had before.
Hardy moves the goal posts again with a swirling guitar riff that could come from a sweaty club in the 70's, they're great sing-along qualities in Sobriety and the creaking guitar effects work well here.
We haven't had much gospel yet and apparently 'Heart Carl' is the time for it, it's an honest and straight forward lyric from Hardy here, as her clear vocals and tone really do add to some effective heart string tugging. It's a pretty song and the constant organ works well.
'Seen The Light' draws the album to a close, it's a more traditional rick song, a solid beat and chugging riff, pull away to an up-tempo punchy chorus, it's a great way to end.
There are some missteps in 'Waking Up Is Hard To Do' but there is no denying the genius that Hardy has and her lyrics and craft of musicianship is heard everywhere. It's not perfect and perhaps it will be a little longer before we really see how good she truly is, but for old fans this must and for the new, you could be unearthing something very special here.
7/10
Giant Drags new album 'Waking Up Is Hard To Do' is out now through Full Psycho Records.