The swinging sixties was a train ride away and a cultural milieu too far from the Surrey Delta, an expression latterly picked up when everyone realised that this little patch of England had been the birthplace of so many of the primary exponents of the British rhythm and blues scene, from groups like The Rolling Stones and The Yardbirds to solo artists and lesser-known musicians too. Influenced by the sounds of black artists in America, they would in turn influence the music scene worldwide, leading to so many rock genres it's impossible to keep count.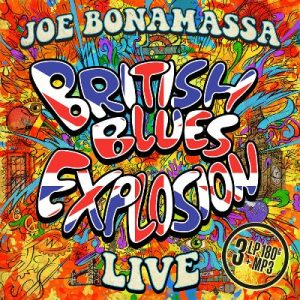 That American guitarist/singer Joe Bonamassa is a fan of the holy trio of guitarists that passed through The Yardbirds is apparent to anyone in his playing, and back in 2016 he paid an official tribute to them touring and playing numbers famously recorded by Messrs Eric Clapton, Jeff Beck and Jimmy Page. Available on CD/DVD/Blu-Ray & 3LP British Blues Explosion Live captures his performance of this tour as part of Greenwich Music Time at The Old Royal Naval College in Greenwich, London on 7th July 2016.
That Bonamassa plays fast and loose with the British Blues Explosion theme is as much by necessity as design. 'Good Morning Little Schoolgirl' covered by both The Yardbirds and early Jeff Beck Group vocalist Rod Stewart as singles may no longer be viewed as being politically correct, and Page's numerous studio pop credits of the time hardly fit the picture. So, from the latter we get a collection of Led Zeppelin classics, Clapton is primarily represented by work following his return to music after his heroin addiction recovery, and from Beck's back catalogue we do indeed get some inspired rarities.
The British Blues Explosion begins with black and white footage of London. It could be the 50s as much as the 60s. It's a tourist's view of the big smoke, not the sweaty little clubs those rhythm & blues musicians plied their trade – However, there's actually a good proximity of that time on the bonus DVD where we see Bonamassa playing a bluesy version of The Beatles' 'Taxman' at The Cavern. What the introduction does have to add validation is a voiceover from Paul Jones – A man who was right in the middle of the scene back then, fronting Manfred Man, more latterly The Blues Band, a varied acting career, and the host of his own BBC radio programme for many a year. Kevin Shirley may have written the text he reads out, but it's Jones who stamps authority all over it.
But it's lead-in, a mood setter, and it works, for the scene changes to a bright summer day in full colour as Bonamassa's band play 'Beck's Bolero' with the American guitarist himself then walking on to play a highly decorative slide (ie. nice camera close-ups). The playing is respectful, more in a Peter Green manner, but as lights flash on from the stage's backdrop and the instrumental's rave-up section begins they launch into a reading of Beck's 'Rice Pudding' from Beck-Ola allowing a more free form flow with Reese Wynan wailing away on his organ to be followed by some fine speedy blues fretting from Bonamassa – Primarily they use the song's main riff as intro and outro, but it's a good one, and too rarely heard.
Next they're straight into 'Mainline Florida' from 461 Ocean Boulevard when Clapton was side-stepping the blues. While it's one of the rockier numbers on that album, as written by second guitarist George Terry, it's not until Bonamassa begins soloing that some meat's added. Ironically a bare knuckle rendition of 'Boogie With Stu' works extremely well and a good reason it's still in his current set, with Led Zeppelin fans obviously in audience based on the strong applause heard.
The proto-metal blues of 'Let Me Love You Baby' from Beck's seminal Truth album is given a good airing, Bonamassa and Russ Irwin (rhythm guitar & keyboards) share vocals, a good decision as who wants to be compared to Rod Stewart's raw-throated gargle on the original. Indeed, the use of backing singers on Bonamassa more recent tours also allows those with more powerful vocal stamina to take the strain and have him concentrate on guitar. And come the solo for this track, while he plays Beck's recorded signature notes the younger guitarist retains his own character with a sweeter sound. Then the band stop playing save for Anton Fig's snare drum over which Bonamassa begins to extemporise with quiet but speedy blues figures, then Wynan's blistering organ starts to pipe in as the sun shines out against a darkening blue sky with evening drawing in.
From the following Beckola album again we get 'Plynth (Water Down The Drain)'. Let's face it the production job from Mickie Most on that one was pretty ropey so it's good to hear the nuances of the song properly here and Bonamassa attacks the guitar with bite, with some nice dramatic stop-starts from all concerned in between and come the second solo the guitar soars away on sustained notes. Now, if you're hearing this for the first time and think the chords a bit similar to those during the chorus to 'Smoke on the Water', well, kids, Deep Purple only ever nicked from the best.
'Spanish Boots' sits well with Bonamassa's natural style and the smile on his face tells us he's now warmed up and knows the band's tight – especially Fig on drums – and he can fly if the mood takes him so he and bass player Michael Rhodes face off on the complicated mid riffs of the song – An indication of where Beck would head further in his jazz fusion direction and certainly Rhodes takes that as read, roaming superbly about under the six string soloing.
Wynans moves to piano introducing 'Double Crossing Time' as Bonamassa mimics Old Slowhand's lick style, adding a little B.B. King swing and some added metal to parts of his solo on what becomes an amped up rendition. Back to 461 Ocean Boulevard we get the album's other rocker with opening track 'Motherless Children' with its Allman Brothers racing dual guitar style intro while Bonamassa approaches it overall by applying Clapton's more contemporary guitar sound as Irwin duets with him on vocals and also plays guitar. Musically, Wynman's organ proves consistently inventive colouring the song and as Bonamassa extends a solo walking across the stage and edging forward to play alongside him the warmth of the evening draws in closer still.
Taking time out to introduce the band he goes on to explain how his father introduced him to Cream via a video of their farewell show at the Royal Albert Hall and they being playing 'SWLABR'. From the beginning it's apparent his voice sits better approximating the free flow of the late Jack Bruce than Clapton's grumbled roar, despite it obviously the power and range of the former's. The number has been updated, drums snap and crackle, there's a full-on organ and a change of guitar from Bonamassa to a big acoustic/electric hollow body type resounds in a clear warm tone – It's British acid rock updated by hot shot Americans and works. Extending the number further with the addition of a slow blues guitar solo, Rhodes soloing himself underneath, blue and yellow light emit from the backdrop and the sky turns to night as the pace rocks out towards the end.
A throttled guitar introduces to Zep's 'Tea For One' before a lighter and purer blues approach has it segueing into 'I Can't Quit You Baby' covered by Beck and Page (with Zep) and merging both songs with extended soloing, the use of overhead shots & close-up guitar body shots offering both visual variety and the opportunity to slow down or freeze frame and attempt to play those phrases yourself. The rhythm and blues boogie of 'Little Girl' comes next followed by a piano lead-in to a more recent Clapton track with 'Pretending'. Bonamassa's vocals are more suited to Clapton's now more gentle aged croon as evidenced here, but as often proves the case during this show Irwin also bolsters the vocal end of things. Rebooting the song's origins prove a shuffle beat to a rock tune are well conceived, especially on the extended solo.
Shorn of other musicians, Gibson Firebird in hand, Bonamassa stands on a darkened stage and launches into the Jimmy Page instrumental 'Black Winter' delivering arpeggios, pulling in drones, and all presumably in a D tuning. He marries it with the Moorish dark mystery of 'Django', increasingly affecting a theremin sound to the mix as it builds to a climax. Then, a drum roll signals a change, power chords strike out and a psychedelic filigree is offered before the mighty monosyllabic riff of 'How May More Times' rings out as collectively the band empower and extend it – Its bolero section forming the circle with the band's opening number – There's no bowed guitar but we get intricate blues runs and wiry feedback attacks, and it's notable that while Fig applies Bonham's drum pattern he does so in a softer effective jazz manner, then Rhodes stomps up and 'The Hunter' interlude section of the song ensues, organ playing raw and loud, drum solo playing a simple beat that evolves before they head back into the main song, climax, and end the show on a high.
Visually the DVDs offer good on stage close-ups, with facial expressions of all the band revealing smiling faces, particularly Wynans, though Bonamassa himself takes himself a little too seriously than he needs to. Of the extras, as ever you'll view the photos maybe once but rarely sit and view them complete again, Mick Wall offers commentary that Bonamassa honours the past of Clapton, Beck and Page by imbuing their creative spirit in the modern blues rock world, there's fan footage of Bonamassa placing a brick with his name on the wall outside the cavern, and the live footage of him playing 'Taxman' there in t-shirt with tossled hair is the one you'll replay.
A true British R 'n' B fan might declare the show's sound a little too clean, lacking the raw in-the-moment of those who first played those tracks half a century ago, but let's remind us they were playing to hundreds in pokey little clubs and that's not the way to draw thousands to your show and why they themselves moved on.
As noted at the outset, the blues explosion angle is played fast and loose but there are some genuine surprises pulled out of the box, with strong rearrangements of Clapton-related numbers like 'SWLABR' and 'Motherless Children' coming across best, and lovely to hear Beck numbers usually only heard on the old records. That he should have covered 'Stepping Out' a wonderful instrumental covered by Clapton in both John Mayall's Bluesbreakers and Cream possibly the only glaring oversight.
For UK festival and tour dates coming up from Joe Bonamassa at RAMzine click here.
To pre-order British Blues Explosion Live on CD, DVD, Blu-ray and/or triple vinyl click here.