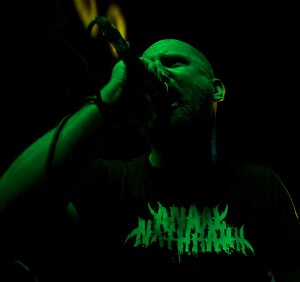 There aren't many bands who one could call truly monstrous in live performance but Annal Nathrakh certainly fit the bill. Headlining an evening of brutal black metal is no easy feat, although the Birmingham based outfit certainly gave everyone a lesson in bestial carnage on this night. Opening with 'Acheronta Movebimus' the crowd were sent into a frenzy and throughout the set stage divers and the mosh pits were in abundance. The band went on to roll off classics such as 'Forging Towards the Sunset' and 'The Lucifer Effect' with album quality precision which, for a band of this brutality demonstrates the musicianship involved and demonstrates why the Nathrakh are heavyweights.
The band's ferocious sound is complimented by the variety in their music, you can hear all sorts of influence from black metal, to grind to industrial and even some good old fashioned 80's metal infusion with the vocals. Ending their set with 'Do Not Speak' the crowd roared and I left with the familiar ringing in the ears to symbolise a very loud evening whilst asking myself, "What the f*** have I just witnessed?!" If you like your music brutal and uncompromising, make sure you make it to one of this band's next shows.
[divider]Anaal Nathrakh released their latest album 'Desideratum' last October via Metal Blade Records. 'Desideratum' brilliantly throws grindcore, black and industrial metal into a sonic blend, which most parents would be terrified to hear pumping from their child's bedroom. Read the full album review here.
We caught up with vocalist David Hunt AKA 'V.I.T.R.I.O.L' before the gig to discuss their latest album and motivations. He told us that this tour has been fun saying:  "we've been to places we haven't been to before and we've played places bands don't usually play. We've completed a handful of shows in Milton Keynes, Glasgow and Gloucester and then this last week just gone we have been in Leeds for Damnation Festival which was sold out". Read the full interview here.