The Reading UK based, female-fronted, alt-rock, grunge outfit Marisa And The Moths with songwriter Marisa Rodriguez on lead vocals and guitar, released their electrifying debut single and music video "Skin" on Friday 13th September 2019 taken from the forthcoming self-titled album. The single had that kind of teetering boom that is more of a wobblebonk than anything. Then we got the all-conquering shred-show, (courtesy of insanely adventurous riffologist Sophie Lloyd who is a kind of cross between Amy Macdonald and Van Halen after an all night spree …) and suddenly, we realized, we were witnessing the beginning of a new wave of British grunge.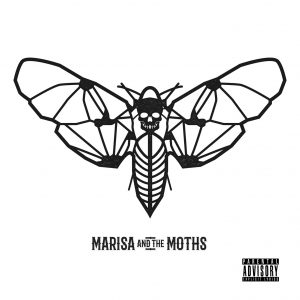 "Slave" has also been released as a bull-bustin' video… and is just as technically competent, although it borders onto symphonic metal territory. In this sense, it is a better vehicle for Marisa's voice, which is presented here as a combination of wedding cake, cream-butter sweetness and funeral cake, juniper-berry bitterness.
But "Needy" is the album opener — and this is a proper grunge number with a resinous, rubber-band twang and low-spirited drums that seem to trip and falter over themselves in an effort to stay upright, as if the disillusioned protagonist had been on a day-long hydrocodone bender. The starlight comes, if at all, in the barely audible psyche, which tries to reveal itself through the precious darkness. This is important. It is probably the best heavy grunge since Soundgarden's Superunknown.
"Baby Goodnight" is equally dilatory, also represented with low tones, and extraordinary depth of character. And "Easy Target" seems like a reprise of that same performance… until the ever-expanding and universally emphatic chorus screams like a passionate soul in pain on an escape ramp from a hellish cataclysm.
It is unlikely that you will listen to more musicality and talent this year, and if you are a fan of classic grunge, with distorted images, an overwhelming feeling of emotional isolation and dirty realism … this will be a record you will want to keep and play again and again. And it's not just Babes in Toyland kitsch rock either: this team is talented, beyond belief actually, so this takes over where Alice in Chains left off, around 1996.
Yeah, it's authentic, it's real handsome and the song compositions are filled with emotion, while the performances are full of adrenaline.
Marisa and the Moth (self titled) is expected Nov 15, 2019