Formed 2010 MaYaN are a Dutch symphonic death metal band founded by vocalist Mark Jansen, keyboardist Jack Driessen and guitarist Frank Schiphorst. The name of the band was chosen by Jansen out of his fascination for the ancient Maya civilization.  On the 6 September 2013 Nuclear Blast released a press statement that confirmed that tour members from the first album Laura Macrì and Henning Basse have become full time members. The band describes the theme of their new album 'Antagonize' as "dealing with the current state of the world in which a small group of elites have all the power and try to dominate humanity. The tension is rising and the outcome yet unknown". The album will feature 11 tracks and will be released on February 3rd 2014 via Nuclear Blast Records. The album was recorded at 'Sandlane' studio and was produced by Joost van der Broek (REVAMP, STREAM OF PASSION).
Borderline Forfeit
Indiscriminately invades the senses, possessing clean, scourging and soprano vocals – this possesses more than just the soul in its grasp. It does have an old school feel about it due to the clean male vocal, however, it does twist on occasions but doesn't quite come through the door of the 21st century.
Burn Your Witches
A rather predatory track that stalks with unmerciful prowess. Possesses a strong appeal of melodic enterprise as well as a raucous battering of rhythmic energy.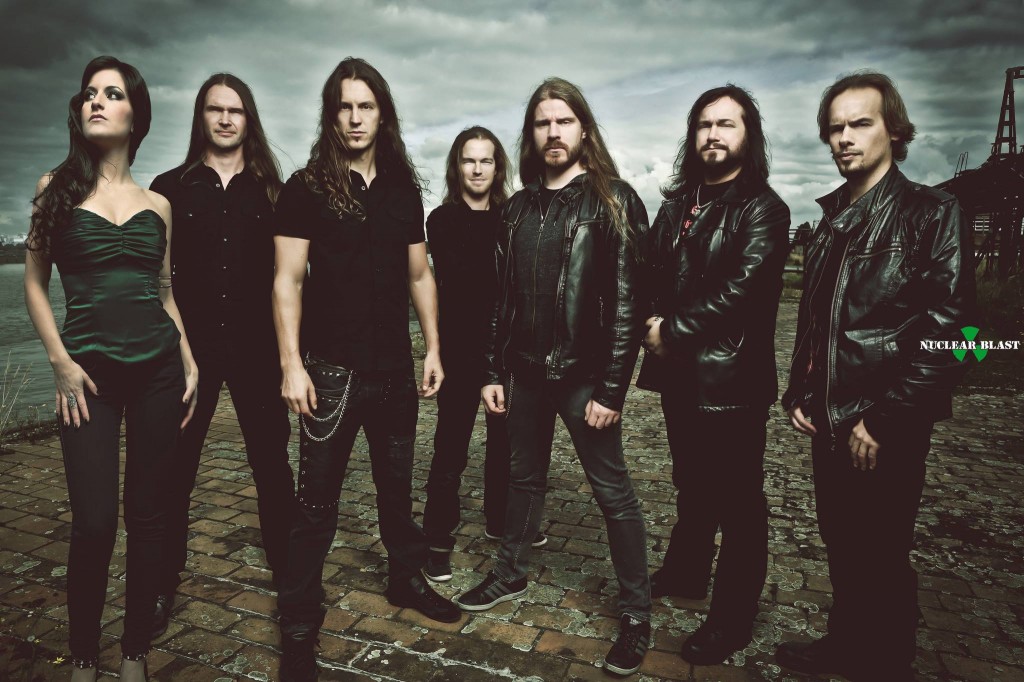 Redemption
Festers with an evil intent that gathers up momentum and simply ravages the aural licking it with choppy keyboard and infectious beatings. The harsher guttural growls being more appealing to me it has to be said.
Paladins of Deceit
A gnarly brutal swagger of rhythms play out to a suffocating backdrop of harshness, however the uplifting and haunting symphonic slurry and ambient high pitched operatic vocal certainly gives it that powerful edge. Euphoric and extreme – this hits below the proverbial metal belt buckle.
Lone Wolf
Sinisterly engaging as the cruel guttural supreme vocals hit the aural senses, it builds furiously into a conglomerate of metal symphonic madness, however the clean vocals really do not do this track justice at all and I personally think that this track with all its rampaging should shroud itself in the brutal vocal to get its point across.
Devil in Disguise
A mesmerizing start bursting into a rapacious flurry of symphonic wonder. Devilishly packed full of hard edged, but similarly melodic strength.  Back to the harsh guttural vocal that holds so much malevolence this is a feisty track that warrants further play.
Isano
A beautiful guitar and choppy keyboard notes accompanied by a sweet haunting female voice not normally heard on a death metal album, but certainly adds a lot of diversity, and something I wouldn't normally like but this is just so perfect it is very hard not to.
Human Sacrifice
Gruff and grisly vocals invade this track with a vengeance.  The undertones of keyboards are a superb touch along with a good battering of strong drum beating – the twists and turns on the track are superb, with the female vocals making a return with a maelstrom of serious keyboard outage and strong rapacious riffs is very appealing – brilliant track!
Enemies of Freedom
With the words "The only thing that stops a bad guy with a gun, is a good man with a gun!" this track then melts into a powerful onslaught of savagery. Vocally engaging in more harshness and a run of mesmerizing riffs.
Capital Punishment
A swathe of keyboard swirls endlessly into a void of darkness helped along with bone crunching guttural pit born growls and haunting female vocals that would break glass, possesses a solid endeavour to reach its peak of madness. This track carries you to the edge of oblivion with no escape.
Faceless Spies
Melodic and inspiring it twists one way then the next meandering into an uplifting and serious run of plaguing keyboards that are allowed to run rampant and backed with the sumptuous growling vocals. However, the clean vocals seem to ruin it somewhat as they make their presence felt, be it only briefly.
This would be an immense album if it were not for the clean male vocals that seem to keep it from rising potentially to its goal, keeping it in the old school frame of the 80's and not letting it progress fully into the 21st century which is a real shame. However, the gritty growls and soprano vocals do work extremely well together and the music is overwhelming with intensity.
With eight members in its sight this will no doubt be a sight for sore eyes on a stage and plenty to focus on live of that there is no doubt, providing that the stage would be big enough to hold eight members plus instruments.
The classical structures are just so powerful and engaging it defies being in a death metal genre if not for those savage growls that prowl unmercifully to the invigorating guitars, you may think differently.
The symphonic haunting keyboards are brilliantly executed and really adds a new depth to the proceedings, making this album worth listening to – for me personally, it works and would without a doubt have reached ten on the scale if it had not been for the clean male vocal that tends to weaken the structures of the tracks and not allowing the album to fully immerse itself with 100% intensity.
8/10
MaYan 'Antagonize' is an 11 Track Album to be released 3rd February 2013 via Nuclear Blast.