Bands in the 1970's would often release live recordings and fans would in turn clamour for them; how many people of that era have a copy of 'Frampton Comes Alive!' or 'Eagles Live?' Even in the 1990's this was something of a staple as MTVs 'Unplugged' series saw a host of grunge bands including Pearl Jam and Nirvana knowing that they had really made it once they were asked to perform a live set astride a group of props that must have set the MTV production team back at least a couple hundred pounds… The live album could be a powerful tool, it could fill in gaps as they desperately tried to finish off material (Guns N' Roses did this in the late 90's, Alice In Chains also did this as they tried to revitalise an ailing Layne Staley) it could even launch bands as it did for KISS in 1975 with 'Alive!' and Cheap Trick in 1978 with 'At Budokan.'
Rainbow had released an acclaimed album in 1976's 'Rising' that had been well received by the public both ends of the pond but they hadn't really finished a follow up; couple this with the fact that they had already been lauded as a very good live band and their label nudged them for a live album. The following year they released 'On Stage' a group of songs that had been recorded in 1976 in Germany and Japan (in that famous venue Budokan) with the same line up ( Ronnie Dio on vocals, Ritchie Blackmore guitars, Tony Carey keyboard, Jimmy Bain bass and Cozy Powell drums) that had recorded the previous album and with Martin Birch producing the recordings. The issue you can have with live recordings is that they can sometimes really highlight the bands weaknesses whether that be in the accuracy of their playing or the fact that certain songs aren't made for a live rendition, take Zeppelins 'The Song Remains The Same' which for me showcases all of Jimmy Page's tendency to bluster and then go into many, many tangents that never fit the actual song he is playing.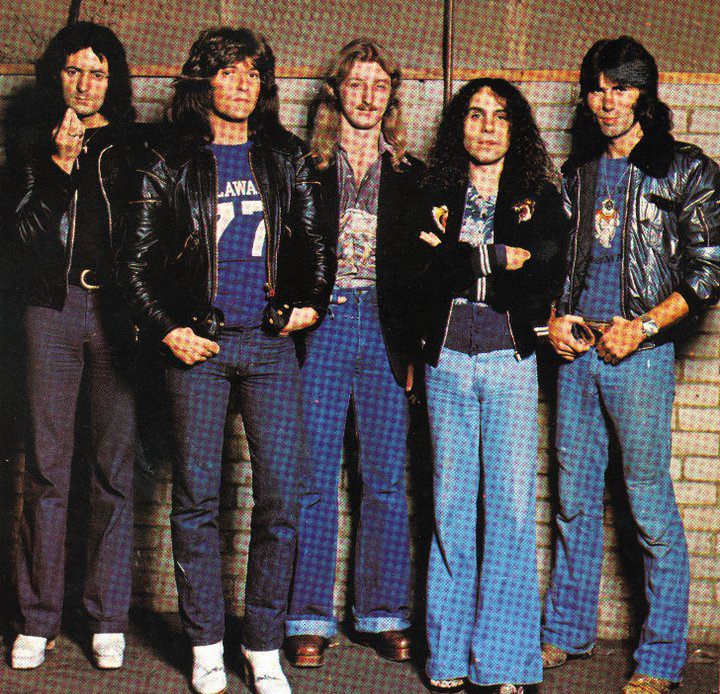 Rainbow open as always with a recording of Judy Garland uttering the famous 'I have a feeling we're not in Kansas…' quote (what they use for if and when they were actually in Kansas is something that I would be interested in) before breaking into to a phrase of 'Somewhere Over The Rainbow.' Normally bands will open with one of their most punchy tracks or at least something that the crowd will immediately recognise but Rainbow surprise me by launching into 'Kill The King.' This is a track off an album which hasn't been released yet! Its actually a very shrewd move as the muscular riff roared by Blackmore's customised Strat mixed with Powell and Bain thumping and growling away really has something that is arguably missing from the version that would appear on the 1978 recording and is one of the highlights of this album.
'Man On The Silver Mountain Medoly' is a thumping track and has excellent keyboard work from Carey with his consistent melodic playing complementing both Dio's soaring vocals and Blackmore's riff. His slide solo fits perfectly as the song builds to quicker beat and is complete with Dio scatting to an inevitable climax of drums and guitars duelling for supremacy. We then descend into a bluesy instrumental with Blackmore making his guitar squeal and scream as another duel with something like an answer guitar alongside Powell showing off his jazz chops. It all feels very free flowing and from a musicians point of view must be something but it begs the question, is this needed? Does it add to the song? In my opinion it goes on far too long and then just when you think it's reached the end and we are back onto MOTSM Dio then starts showing his operatic trained voice as he improvises different lyrics to the song and I switch off again.
There's a change of pace after the urgency of 'Kill The King' and the grandiose of MOTSM we switch to 'Catch The Rainbow.' It opens with a beautiful mournful vocal turn by Dio backed up with a stirring work from Carey and the oh so consistent Bain. It slowly becomes more anthemic and epic as the song progresses and Blackmore's guitar becomes more frantic and desperate, its the type of song that Rainbow always excelled at as you close your eyes and listen to the story that band are telling, the imagery and melody conjure tales of warriors and passion.
'Mistreated' is a Deep Purple slow burner taken from their '74's 'Burn' it seems a strange choice seeing as Blackmore would be leaving the band after 1975's dreadful 'Stormbringer' but its the album highlight here. Complete with a gorgeous building organ chord through out complimenting the excellent melody and then a slow blues solo stripped down towards the end with slow hand clapping from the audience before bursting into the final phrasing with Cowell smashing through with so many fills adding to the drama of the song.

The penultimate effort is the somewhat pretentiously titled 'Sixteenth Century Greensleeves' which starts with a refrain from Blackmore, you can really see the vision that he and Dio shared of neo-classical metal, a type of rock that would blur the line between the two. After this slightly frumpy and portentous beginning a heavy chugging riff smashes its way through the malaise with Bain really pushing that beat. Cozy Powell's drumming is brilliant here as his energy pushes the song to the anthemic chrous.
The original album ends with 'Still Im Sad,' its another cover (although Blackmore did write 'Mistreated') this time by The Yardbirds, it's an organ dominated song that does feel all of it's 40 something years old. Npw of course The Yardbirds were revolutionary and this song is off one of their great cuts in 'Having A Rave Up With The Yardbirds' and Jeff Beck is awesome and there's no denying the talent in Rainbow but… this cover feels tired and predictable. A Blackmore solo is something that you can normally rely on but here it's tired as we descend into a very long keyboard solo which no matter how great Carey is becomes very tedious before cranking up one more time to a finish.
This is where the deluxe version kicks in and there are mostly the same tracks that have already been reviewed in different venues, this will only really appeal to hardcore Rainbow fans with one exception; 'Do You Close Your Eyes.' This track is taken from 'Rising' and opens with a heavily distorted Blackmore going through scales before kicking into the aggressive riff. Of all the tracks from the album this sounds the most Deep Purple-esque with a stripped blusey style and relying heavily on organ in the chorus but the one thing that you can not deny is how good Blackmore can be in his solos as he breathlessly finger picks the life out of his Strat towards the end of the song.
'On Stage' was a hit back in 1977 hitting the UK top ten and in places it's easy to see why, there's no denying how great Blackmore's band are and when they click it's hard not to find yourself head bobbing along or reaching back the way Cozy Powell might have done before launching for one of his crashes. The problem is that these moments are interspersed with music that doesn't really always capture your attention, a lot of it sounds dated and there's far too many moments where you can skip over as each band member solo's to within an inch of my life! So 'On Stage' is good for hardcore fans but if you have 'Rising' or 'Long Live Rock N Roll' you may have finished your collection.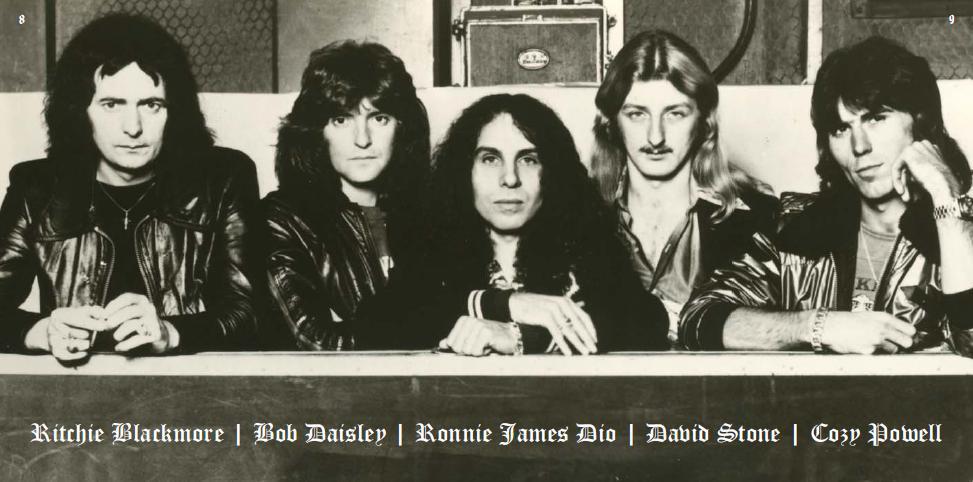 5/10