Rene Benton has grown a name for himself thanks to the huge blends in musical genres in his playing, and thanks to his virtuoso playing, he has just had a very successful appearance at the finest guitar event of the year at NAMM 16.
Xpressions Too envelops more blended styles than you can shake a stick at, and most definitely fights between engaging interest and alienating listeners through complexity dependant on their personal music tastes. As a whole, and being able to push through the album multiple times, it eventually grew on me and each time I could pick out different things to engage with, even the shortcomings I found in the album seem to fit in place thanks to the natural style Rene plays. The 12 track album fits its name perfectly, chocked full of personal expression, and each song is a short story in itself, not one track surpassing the 3 minutes mark.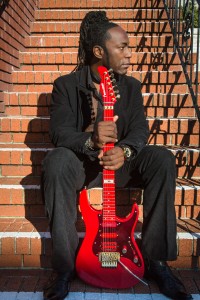 'Push/Pull' kicks off the album with a strong metal vibe, while 'EastMeetsWest' falls more into the progressive rock side, with plenty going on to keep you interested, 'Nation Of Struggle' continues down the progressive side, a lot gentler that the two previous and very much something you could imagine during a classic video game.
'Clone Theory' plays along the same route as the opening track, as does 'Part Of Me', both very much along the metal paths, with nuances that seem to be plucked out of the air that don't seem to flow at times, but with an almost jazz like element to them they seem to hold and at least work. 'This is Life' seems to be a bit more of a stand out track on the album with guitar flamboyancy being matched with a backing of strong riffs that make all tracks previous to this seem to pale in comparison, if the other songs were part of a game soundtrack, this one would be the boss battle. Sadly though it seems to be over as quick as it started which is a shame.
'Drone 3.3′ starts the second half of the album off slower with a much more digital sound, while 'Thingz Happen' pushes some heavy distortion through the backing while Rene plays some very well written passages over the top making for what could be one of the more listener friendly tracks on the album for those that aren't really into this sort of thing. 'Lyfe Support' plays cleverly with the use of the guitar to mimic a heart beat monitor, with addition of ambulance sirens through the track, easy to get into and get caught in your head. Sadly both 'Green Light Go!!!!' and 'V.U.S (veryuncomfortableshooz)' seem to play through without having much to grab me, but album closer 'Open Air' makes up for that well with a simple feel good vibe.
All in all it is an album that I found difficult to get into, but after giving it a few tries, you do manage to find your way into it through an open door. I found quite a few annoyances with the album, it didn't seem too well produced, or the instrumental sounds didn't do it for me, but seeing past that you can really pick up a lot on Rene Bentons on personal styles and his clear talent. From a guitarists point of view (and although I can play, I'm not that great). It certainly makes me think that I could play stuff like this with a little practice, and looking at it from that point of view, I can see this release being one for the younger generations coming up that are getting into guitar as an album that could give them a push in the right direction. On the other side of the coin though, it isn't one that i would call a must buy when you consider how many instrumental guitarists in recent years have come about (Andy James being a prime example), Rene Benton is one to keep an eye on though, and i am very interested to see what he comes out with in the future.
Rene Benton: Xpressions Too (Short Storiez) is due out February 29th