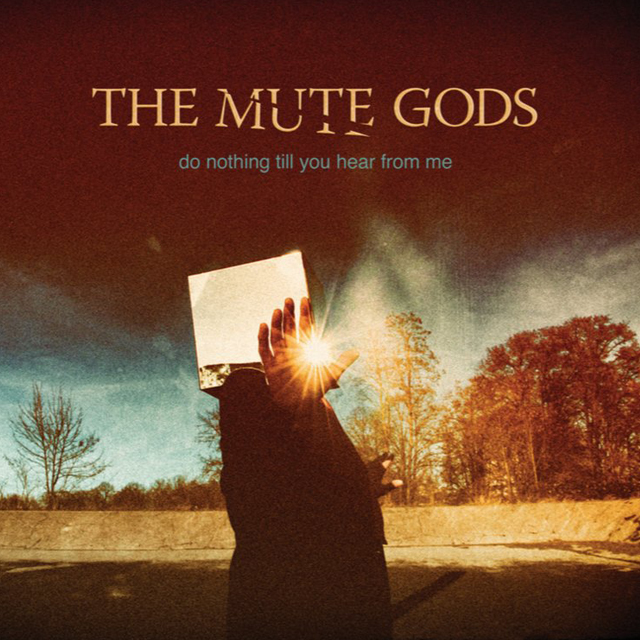 Early progressive rock abandoned its psychedelic birth-mother in search of musical adventurism. That the worlds of fantasy and science fiction were going through a new redefining phase too back then meant many bands drew lyrical inspiration from such works. Stretching out, exploring new worlds, looking to discover. In reality we've still only got as far as the moon here in the physical world, and there are many who weren't even born last time we were up there. Thus it is not surprising that the current prog scene has turned elsewhere for topics to muse over. Currently it's more about inner space, emotional imbalances, and our current perceptions about a deeper sense of reality.
Taking this state of mind further, if The Beatles' 'Lucky in the Sky' was symbolic of what were then considered consciousness-expanding psychedelic drugs today's progressive rock is more in tune with the countless proscribed medicines we're fed to keep our personal neuroses and externally aggravated stress levels in check. The musical results ruminate with moody atmospherics, pleasingly so often, but do they affect us on a deeper emotional level or we might we simply just be in accord with the messages they're sending out?
On Do Nothing Till You Hear From Me The Mute Gods externalise their anger and frustration on how propaganda is used to support, for want of a better word, bullying, in all its forms.
"We live in a time of heightened religious fundamentalism in which people deliver the wrath of God or speak out on his behalf," declared The Mute Gods' Nick Beggs prior to the release of his band's debut Do Nothing Till You Hear From Me, continuing: "When did God appoint these dubious PR men? The people in this world who should truly be listened to are often the ones who are silenced. The voice of reason seems strangely quiet in the face of so much disinformation. The Mute Gods address this imbalance."
It must be a strange and exciting roller coaster of an adventure that the world of music has taken Nick Beggs on. From bass player in new wave pop band Kajagoogoo to right hand man for nu-prog god Steven Wilson. In between he's played bass and stick for a wide range of pop, rock, funk and soul acts, working with the likes of Belinda Carlisle, John Paul Jones, Gary Numan, Cliff Richard, Rick Wakeman, John Paul Jones, Tina Turner, Seal, Steve Howe and others. Not that he's simply a top class session musician because his own band and project releases have apparently sold more than four million copies.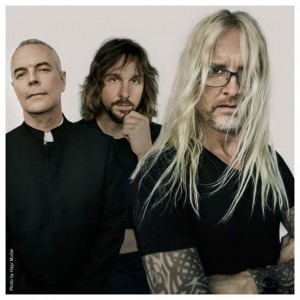 It was while working with Steve Hackett that the idea for The Mute Gods came about. There he met keyboard player Roger King who has long helped produce, arrange and write material with the ex-Genesis guitarist. Their agreed intention became to discuss our living in a state of manufactured reality and how we might rise above the propaganda that floods daily existence, in the form of an album. To complete this trio fellow Steven Wilson and Joe Satriani drummer Marco Minnemann was called upon and eleven tracks were written and composed for Do Nothing Till You Hear From Me, now available on InsideOut Music. There are guests to be sure: Ricky Wilde, Nick D'Virgilio Frank Van Bogaert, Gary O'toole and even Beggs' daughter Lula duetting on the final track, but no one grandstands, it's pretty much a coherent sound throughout.
It all begins with what might be the crackling of static from a transistor radio tuning into the work of avant garde composer Terry Riley before some Rush like power chords crash through sorting the men from the boys. Therein a more discernible melody filters through phased effects and a heaving bass line.  Do Nothing Till You Hear From Me as both album and title track here act as a great soundtrack for a long train journey shifting past various interesting locales where not everything runs smoothly and yet the bumps can be quite fun. As the pace increases on this particular track the bass line rolls ever chunkier and its treated vocals remind us how much ELO are back in vogue these days as it becomes an upbeat pop song of hope despite despair, a singular melody line  addressing perceived imminent danger; in this case the enemy within.
The monolithic prog funk of 'Praying To A Mute God' develops a 'Strawberry Fields' Beatles flavour before a new riff shifts things into a deeper groove with lots of descending melody lines  and a brief synthesiser solo takes us through to crashing conclusion. And then our mind sets are altered sharply as 'Night School For Idiots' plays out – A sweet lighter number with harmonies surrounding the self-depreciating lyrics. One assumes Beggs to be the main vocalist and it's on tracks like this where one hears an English sensibility that is found akin to the voice of Caravan's Pye Hastings or even Clifford T Ward.  'Feed The Troll' however returns us to meatier hooks and is like some angry hybrid mutation of what Peter Gabriel's and Steve Hackett might've got up to if they'd left Genesis together with assorted keyboards, sfx and whistles parping up on this paean to the down side of social media.
On the version I have for review, the spidery 'Your Dark Ideas' with its high pitched harmonies and strident organ solo is followed by the bonus track of 'Last Man On Earth' a gentler variation on Bowie's Major Tom theme where you feel the tin can has been replaced by a hot air balloon gently floating by.  Instrumental 'In the Crosshairs' has the kind of hard rock prog riff thought lost during  the recording of Uriah Heep's Look At Yourself only to be spliced with Moroccan percussive rhythms and is counterpointed by the gently haunting arpeggio inversions of 'Strange Relationship'. 'Swimming Horses' meanwhile is the real strange one – An indy/Gothic musical box of sound enveloped by mellotron and a rippling bass line that rides it all to conclusion. However, again a bonus track on my version tops that as 'Mavro Capelo' becomes the musical equivalent of sticking a bag of marbles in your mouth and juggling them round even while you're holding in a pile of vomit. This is nasty Goth prog as invented way back by Atomic Rooster but with a decidedly modern edge. One might consider such to be a defining statement to end such an album on but they don't and completely change track with 'Father Daughter' – It is a trance state trip hop duet between Biggs and daughter. It is dreamy, sensitive, moving step by step in aching patience, only to stop abruptly.
Throughout the music is varied, largely riveting and on occasion surprising, Does the content of its lyrical themes move me? No, I'm already jaded enough on my own, but as aural voyeurism it's well worth repeated listening.