Cannibal Corpse formed in Buffalo back in 1988, and so it comes as no surprise that these gallant death metallers caused much controversy with the title of their first album "Eaten back to Life" alone and are still going strong to this day, revelling in the most extreme and brutal metal along with gruesome covers that really perked up interest with metal heads across the globe.

Of course we know anything that is 'forbidden' will be of interest for human curiosity and for music it was a turning point that has given the band "notoriety and fame" over the years.
High Velocity Impact Splatter
This track opens with a droning and hyper buzzing, reminding me of someone kicking a hornets nest. It quickly seizes its chance to strike fear into the willing victim like a scorpion in full attack mode.
Sadistic Embodiment
With eager fingers on frets it rampages gathering quick momentum and forceful hunger that ruggedly strengthens its powerful fuelled filled hatred as it aggressively manipulates the senses.
Kill or Become
This is a more drum packed frenzy as they shine through this malignant rampage of impurity. The glorious mesh of guitar and drums are each imposing and adding further spice is a harsh gravelled vocal that is vehemently smeared angrily all over it.
A Skeletal Domain
The title track of the album houses a dark format of slight doom ridden angst that is neatly embedded into it until it gains further momentum and then runs riot across the aural.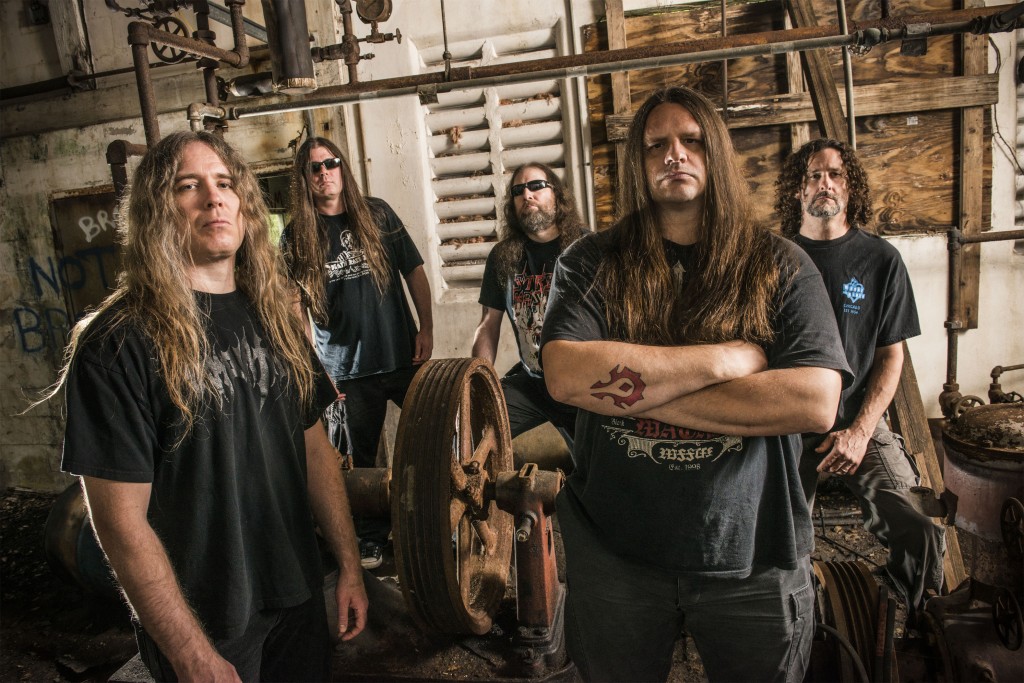 Headlong into Carnage
Inciting smothering riffs and bludgeoning beats that sweep feverishly into a maelstrom of delights it leaves a bitter sweet taste of death in the ears that lingers with a fierce bite that keeps on biting.
The Murderer's Pact
Fired up with yet more extreme aggression and steely grooves equipped with a hearty scathing vocal edge. It embraces with muscular tendencies to indeed choke and smother and is a stunning track to encounter!
Funeral Cremation
Well they wouldn't be a death metal band if they didn't sing about death would they? This returns to the Hornet's nest be it briefly until a fiendish kick beat sparks into life and indulges the listener into its ever increasing madness.
Ice Pick Lobotomy
Such a cool name for a track! The bleakness is wrapped up tightly in vehement rhythmic qualities that drench the aural in a thickly textured structure of extreme malevolence.
Vector of Cruelty
This holds a deep ravenous groove that rips into a burning chasm of darkness as it swipes angrily through its enticement. Showing the bands (slightly) slower and sultry endeavours.
Blood Stained Cement
Another creatively entitled track that is infused with passion and tenacity for another thrilling encounter. Its rapaciousness is fuelled with deadly alluring appeal that spikes into pure lust as it continues on its way, triggering a psychotic episode on guitar.
Asphyxiate to Resuscitate
Literally grips the ears and throttles them with contempt. Swamped with heavy structures that twist and turn in a force field of irresistible persuasion and addiction.
Hollowed Bodies
Leaves nothing to the ever bright imagination. It kicks into life with a resounding thump of brutality that prospers with increasing temptation. Smouldering with fierce rhythms and enthralling kick beats that ride on a tempestuous wave of malice.
Cannibal Corpse really do know how to entertain you. The album vivaciously mesmerizes and keeps you on your toes scared of what you might miss out on. Exploring a high octane charge that is equal to a few hundred live volcanoes mixed in with deadly dynamite.
It never lapses or loosens its grip for a second, and gives the listener a chance to explore further their already weakening emotions as it is a battle of wills in which the listener may not fully survive.
Lathering up nicely, there is a lot contained within its dark structures, however the only thing I can say against it is that it is drenched in predictability but where it fails on diversity it certainly makes up for with sheer energy and voracious appetite.
9/10
Cannibal Corpse 'A Skeletal Domain' is out September 16th 2014 via Metal Blade Records.
Track List: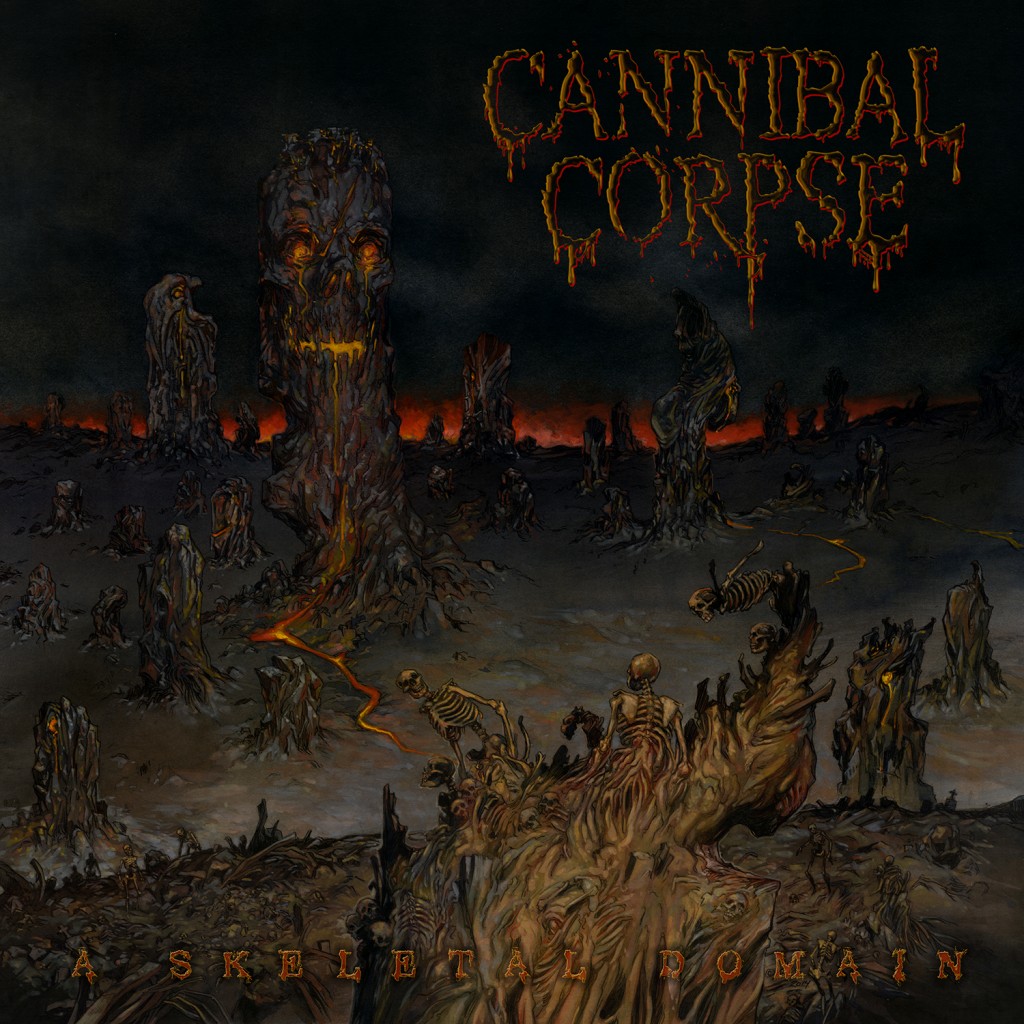 High Velocity Impact Splatter Sadistic Embodiment Kill or Become A Skeletal Domain Headlong into Carnage The Murderer's Pact Funeral Cremation Ice Pick Lobotomy Vector of Cruelty Blood Stained Cement Asphyxiate to Resuscitate Hollowed Bodies