Grunge-Punk trio Dinosaur Pile-Up, who are due to release their third studio record later this year, took the stage at Tooting Tram and Social last week – a former tram shed turned bar and live music venue. The high ceilings within did nothing to take away the intimacy of this small gig, and for someone who is as big a fan of the band as I am, it was great to be at a show of this nature. It'll be hard not to sound biased given my previous sentence but please do let me assure you that they are magnificent at what they do. Having played an ever increasing variety of stages both internationally and in the U.K, what is always guaranteed is a gnarly performance, filled with raw energy. With a catalogue of great hits, they really come to life onstage, no matter how big or small the establishment may be. Despite the chilled out pre-show vibe, those gathered here in South London are in for crazy, punky and awesome show.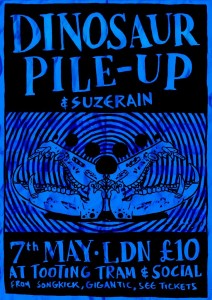 Tonight's opener is '
Arizona Waiting'
– "Sky coming crashing down" is instant trigger in my brain for the forthcoming song to come, which adapts a style that is very much signature DPU. This style is an all out guitar, bass and drums attack. Songs are punchy, turbo-charged and well pieced together – distorted guitar riffs and raucous drumming with a slick bass chug to compliment. Awesome riffs that are wonderfully rhythmic and riffy breakdowns feature throughout and as always, work so well when intertwined with lead singer Matt's vocals.
The second track of the set is 'Peninsula', another belter from their most recent album 'Nature Nurture'. Whilst I've mentioned 'Nature Nurture', the title track for this album title is warmly received and although the gig is far from capacity, in unison we all scream the vocals while Matt, Michael and Jim lay it down hard – a real crowd pleaser.
On stage tonight I see glimpses of Nirvana, the bass and guitar front line working in sync to churn out a hefty sound, but specifically front man and guitarist Matt's stance, style and vocal attack. We also have a 'Grohl-esque' display of tight drumming packed with glorious fills. As a collective they display some similarly excellent attributes. Having said this, DPU are still very much their own band with their own style and they nail it every time. Having spoken to a friend who was here to lose his DPU gig virginity (congratulations pal) he commented that Kurt himself probably would have dug this.
What's great about the show is that even though we've just had our socks rocked clean off (not literally, I'm not sure that's even possible) there were still some beastly songs that we didn't hear. This really goes to show that DPU really are all killer no filler and it seems that album number three will be no different. In fact, the crowd here tonight will be amongst only a select few that will have had the pleasure of hearing new tracks, such as 'Grim Valentine' and another that is yet to be identified. Let's call it 'new song' for now.
We also have 'White T-Shirt and Jeans' which thanks to my subconscious mind is exactly what i'm wearing on the night. They kick it old school with tracks like 'Traynor' and 'Mona Lisa' and alongside the opening two tracks which are from their most recent album we also hear 'Summer Gurl' and 'My Rock 'N' Roll'.
The final song, and 11th song of the night was '11:11′ – this is a little similar to 'Nature Nurture' in that it is constructed around that catchy hook and infectious riffery. It is also features the word eleven about as many times as I did just there, plus more.
DPU yet again show they are rock and roll aficionados and have every right to be a big hit at shows this summer and beyond.