Secrets of the Sky 'Pathway' is out now via Metal Blade Records.
Hailing from Oakland California Secrets of the Sky formed in 2010 and it seems took their time releasing any material until 2013 when they produced their debut album To Sail Black Waters which after listening to the track 'Decline' can reveal that it is far more atmospheric than their new album.
I is a swathing mass of undulating waves and deep subsonic rumblings of thunder, obviously a filler track.
Three Swords as with the previous track the waves are clearly audible but the difference being a plonking of strings that lies over the top of a ghostly keyboard. The vocals are soft whisperings. It seems to dither a bit before biting hard.
II now hears a wild bird that screeches loudly amid some wolves howling and what sounds like feet marching on gravel and of course the thunder rumbling away in the background.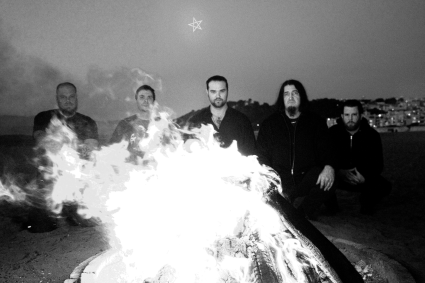 Angel has a deep rabid doom laden feel and steps the album up a notch, boasting some magnificent vocals that are menacing with intimidating factors that turn clean half way through. It is an amazing track with that 'what's going to happen next' quality attached to it.
Another Light is a wander on the fret board with haunting and sinister edge. The vocals wrap themselves around the sullen proceedings. This is quite a melodic track although it never deviates from its doom laden theme.
III Water droplets and marching feet on concrete with the wind howling and a demonic voice that growls in disturbing fashion are order of the day here.
IV The previous track filters into this one, although I have no idea what it is all about – it just ambles into a cackling maelstrom.
Garden of Prayers Really pleases the audial as hard striking riffs melt with a thunderous beating of drums and monumental scathing of vocal chords. It is without a doubt my favourite of all the tracks so far, as it really blisters and leaves its grand gesture ringing in your ears long after playing.
V From what I have gathered about Secrets of the Sky this track shows more small glimpses of fire and anticipation but doesn't really tell you much about what is going on.
Fosforos I just can't believe the ferocity that has just escaped!! This is one fiery and venomous track that sneaks up on you and explodes into a malicious frenzy! The beats are bludgeoning, boasting a hearty 'pent up' aggression that seethes under the weight of its torrential riffs! Superb!
VI The fire burns amid a slurry of rumblings and fades out – Nothing more to add here.
Eternal Wolves The ghostly stringed arrangement is haunting and balanced perfectly to a steady beat and offers more softly whispered vocals that brush the ears – until a deep repugnant vocal takes over. A very predacious track that stalks with shudder-some endeavour.
VII Swords at the ready, with a creeping tidal wave and the cackling of a lonesome bird – not really the ending I would have chosen.
Although there are some feisty moments contained within this album the filler tracks of which there are far too many, seem to ruin the experience for me.
However, the two monumental tracks 'Garden of Prayers' and 'Fosforus' – they are all out winners on the album for sure, and they bare-witness to what the band can achieve with total ease.
For me, more of the same would allow this album to be enjoyed fully without stopping to throw in the strange concoction of noises that only serve to slow things down and remove the fire and ferocity that should remain through-out.