Former Dream Theater drummer Mike Portnoy has a thing about extra-curricular activities come side projects and bands (The Winery Dogs being his latest). With former Spock's Beard keyboardist/vocalist Neal Morse he formed Transatlantic, and that pairing have gone on as Flying Colors (USA spelling not mine), adding the non-related current Deep Purple/Ex-Kansas guitarist Steve Morse and his former Dixie Dregs cohort Dave LaRue who's also played with axe heroes Joe Satriani and Steve Vai. Then they brought in pop singer Casey McPherson of Alpha Rev, whose New Morning album was a 2010 US Billboard Top Ten hit. One eponymously titled debut album executively produced by Bill Evans out the way, and they're back for more: "Crafting new-fashioned music the old-fashioned way," apparently.
Musically it's less hard-edged jazzy rock than I'd assumed, in fact it's quite traditional modern prog, with nods to Genesis and Yes aplenty – The trouble being you can only replicate a style; the originality and newness of what those bands created back in the 70s was unique to them. 'Second Nature' opens with 'Open Up your Eyes' and could have come straight off Transatlantic's last album 'The Whirlwind'. The long instrumental start gains momentum with harder drumming and ever more whirling synthesisers, followed by a bibbity-bobbity sub-funk prog-bass dominated part before leading into the main song where there's a more organic natural piano sound present alongside a much more stridently assured guitar being played than was with Transatlantic. Its main theme then takes a cue from Genesis's 'Wind & Wuthering' album adding a Yes-type harmony in places. Lyrically on this track, and possibly a few others, as was with Transatlantic, they could be alluding to Christian themes. McPherson was an unknown quantity to me so I listened to him more acutely for my first few spins of 'Second Nature'. Straight off I'll declare I like my singers to give a little more than is mostly on offer here, and when he does give it some wellie you wonder why he isn't pushed to do it more, unless they're after that modern X-Factor vocal anonymity. As Morse's six string swoops in melodically to solo over a bed of mellotron effects, it begins to hit you that it's his guitar playing that will be the reason most listeners will come back for more.
The next two numbers are musical departures from the rest of the album, especially 'Mask Machine' where it's like The Queens of the Stone Age with an underlying early Stranglers rumble over which harmonies and weird sounds emanate suitably. 'Bombs Away' has a bolshie bass line, slowing down to a prog blues where Steve Morse guitar solos to be replaced by Neal Morse's keyboards emulating a violin over tricky riffs, then the pair duet. But, it does have some dreary moments. Following it is another sad tune, though not mournful in 'The Fury Of My Love' featuring piano on what could be Nilsson covering The Beatles. Some pretty harmonies and the lead vocals prove much more effective here when McPherson pitches higher, particularly as they lead into a guitar solo.
The Beatles are again in evidence on 'A Place In Your World' but during their hippy phase as also revisited by such diverse hands as Mr Big and Tears For Fears. There's also a Yes style riff opening and an organ pumping throughout like Atomic Rooster's Vincent Crane in what's rather a good tune. Whereas, 'Lost Without You' doesn't grab me, coming across like a collaboration between Take That's Gary Barlow and ELO's Jeff Lynne, with its light orchestration and harmony vocals. 'One Love Forever' features a jaunty keyboard melody Tony Banks might have come up with given a clever Cajun vibe but the vocals tend to be dreary again. Thus it comes to the last couple of tracks for McPherson to show his stuff.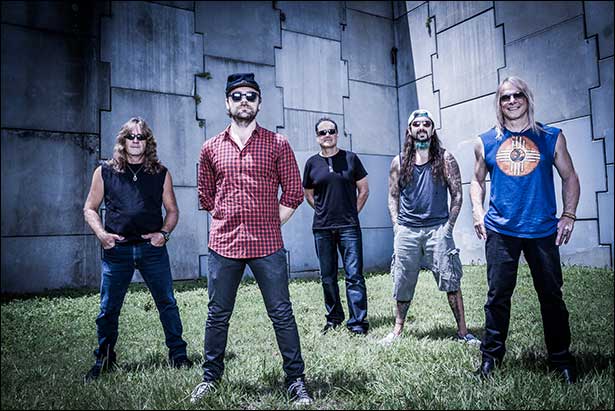 'Peaceful Harbor' opens chorister style, ala Jeff Buckley, with only a lightly strummed acoustic as instrumental support. When the band come in there's more of Radiohead's Thom Yorke to the vocals. But again it's when Morse takes a guitar solo you take serious notice: the first part is indebted to Steve Hackett; then a second dubbed guitar wails around it. As the song heads towards its climax the choral vocals return with McPherson reaching even higher notes akin to John Sloman (Lone Star/Uriah Heep) and you wish he'd been doing this throughout as Morse's guitar unleashes some final sonic statements.
The epic sounding 'Cosmic Symphony (I. Still Life Of The World, II. Searching For The Air, III Pound For Pound)' isn't as way out as it sounds, but it is pretty groovy, finds the band more relaxed and stretching out as musicians, despite the fact it relies heavily in part from keyboard melodies half-inched off Genesis' 'Lamb Lies Down Lamb On Broadway'. The opening synthesiser melody is interrupted by a nicely unexpected jazz rock bass solo, then a brisker, jazzier organ begins to bubble away over Cross, Stills & Nash type harmonies, it returns to the borrowed Genesis like melody, adds effects, some Taurus bass pedal drama and then a tortured neck-wrangling guitar solo. It then enters a more reflective mode with electronics and a folk-jazz vocal take from McPherson before the band come back in, the momentum building up and again, McPherson hitting that Buckley falsetto once more; add in another solo with choir that's presumably keyboard/mellotron created because it sounds like an added female voice in there, and what sounds like The Beatles playing a sea shanty on guitar in the background. Like I said, in print it appears like it's all over the shop, but it actually works.
The songs average out around seven minutes, some actually feel shorter, but a couple would be better cropped by about two minutes each. It's a mixed bag that needs added direction as far as my tastes are concerned. Currently it's more an album to have on in the background while doing something else.