First track 'Welcome to The Shit' is a wake-up call and definitely makes you think as the sampled voice plays out to an eerie tune that fades in and out. Next track 'Gimme the Night Any Day' takes the task in hand and delivers on full throttle. There is however a teeny weeny bit of tongue in cheek on 'Battlepants', I mean there just has to be… doesn't there? Although the music is obnoxious and gives little away other than morbid repugnance and extreme savagery.
'Double Barrelled Shot Pun' – come on anyone with me on this one? It is tongue in cheek isn't it? I do happen to like the hum of the bass as it kicks out a great hook and molests the ears with eager intent.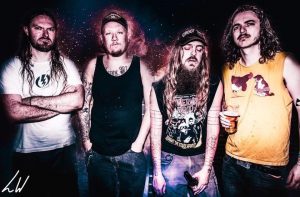 'The Crotch Wobbler' – I finally hear the doom element within this bands niche however, I am loving their spontaneous riffs and feel quite upbeat if that's the word. On 'Existence is Pain' I can go along with the title and relate very well, and again we are hearing the doom spread like a virus once again, however, it is a powerful vibe that holds a lot of intensity and glorious captivation. 'Broken Heart Herion Man' forgets its genre and takes a leap of faith to the other side of extreme on this death defying seething track. It is filthy harsh and noisy just right for a party!
'Meowing at the Fridge' – Who let the cats out? I don't know about cats but this feels more like a herd of elephants stampeding and invading your space. However, it is highly pleasing and unusual in the fact it holds a superb brutal ambidextrous vocal that has plenty of range to leave your ears feeling like they have been swilled out with caustic soda.
'John Gar See You Later' – no idea who John Gar is but if the music is anything to go by he must be a star! This is just an amazing track that will increase mobility without the pitch fork up your ass.
'The Ballad of Tom Stones & Reg Montagne' – now these two sound like a pair of guys you don't mess with as the ambience flows with an eerie and contemptible feeling you get the disturbed reaction that these guys are not as jolly as John Gar and appear a little menacing – Great album of intrigue and unexplained twists!
Gurt's Skullossus is out via When Planets Collide on 1st May 2017.