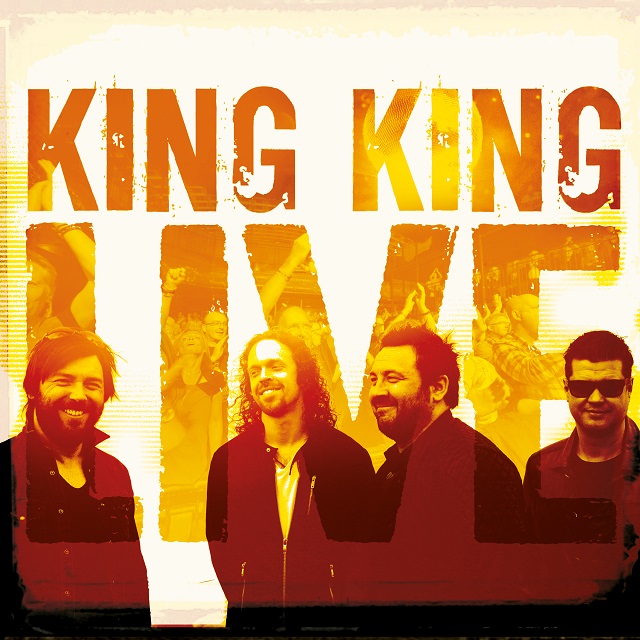 "Hey, hey – You came!" calls out Alan Nimmo in mock surprise amidst a whooping crowd as guitars tune up and drums bash down in a veritable  musical car crash before the rolling down the highway rock groove of 'Lose Control' sets in and hooks the audience. More laid back, old school blues in the Bobby 'Blues' Bland style follows with showy organ and guitar runs through 'Wait On Time' while keyboards continues to be  musical highlight for a thoughtful  vocal reading of 'Waking Up', a modern R'n'B vibe with consistent mainstream appeal.
So far, so good, CD1 of King King Live captures the multi British Blue Award winner going through the same performed earlier this year. Then, as Bob Fridzema's organ stirs once more, the rhythm section gently coax the beat drawing Nimmo's voice to elicit a sense tempered desperation as 'Rush Hour' begins to build and rises euphorically; notes exquisitely pulled and stretched from guitar strings this has epic written all over it.
The band continue to cut and dance with the beat, and your 15 year old self is back dancing cheek to cheek with the first girl who was gonna break your heart as they play 'A Long History Of Love'. The mood changing with a rather beautiful keyboard solo, the guitar one that follows being but the necessary orgasmic release to this musical love making.  This is the sound of a band, working together and grooving for the common good, suitably aware of what they can achieve and that their time in the spotlight is now, and rightfully so. Tempo builds for a speeding funk attack, harmonies rolling out like Kokomo of old, the fluid time changes persist and they continue to give with 'More Than I Can Take'.
Like the vinyl albums of my youth CD 1 ends too soon and I stick the second in, hoping not to be disappointed. 'You Stopped The Rain' has the rhythm section of Wayne Proctor and Lindsay Coulson laid back but ever present: pushing, probing, shifting the beat and leaving space as blues, funk, rock and soul submerge within this musical melting pot; Fridzema embellishing and coaxing notes while adding vocal harmonies to Nimmo's. If some part of your body in not moving involuntary by the end of this number – be that a foot tapping, head bopping, shoulder shaking, hand clapping or whatever – then I sympathise with your physical disability. There are some real sexy grooves going down on this album, and while you can't help but be reminded of Bad Company or Back Street Crawler at times the sound King King produce collectively is meant for now.
Guitar notes sustained Paul Kossoff like through a cover of Frankie Miller's 'Jealousy', the organ playing the guitar arpeggios of the original. Then drums and guitars kick up a fuss, the band roll forward collectively, Fridzema's organ slashing a path as they go 'Crazy. This is just ace as Coulson's bass throbs and grooves throughout. "We're gonna get funky!" cries Nimmo as the pace quickens for 'All Your Life' and solos are taken as he introduces each of the band before taking the song home.
The slow deep beat of 'Stranger To Love' is but one step removed from Free's 'Heartbreaker' but occupies the same emotional compass, here they extend and extemporise the song beyond its studio recording. A guitar solo breaks down to duet with the organ the rhythm section rumble underneath before they rock out hitting a crescendo as Nimmo calls out: "Thanks! It's been an absolute pleasure!" Exiting the stage, the Glaswegian crowd whistles and chant and King King return for one last number, the upbeat sing-along soul rocking 'Let Love In'.
Across the length of these records the live context allows the instrumental section to breath rather than act as padding, the band evidently musically so compatible and interacting well with their audience. Men of a certain age I've found a Viagra substitute for you… Play King King Live and play it loud!