Firstly, I would like to introduce you to Matt Goud better know as Northcote. The Canadian singer songwriter from British Colobima joined by his friends and other musicians. He has shared the stage with acts such Gaslight Anthem, and Chuck Ragan.
Matt was brought up on a diet of country and gospel music. Over the past 8 years, few young musicians in Canada have put on as many miles as Goud who toured for years as a member of a post-hardcore band.
'This Is Our Time' starts the album rolling followed by the first single 'Bitter End' speaking of packing up your life up into a suit case and disappearing, something that lots of people would like to do.
'Small Town Dreams' is about two people tried of their small town existence dreaming life in the big city, I guess this is something that everyone goes through. The title 'Hope Is Made Of Steel' follows small town dreams with a great wall of sound that envelopes you as the listener. 'Leaving Wyoming' has a great feeling of nostalgia and give the feeling of looking back on a friend who has been lost to time.
The album as a whole has a very nostalgic feel to it speaking on themes of escape and memories of nights with friends.

'You Could Never Let Me Down' has a great swagger to it something that was picked up on the road and has great feel of Bruce Springsteen, telling the stories of everyday people making ends meat. I think it could be a great paring for a tour should the right people meet.
'Bracelet' is about waiting for something that never comes. The track give you a sense of urgency that time is precious and you shouldn't be waste it.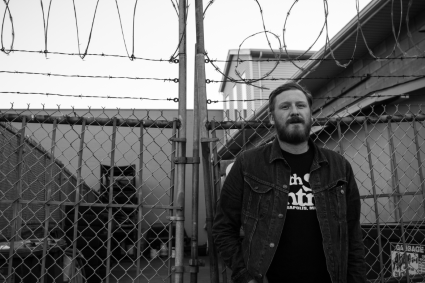 'Stronger Than You Know' kicks the tempo up after the last to tracks have kept roughly the same. A track that should give you a sense of hope when times are tough. 'Just Kids' and 'Your Rock 'N" Roll' are the last two tracks on the album bringing Hope Is Made of Steel and my review to a timely end.
Hope is Made of Steel is now available on the usual formats from Xtra mile Recordings. Please go out, buy a copy or two to help a truly talented and soulful singer songwriter.