The heavy metal outfit SONIC SYNDICATE from Falkenberg in Sweden recently underwent a sonic change. They also switched personnel. Out went bass player Karin Axelsson and drummer John Bengtsson. In came Michel Bärzén [bass] and Peter on drums. In fact the only member of the original organized union of like-minded souls is Robin Sjunnesson on guitar.
Then the band underwent a series of public ventilations since parting company with Nuclear Blast. And these very-public "ritual videos" — where the band bared their soul and revealed their secrets and resultant anxieties — prompted them to write a new full album… partly because they felt, in the words of Nathan James Biggs : "Re-born […] re-energised..."
The title track 'Confessions' is a huge assault on your senses. Layer upon layer of synth and guitar. The main riff is electronic. Then there is a swelter of harmonies. The percussion is undeterred. If it were not for the dominant force of electronic keyboards, sequencers, samplers and other gadgets of the 21st century, you might be fooled into thinking this was power metal.
With imaginative guitars, symphonic pretensions, hymn-like structures and a real 'powerful' sound — it's like Dragonforce were packed-off to heaven — forced to play the stuff only angels and saints enjoy.
But in reality, look deeper and you find something that might closer resemble E.D.M.
And that's why this is bold. Where other metal bands have developed their sound by borrowing elements from a contradictory genre – we are thinking of Pantera's groove, Soundgarden's grunge, Fear Factory's industrial or Rage Against the Machine's rap — what the Swedish guys have done here is invent [if that's the right word] "Rave rock."
By this this we mean something distinct and seperate. We do not mean a confederation of breakbeat ideas that may or may-not incorporate dubstep, acid house and techno. This is not The Prodigy, for heaven's sake! It is more closely associated with high octane club nights, or the work of dancehall DJ's like Diplo, Tiësto and of course, Stockholm's own home-boy Avicii. Progressive House amalgamting elements of hard-rock is nothing new, you might say, but we think it has never been achieved on such an industrial scale before.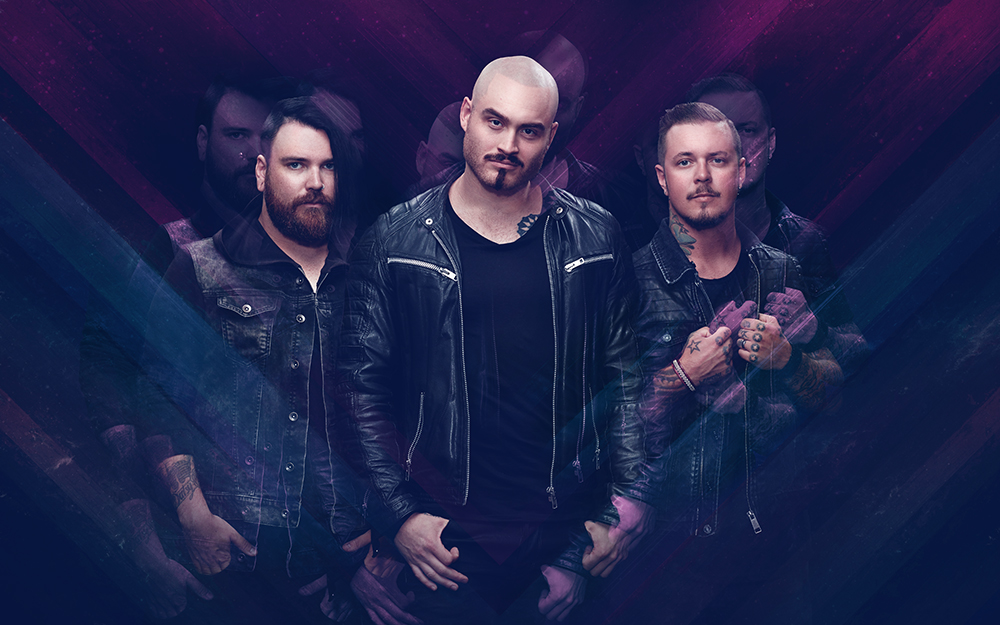 To prove our point, the second track 'It's a Shame' might be something that David Guetta did back in 2011. With strong guitars ladled out like butter-milk over insistent lyrics. A pat-a-pat of electronic rhythms cannot be separated from live-drums, nor can the chorus from the synth-layer, which incidentally is a sexy as you can get. This is a standard ballad but draws from house, pop and urban-dance to create a pictorial landscape of emotionally strong concepts.
'Start A War' has already been released as a lyric video — it is sharper than the other tracks and a bit abrasive. The producer has deliberately fooled us with the vocals. So they judder, reverberate and reflect. And that annoying 'one line repeat' is also present [an odd habit that's prevalent in synth-hits by people such as Ellie Goulding, so it must be popular] along with whoo-whoo harmonies. There is very little here to suggest this is hard rock at all.
Opponents of all this (probably the Syndicate's past-fans) will suggest the album is empty, grotesquely clichéd and over-traded. They might also point out that the band has been running on empty for a while. But we think that what we have here is part of the general evolutionary cycle of rock.
The genre is trying to get itself heard above the other sounds — in the grand-corridors of power, on the radios, prominent on the big-screen, and in your video games. Just because this new music has "obvious hit" written all-over it, doesn't make it bad.
So here is rock as a grand spectacle. Here is rock tapping into the mainstream. Here is rock forcing its way into events like TomorrowWorld.
And, sadly, here is rock earning its place at the works disco. Placed on the platter by your boss.