London based, progressive metal four piece, Zephyr, offer their debut EP 'An Odyssey For The Living'.
The EP opens with a melodic, slightly harsh arpeggiated picked guitar riff ambles along before the drop into a distorted, powerful riff and aggressive vocal delivery of the first track, 'Familiar Spirit'.
'Little Lamplight' brings much the same, so much so that it offers little to differentiate from the previous track; I almost hate to say it, but the rest of the EP is much the same. The positive side of this is that they have settled comfortably into a their style – but perhaps a little too comfortably? There seems to be a narrow formula for their songs, which it fine if you absolutely love it or are putting it on while doing something else, but sitting here trying to pull something characteristically unique from each track is futile.
The harsh thrashing of the the low string is nicely contrasted by the comparatively softer lead guitar parts; the wandering synth in the background and the percussive subtitles from the drums, all add to the texture and complexity of the compositions. The vocals are delivered with a predominantly aggressive and forceful style. Within all of this, however, there is nothing sounding overly fresh – that's not to say it is bad, only that I feel I have heard it before, even if this does bring something subtly harsher.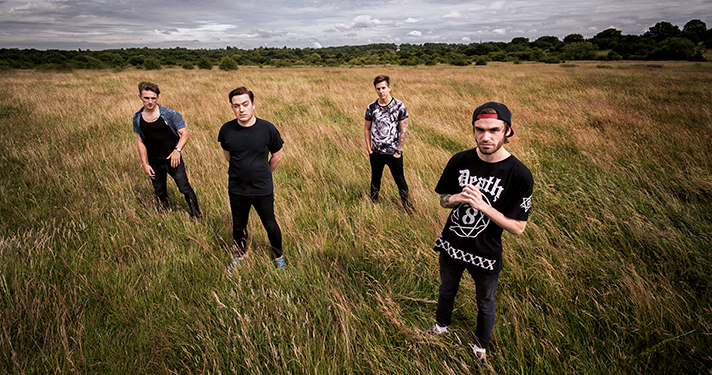 The excessive staccato, or accentuated djent styling, frequently employed on the guitars, for me, too harshly breaks the flow of the songs and, rather than adding to the overall composition, just seems too forced and even verges on annoying at times; it it does sound good but, in my opinion, it has been overdone here.

Wanting a second opinion, I showed it to a colleague, whose first words were "dude, that's f*cking awesome."
Clearly, as this is a matter of personal opinion, it would be unfair to for me to quote here, a band of this genre that appeals to me more, but what I will say is that there are certainly other things I would rather listen to at home. Live, however, I suspect these guys would be fantastic and I am convinced that they would one of the better bands to see live.
There is no question of this being a strong release by a group of very skilled musicians. Attempting to put my personal taste aside, it is an excellent EP and I would highly recommend you have a listen for yourself and make your own mind up.
Zephyr release 'An Odyssey For The Living' on Friday, October 9th.