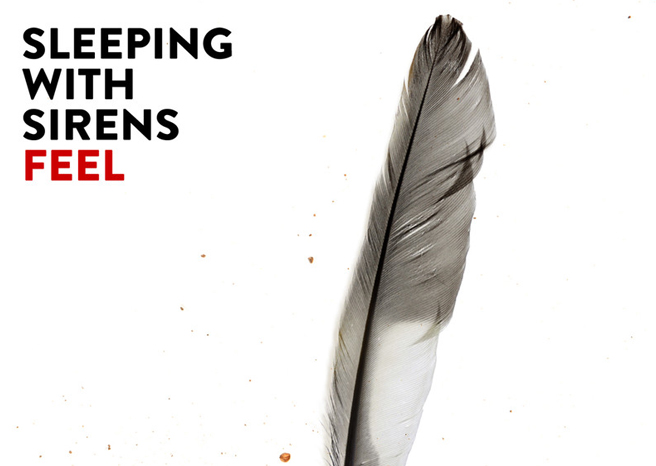 Formed in 2009, Sleeping With Sirens are a post-hardcore band from Orlando, Florida, USA. Although they have only been together four years, their music has continued to evolve, bringing with it an ever growing fan base. It's easy to see why they are so popular, with their catchy songs that appeal to a wide audience.
Title track 'Feel' kick starts the album. With lyrics like, "I won't apologise for being different", and 'I can be who I am', highlights the importance of individuality. It really does make you "Feel so alive". Second track 'Here We Go' hits you with its catchy lyrics and powerful guitar playing from the word go. This song really shows how Kellin has rightfully earned his position as front man. This is a no nonsense song. 'Free Now' is the third track. One song I'm sure most people can relate to. With lyrics saying "Cause this world is, the way it is, it's how we raise our kids" highlights how differently parents bring their children up in today's society, which determines how they go on to live their lives. Fourth track 'Alone' which features MGK shows another side of the band. It highlights how versatile they are as artists. True to their word "We don't want our band to be defined to a certain sound or theme; we want to be able to dabble in everything and accomplish different styles of music".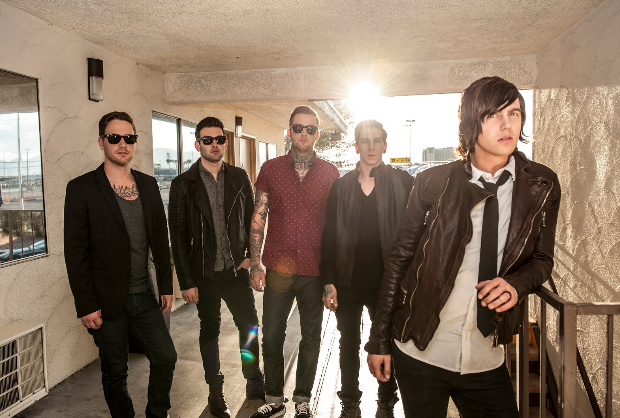 Fifth track 'I'll Take You There' featuring Shayley Bourget, although it is a more toned down track, it still posses that post-hardcore edge. At times you think the music is going to become heavier but the overall tone is kept the same through out the song. Sixth Track 'The Best There Ever Was' is fast paced and doesn't dare let your ears miss a single beat. There is real emotion in his voice which you yourself feel like you're experiencing with him. Seventh track 'Low' is straight to the point. Another fast paced track with one hell of a guitar solo. After listening to this song you definitely won't be left feeling 'Low'. 'Congratulations' Featuring Matty Mullins is the eighth track. 'They say you're the man' a line fans will certainly be referring to Kellin. With powerful guitar lines this song packs a punch. The band should be congratulating themselves on another top track. Ninth track 'Déjà Vu' is none stop from the start, one hell of a rollercoaster ride. Fans will be screaming 'Won't you give me more!' One of the bands more lyrically riskay songs but still a winning track none the less. 'These Things I've Done' is track number ten. It's like several different songs in one, starting off with immense guitar playing and then moving on to a more mellow sound. This continues through out the song. However the band has made it work and is definitely one of the top tracks on the album. Eleventh track 'Sorry' is one of the slowest songs on the album. Both mellow and post-hardcore tones mixed in together. A real heart felt track, one not to be listened to without a box of tissues by your side. 'Satellites' is the twelfth and final track on the album. Kellin's voice once again shines through and shows how good his vocal ability really is. 'Satellites' is simply beautiful, the perfect end to a great album.
With the success of their three previous albums there's no doubt that their new album 'Feel' is also going to be a huge hit. This is one album not to be missed.
Sleeping With Sirens 'Feel' is out now via Rise Records.
Sleeping With Sirens are proud to announce supports for their tour this Autumn. The Arizona based pop rock of The Summer Set will be main support, whilst Australia's Hands Like Houses and The Getaway Plan will make up the rest of the lineup for the whole UK run.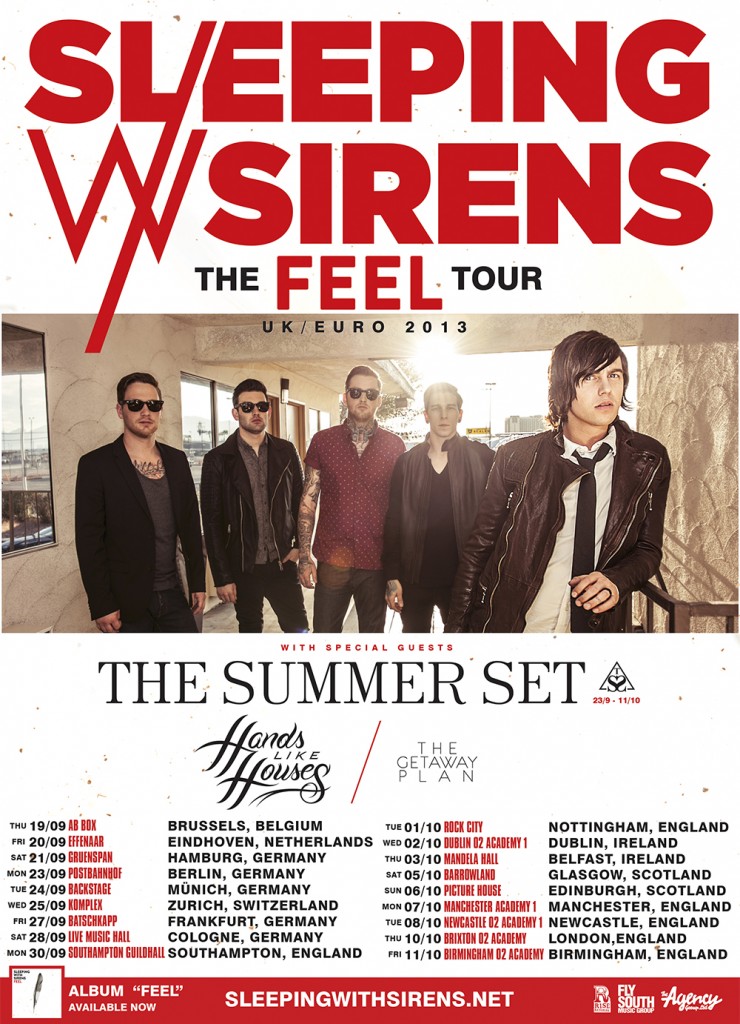 Having been to the UK only once before (support tour), the bands recent & first headliner sold out in a matter of days. This, which will be their second headliner in 5 months, takes in the main cities including London's Brixton O2 Academy.