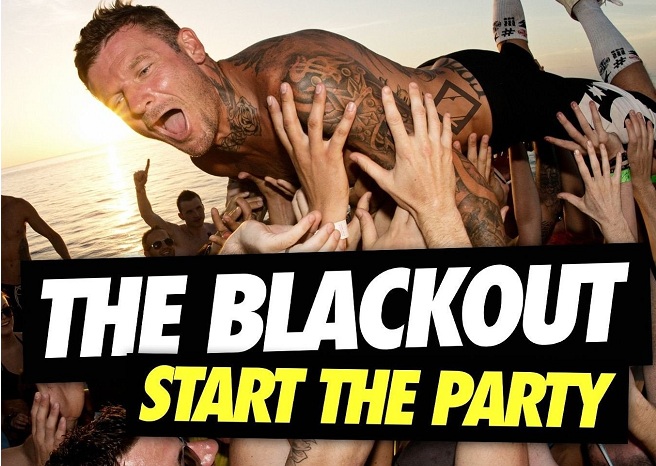 If you've seen The Blackout on tour, you'll know one thing. The Blackout like to party. So much, in fact, they've dedicated their latest release to it. 2013 marks the band's 10th anniversary, and after the more grown-up feel and emotional maturity showcased in previous release Hope,  expectations are likely to be high.
The album starts off with 'Start The Party' – an apt title, as it starts the album as it continues to go on, full of tracks that are, in the most part, great for a dance around to but lacking the memorable moments of early releases or lyrical strength of Hope. It seems the band have embraced the 'party rock' feel, and whilst this means some brilliant hooks and kicking riffs, it manages to give the whole album a feeling that something is lacking.
There are certainly some strong tracks on the album – 'Keep Singing' is uplifting, with a chorus of 'hey yeah', made for live sing-alongs, and it'll certainly be a great accompaniment to cider-filled nights come summertime. 'Take Away The Misery' feels a nod to the band's early days, utilising Sean Smith's angry screaming vocals interspersed with Gavin Butler's softer tones in a softer chorus that still packs a punch, something which pops up again later on for Free Yourself. Let Me go is a confrontation, making great use of their trademark sound featuring Sean and Gavin's dual vocals, and features a solid guitar solo.
Unlike previous releases, there's  little on the softer side, and the closest the album gets to (early fan favourite) 'It's High Tide, Baby' is 'You', a simple unplugged sounding number with a chorus that will definitely get the lighters in the air and an indie-rock sounding guitar solo. Unfortunately, the nasal sounding vocals on the verses  takes away a bit of the song's appeal, and lyrically it feels slightly clichéd and 'ballad-by-numbers'.
Peppered with 'whoo!'s and enough 'whoas' to stop a stampede of angry horses, Start The Party is full of energy from start to finish, and is sure to translate fantastically into a live setting. Although a fun album to listen to and a great rock and roll party soundtrack, there are a few too many similar-sounding songs with not quite enough emotional depth to make Start the Party a stand out release.
5/10