Hailing from Scotland, though you'd never be able to tell with their unaccented vocals and no bagpipes insight rockers, The Xcerts, release an acoustic EP titled Late One Night. It was recorded, of course, entirely over one late night. Commenting on this, vocalist, Murray Macleod said, "We recorded the entire EP in one night which lent a nice organic feel to it and hopefully makes for a nice contrast to the album." It certainly does.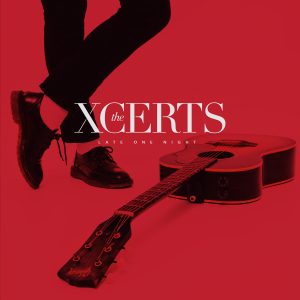 Each release seems as far from their first studio album as ever. Their sound forever evolves, until now when the music can stand straight on its own. Unlike other bands' acoustic releases, The Xcerts do not limit themselves to just an acoustic guitar or just a piano. In fact, every song tackles the acoustic theme in a different way, from the solo acoustic guitar in 'Feels Like Falling In Love', the slight drum and heavier guitar in 'Cry' to the piano in 'The Dark.'
As well as offering a different take on the acoustic genre, the EP offers a totally new perspective on their hits. 'Daydream' gets even dreamier, with a slow tempo, really sounding like a lullaby, mainly due to the dream-like guitar chords played by Jordan Smith. Instead of belting out the chorus of 'Feels Like Falling in Love', Macleod takes a different approach, singing softly, which adds to the ambience and beauty of the song. It highlights their vulnerability, which is exactly what the song is about. It is almost like ASMR. He goes back to hitting the notes, showing off his range in 'Hold On To Your Heart.' Although still a new hit, it is made even fresher, sounding like a more powerful song with the same lyrics. The EP closes ominously with 'The Dark,' which is just Macleod alone with a piano, the perfect way to end anything. 
There is something more in this album, provided by additional guitarist, Ryan Burnett Vanguards. Also, despite it being an acoustic release, drummer, Tom Heron, still plays a part, mostly in 'Cry.' The slowest, most stripped back song on their album becomes one of the fastest, with the most layers on the EP, offering a totally new insight. The EP feels raw, yet production value is high, thanks to Mike Lord. This is an EP we did not know that we needed. The only problem is that it's just an EP, not a full-length album.
Catch The Xcerts on their UK Tour Supporting You Me At Six:
22nd November – O2 Academy Birmingham
23rd November – Victoria Warehouse Manchester
24th November – Victoria Warehouse Manchester
27th November – Barrowland Glasgow
28th November – Barrowland Glasgow
30th November – Brixton Academy London
1st December – Great Hall Cardiff
2nd December – Brixton Academy London