The sun comes up, Justin Bieber's a twat and AC/DC play Rock and Roll. These are just facts and for most of them we are glad. Yet, not all has been well in the AC/DC camp during the making of their latest album, 'Rock or Bust'.  Sadly, the man whose riffs launched a thousand guitarists, Malcolm Young, has been struck down. Suffering from dementia and too ill to continue in the band, whom without him would be half the force they currently are, his place has been taken by Stevie Young, who has a hell of a pair of shoes to step into. Throw in some trouble with Phil Rudd, which we aren't even going to try and cover here, and I think it is safe to say that this is the most troubled approach to an album AC/DC have had since the death of Bon Scott. Of course, they then released 'Back in Black'…
Sadly, 'Rock or Bust' can't quite live up to that expectation. This isn't classic AC/DC, but then again to ask for such a thing would be damn selfish. AC/DC are getting old and to expect them to write the songs they crafted in their youth is unfair.  What we do have instead, is ten Rock and Roll songs that will make you bang your head, drink a beer and thank whoever it is you wish to thank that Angus Young once upon a time decided to strap on a guitar. From the classic AC/DC riff that opens 'Rock or Bust' before Brian Johnson rather undersells them, as he wails 'we're in a guitar band, we play across the land'.  Right through the ominous thump of 'Dogs of Wars' and into the closing bars of 'Emission Control', this is still AC/DC and AC/DC are still damn good.
Of course, all the old criticisms are still there. If you didn't like AC/DC before, you are unlikely to like them now. Stevie Young hasn't stepped in and suddenly decided to try out some jazz licks. This is pure, blood pumping rock and roll. It may be simple, but it is being played by masters. In fact, it is hard to say that Stevie replacing Malcolm has made that much difference. I'm sure there are guitar experts out there who could point to a difference in the rhythm guitar, but to these ears, it is same old, same old. Those classic shuddering riffs that you can feel right down to the tips of your toes live on.  Who knows what Malcolm's 'Rock or Bust' might have sounded like, but Stevie's certainly isn't bad.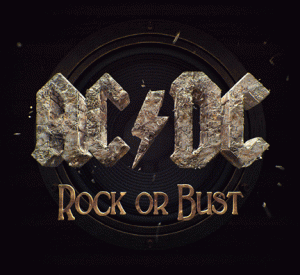 Elsewhere, Angus is still Angus and he plays guitar parts that you can sing along to. The bluesy vibe "Rock the Blues Away" allow him to strut his stuff. Brian Johnson may be getting on, but he can still wail with the best of them and you can't help but smile at the amount of innuendo this 67 year old man can sing with rock and roll gusto.
Is this AC/DC at their best? No, of course not. However, it is still AC/DC being damn good. Don't forget that these guys are still one of the greatest Rock and Roll bands of all time, so sit back, crack open a cold one and worship at the altar of these rock and roll gods.
Review Overview
Rock and roll gods live on.
Summary : If you liked AC/DC before, then odds are you will still like them now.