Blackmore's Night the band formed by Rainbow and Deep Purple co-founder guitarist Ritchie Blackmore with his wife, vocalist Candice Night, celebrate their minstrel rock with a Best Of collection To The Moon And Back – 20 years And Beyond that is out now and a re-mastered edition of their Christmas album Winter Carols that will be released 20th October.  Both are 2CD jewel case editions featuring brand new bonus tracks, and available through Minstrel Hall records.
It was in Massachusetts, back in the winter of 1996 while Rainbow were recording their last studio album, Stranger in Us All, that Ritchie Blackmore and Candice Night spent their evenings round a log fire recreating melodies inspired the Renaissance period on into a more contemporary form of folk and rock.
"When we first started this renaissance musical journey 20 years ago, it began in the most unlikely of places. A darkened recording studio, in front of a raging fireplace with mountains of snow outside and a band of rockers doing their backing tracks for a completely different CD in a completely different genre. Yet, there we were, gazing out that window or into that fire, playing the acoustic guitar and writing lyrics; while the rest of them existed in their world, we were the only inhabitants in ours," recalled Night.
"Inspired by all things from another century we never truly felt at home in this one. Not until we created our own musical escape that helped us co-exist. Allowed us to dress as our spirits wanted, portray the dreams and visions we imagined within the realms of music, which had no boundaries. We were free.
"Each song took us down another pathway through the wilderness…fed our hungry souls. We knew we were alone there, but we were at home and comfortable.   And then… One day… Someone heard our music in the darkness. They asked us if we wanted to share the music with the rest of the world. We thought about it for a long time, it was a whole new path. We had melded together music from eras gone past with lyrics of modern day faerie tales, creating a new genre. We weren't sure that anyone else would be interested. Besides sharing this side with the world exposed us deeply. Left us open and incredibly vulnerable. But we decided if even one other lost person felt their home within our songs, then it would be worth it."
That first album was Shadow of the Moon released in 1997. It went gold in Japan and would win several awards worldwide.
"It was never for popularity, for radio play, or for money," claims Night. "It wasn't about filling seats at concerts. It was strictly what our hearts called for. The songs flowed out of us and now we find ourselves looking back 20 years later over so many CDs, so many DVDs and so many fans worldwide."
Even so, awards have continued and their records have debuted in the top five of Billboards charts, with concerts sold out. Blackmore's Night's touring group features Blackmore on acoustic guitar, mandolin, mandola, cello and hurdy gurdy, Night on assorted medieval woodwinds instruments including bagpipe chanters, shawm, corner muse, penny whistles and recorders, aside from performing lead vocals, and the presumably pseudonymous Bard David on keyboards and back-up vocals, Scarlet Fiddler on Violin, Lady Lyn on Shawm and back-up vocals, Earl Grey on Base and rhythm guitar and Troubadour of Aberdeen on percussion.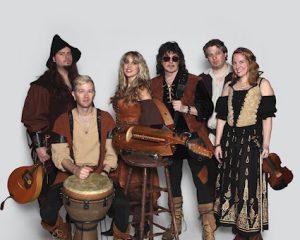 "To perform in a 12th century castle courtyard with the moon rising above you, singing songs you created with thousands of people, many of whom are dressed up in garb… If you experience something like that once in your life, count yourself blessed. We have been lucky enough to experience that each time we perform. And it is pure magic," said the singer.
"Obviously our music will not be played in commercial radio or in the latest dance clubs," the ever stoic Blackmore commented.
"We like to think that our music comes from a place where music is more sacred, organic, fresh, green and woody, communal, not processed. Renaissance mock rock and folk textures, imagination not just regurgitating the past for the purists but living it and feeling the pain and passion of the day," Blackmore continued. "Transcending the mundane to the peaceful living in a fairy-tale existence, pondering the mysteries of life and death. Pleasure not pressure."
To The Moon And Back – 20 years And Beyond features a collection of their fans' favourite songs alongside several bonus tracks. This includes four brand new versions of popular songs and two brand new songs; Blackmore's latest version of 'Land of Hope and Glory' and a version of the Rainbow hit single 'I Surrender' sung by Night.
The full track listing for To The Moon And Back – 20 years And Beyond is as follows:
CD1: 'Shadow Of The Moon', 'Spirit Of The Sea', 'Renaissance Faire', 'Play Minstrel Play', 'Under A Violet Moon', 'Spanish Nights', 'Fires At Midnight', 'Ghost Of A Rose', 'Cartouche', 'Village Lanterne', 'The Circle', '25 Years', 'Dandelion Wine' and 'Home Again (Live)'.
CD2: 'I Surrender (Bonus track)', 'Moonlight Shadow (2017 version)',  'Somewhere Over the Sea (2017 version)', 'Writing on The Wall (2017 version)', 'Coming Home (2017 version)', 'Ghost Of John (Bonus track)', 'Minstrel Hall', 'Possum Goes To Prague', 'Durch den Wald zum Bach Haus', 'Nur eine Minute', 'Village Dance', 'Land Of Hope And Glory (2017 single version)' and a bonus video.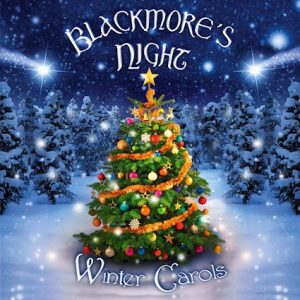 The festive season is a particularly special time for Blackmore and Night, not least because many traditional Christmas songs originate from medieval times, and some of those featured across the CD collection can be dated as far back as 400 years. New to the re-mastered edition of Winter Carols are renditions of 'Deck
The Halls', 'God Rest Ye Merry Gentlemen' and 'O Christmas Tree', three alternate versions of their 2013 single 'Christmas Eve' and a cover of the Rednex song 'Wish You Here' that is being promoted as their new Christmas single.
The full track listing for Winter Tales is as follows:
CD1: 'Deck The Halls', 'God Rest Ye Merry Gentlemen', 'O Christmas Tree', 'Hark! The Herald Angels Sing/O Come All Ye Faithful', 'I Saw Three Ships', 'Winter (Basse Dance)', 'Ding Dong Merrily On High', 'Ma-O-Tzur', 'Good King Wenceslas', 'Lord Of The Dance / Simple Gifts', 'We Three Kings', 'Wish You Were Here', 'Emmanuel', 'Christmas Eve' and 'We Wish You A Merry Christmas'.
CD2: 'Hark! The Herald Angels Sing/O Come All Ye Faithful (Live From Minstrel Hall)', 'Emmanuel (Live From Minstrel Hall)', 'We Three Kings (Live From Minstrel Hall)', 'Ma-O-Tzur (Live From Minstrel Hall)', 'Good King Wenceslas (Live From Minstrel Hall)', 'Christmas Eve (2013 Version)', 'Christmas Eve Radio Edit (German)', 'Christmas Eve Radio Edit (English and German)' and 'Christmas Eve Radio Edit (English)'.