Alter Bridge singer and Slash compadre Myles Kennedy has decided to forsake the rock route on this, his first solo album, and take a route less well travelled by those who frequent the rock genre, namely the acoustic singer-songwriter route. If your only exposure to the music of Myles has been with Alter Bridge or Slash, you may well be surprised by what's on offer here. On this album, he sings in a different, almost confessional style, and it isn't the voice which has won Loudwire music awards a few times. It's a voice lower in range than on his previous work, but none the less meaningful for all that, and if someone known for singing in front of a rock band, but who's now decided the time is right to bare his soul and tap into deeply held and felt emotions doesn't do it for you, you'd be advised to stay away from this album.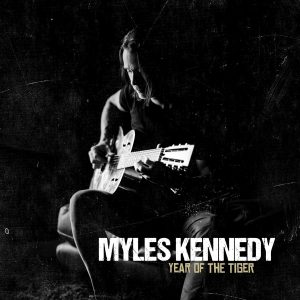 But to do that would mean you'd be missing out on a treat. This is an album about as raw as you can get which still stays this side of mawkishness. On Year of the Tiger, Myles has opened himself up and shown his public the angst and heartache we all have deep inside us. In Myles' case, his stems from the loss of his father, a Christian scientist, who died in 1974 from refusing to seek medical help after being taken ill. Myles was only four at the time, and the songs he sings on this album reflect his hurt and bewilderment at his father's decision, from a distance of several years down the line.
On the title track, for example, he sings "In the year of the tiger, I'm gonna leave behind the heartache I've known" and also "Love keeps us alive when we feel we can't go on". He's described the track 'Blind Faith' as being "almost an open letter to my father, expressing an ache which has never subsided" and singing lines such as "All I ask is that you understand my anger now you've gone", as well as "Your faith may be blind, but it cannot justify a tragedy" makes his meaning is very clear.  Several other songs on the album also make Myles' meaning crystal clear.
On Year of the Tiger, Myles plays Banjo, Mandolin and Bass, as well as acoustic guitar, with occasional support from Zia Uddin and Tim Tournier. The music is acoustic based but with some Americana style rocking, some blues influences and a few rocky guitar licks, but you'll not find Alter Bridge. In sum, this album is a brave attempt at an emotional exorcism by a singer from a genre not always noted for its emotional sensitivity. Myles Kennedy deserves all the kudos he gets for making this album.