Idols of Apathy are a highly dedicated six piece that create a sound, with colossal riffs and pounding beats, that is both dominant and ear shattering. The band ink truly forceful cuts, delivering their tech metal beatings with the real vigour and rampant passion that demands and commands attention!
'Bipolar' – sounds like it is being played in a garage at the beginning, however forget that, as the track furthers it is pretty clear that these monsters know just where to kick and how hard, as it musters up a ferocious storm of deviance with jagged rhythms and scathing vocal dexterity. This is metal with hob nailed boots on and will kick your ass with great relish! The brutality holds plenty of energetic punch and vibrancy until it lulls for a brief moment only to gain more momentum and leaves devastating consequences in its wake!
'Addiction' – again likes to use brute force mentality and knocks several bells out of the listening devices. It reaches its potential in an instant and forges ahead burning its identity into the psyche and feeds on a powerful and intense emotion. Strong vocal lures mould together with rigid and dynamic hooks that will absolutely blow you away.
'Once a Cheater' – holds strange ambient leanings and incidental sounds that pulsate leaving goose bumps on flesh as it navigates through its paces. It eats into a lingering imagination and gnaws feverishly on the ears gathering momentum with its striding confrontation and literally rips your head off!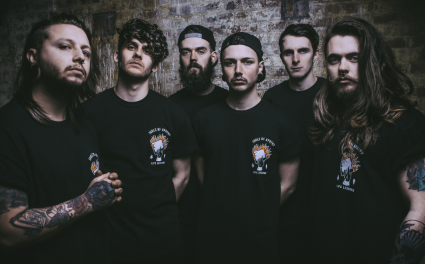 'Backstabber' – tends to lead you into a false sense of security with its sharp strings it then explodes into a familiar tone of bulbous rhythms that scale the heights as well as the depths. The fascinating tempests bellow with eager breath as it simply smashes its fist into your face and whipping up a hungry appetite to feast on the flesh of the un-weary.
'Lessons Learned' – again leans towards an unusual beginning and then simply cohorts like an army entwining their prowess and emotive forces together, in a very indulgent track that makes way for intimidation and rich in persuasion, although it doesn't take much as this is a brutal track that kidnaps the ears in an all-out attempt to capture the imagination and engage to far reaching levels.

The sizzling rabidity shines through on each track as it blisters with a momentous scream and kills with an electric slabs of rhythms – no need to tazer here – the grooves bite deep and are unrelenting.
As the E.P develops it clearly casts a dark shadow over the proceedings and brings with it entwining melodies and richly fuelled excitement that just keeps on giving.
Highly intense, brutal and immensely raw!! Buy it!
Review Overview
Summary : The sizzling rabidity shines through on each track as it blisters with a momentous scream and kills with an electric slabs of rhythms