It may well feel forever ago that Decapitated unleashed onto the World their monster of a release, Anticult, but with a thirst and new energy after the challenges that they have battled through, they have finally regrouped and brought the tour the album deserved to justice.
It seems no matter how well you plan, things are never always in your control, and even with arriving in London well early into the afternoon, an incident on London tube service caused for delays and missing the first band for more than a few fans, ourselves included. We found ourselves in a lucky situation where we were stuck at a station and able to leave and walk, a few friends sadly were stuck in a tunnel and despite being so close, didn't make it to the gig before having to return for their trains home. Arriving just and Danish act Baest finish off their set, we were welcomed by a good-sized crowd that was already in full embrace of the night, with plenty of movement and beer flowing to start the night off. We were told under good authority that their set was insanely good despite its short endurance, and just going off of their last track 'Crosswhore', we can completely understand why those early heads in the door were so excited.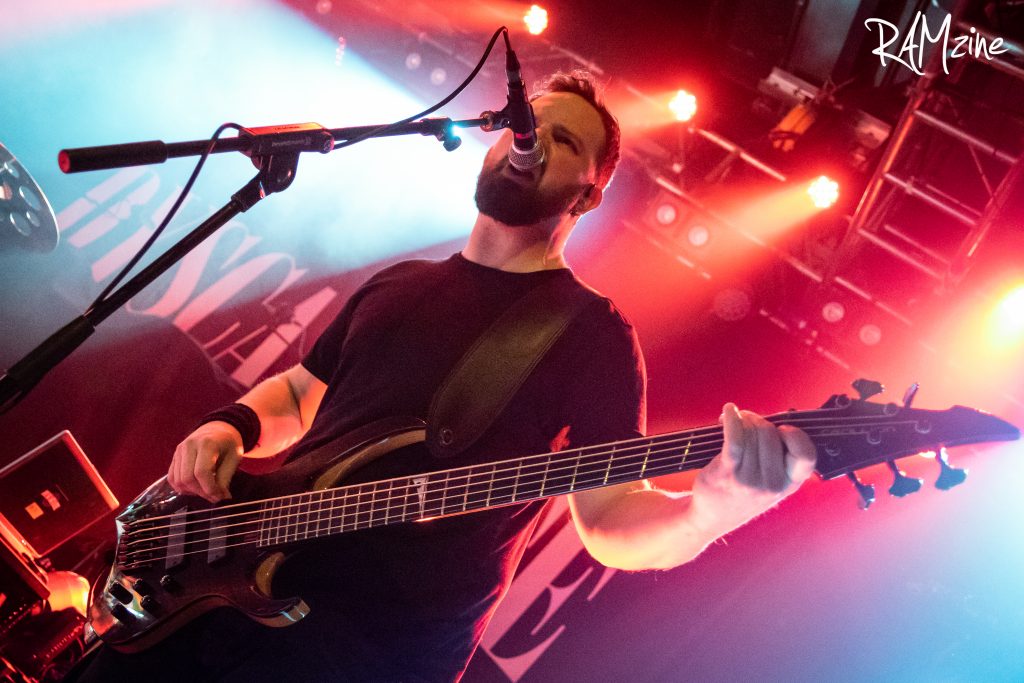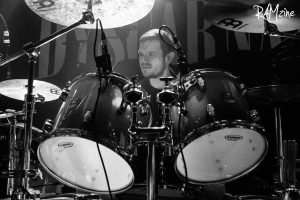 British trio Dyscarnate were to have a challenge on their hands if they were to match the velocity and intense start Baest kicked the show off with, they were completely up for it, and their flying of the British death metal flag is held high and strong. The dual vocal attack bellows out like a war-cry over the monumentally pummeling drums flanked by the guitar and bass. The sound seems to be perfect no matter where you are positioned in the constantly shifting venue courtesy of tracks like 'Of Mice and Mountains', 'Cain Enable', 'Traitors in the Palace' and so forth. I myself could see the appeal but they didn't quite do it for me and found myself a spot at the bar with a couple more in the same boat, all ears perked up with the set closer 'This is Fire' and opinions slowly came around for all.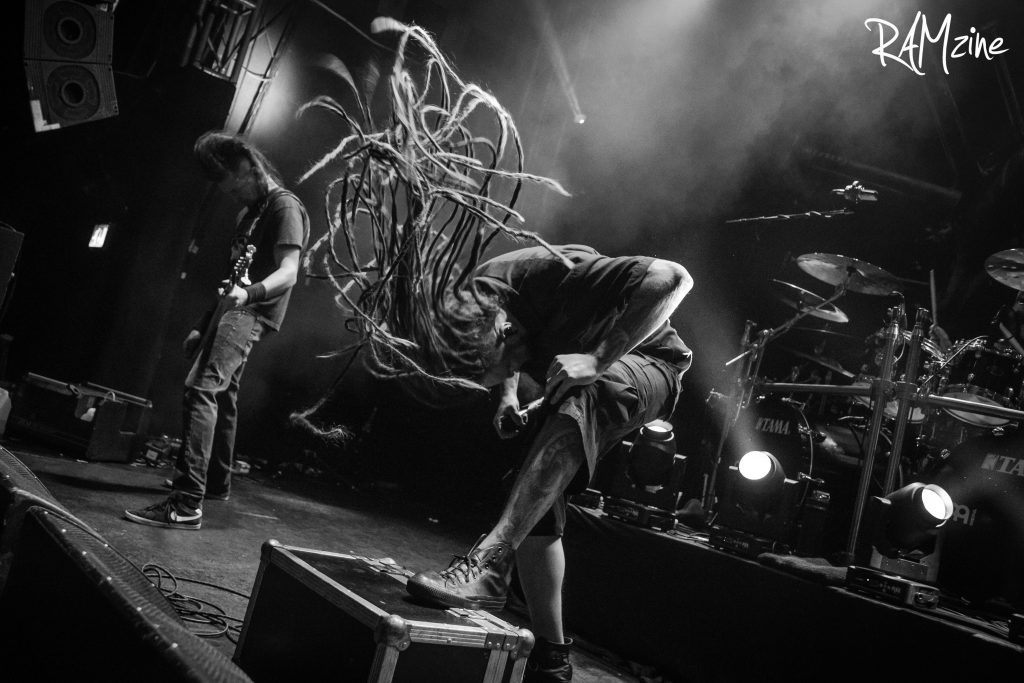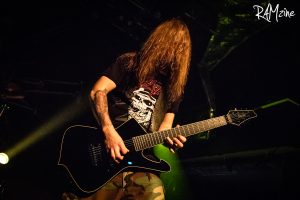 With an electrifying atmosphere, Decapitated soon took to the stage with a thunderous start, they turned the O2 academy into a tornado of a frenzy that never seemed to let off as they hammer out hit after hit through their set, with the first three songs showcasing three tracks from Anticult, (a further three make their way into the set too) showcasing this album is wall to wall full of bangers, and the crowd are certainly proof of it. While Anticult makes up for half of the set, we get a playing of something from the entire back catalogue that should satisfy those rare elitist types that always seem to moan they don't hear enough of the old stuff. They are clearly at home on the stage, and while three are very well placed and set with each other, it's Divine Chaos's James Stewart that steals the show somewhat. Never missing a beat, you'd think he had been in the band for years, well deserving of the seat at behind the kit and for some, an eye-opener into just how skilled he is (we cannot wait to hear him behind the kit on the upcoming Divine Chaos release this year! A band you must check out if you haven't before). Guitarist Vogg is inhuman as he smashes out all those memorable riffs and solo parts with no effort required, barely even needing to look down at his fretboard while killing the solo of 'Deathvaluation' early on, almost incomprehensible even to a guitarist just how he manages it. Bassist Hubert matches that demeanour as he windmills away commanding his side of the stage, and Rasta is on fine form, he should come with a warning sign as he headbangs away with his huge dreadlocks flying away at the crowd like a Kraken assaulting a vessel. It's around halfway through the set when we start to see those fools that are no good at handling their drink as they smash their way through people in every direction trying to find their way to the toilets or bars with no sense of responsibility or respect for those around as people try to stay away from any pit and enjoy watching the show, but even that couldn't steal away the thunder of the band that will haunt is forever more. Having seen Decapitated so many times through god knows how many years, this is easily their best form yet. Nothing seems to be able to keep these boys down, and we are completely thankful for it.
Decapitated Setlist: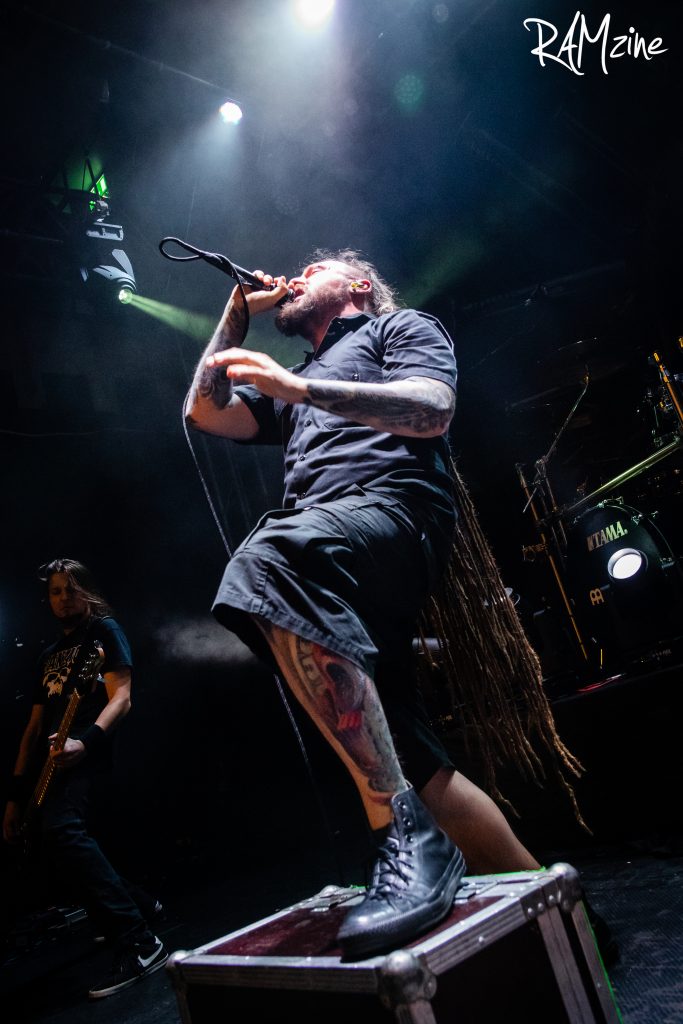 One-Eyed Nation
Deathvaluation
Kill the Cult
Post(?) Organic
Visual Delusion
The Blasphemous Psalm to the Dummy God Creation
Blood Mantra
The Fury
Day 69
Homo Sum
Never
Earth Scar
Amen
Encore:
Spheres of Madness
Winds of Creation