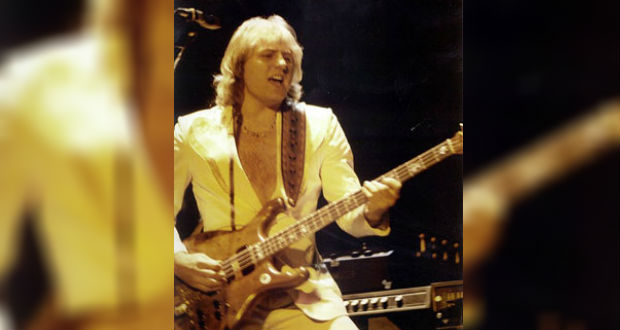 Greg Lake, the King Crimson, vocalist and bassist, and who also fronted ELP has died from Cancer aged 69.
2016 has been a terrible year for the passing of brilliant musicians, who now join the big stage in the sky, but have left some superb legacies for their fans.
Lake was an English singer, musician, songwriter and producer, who also wrote, and ironically for this time of year achieved solo success when his single 'I believe in Father Christmas' reached number two in the UK charts in 1975 and to this day is still one of the favourite Christmas songs to be played.
As a school friend of Robert Fripp the pair got together and formed King Crimson. Lake was primarily a guitarist but swapped roles at Fripps behest, becoming bassist for the band. He also had a hand in writing the lyrics for King Crimson's debut album 'In the Court of the Crimson King' released in 69, although Peter Seinfield was the main lyricist in the band.
Lake turned his hand to producing after Tony Clarke the contracted producer rejected the project, however, the album was a complete success for the band, mainly due to the fantastic vocal range which Lake executed.
Lake stayed with King Crimson just a year before joining Emerson, along with bringing in Atomic Rooster drummer Carl Palmer to form ELP in 1970, but he sang on King Crimson's second album 'In the wake of Poseidon' also at Fripp's request.
This is the second loss to hit Emerson Lake and Palmer after suffering the sad loss of Emerson who died in March 2016 after battling depression and degenerative nerve tissue.
I will never forget hearing 'Fanfare for the Common Man' first-hand and listening to 'Brain Salad Surgery' released in 1973. I was transfixed at the overwhelming riffs and epic thrills those songs gave me as a teenager, and still am today, as prog rock was barely at the crawling stage, but ELP soon had prog rock in their grasp.
Like Emerson, Lake will be sadly missed, but thought of fondly through his great contribution and devotion to the music scene.
He was just finishing his autobiography titled "Lucky Man", which is  scheduled for release in 2017.
Says his long time manger and friend Stewart Young, "December 7th, I lost my best friend to a long and stubborn battle with cancer. Greg Lake will stay in my heart forever, as he has always been. Despite his illness which he knew to be terminal he always took the view about his life, career and family that he was indeed a lucky man… His family would be grateful for privacy during this time of their grief. Many thanks."
R.I.P Greg Lake! Our condolences to his family and friends.