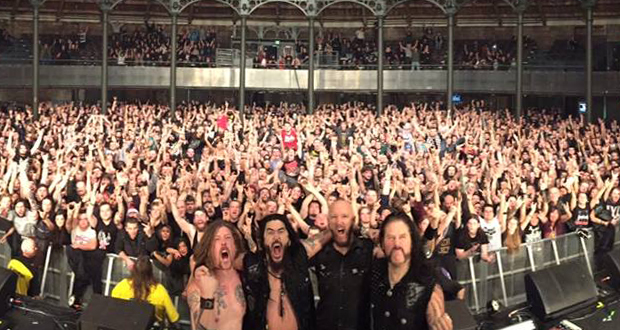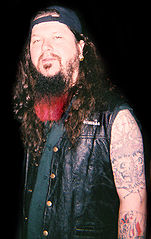 This cold December night in London, I feel like I have been part of something very special. A gig highly anticipated by all in attendance, but we did not comprehend how unique this gig was going to be. You see this day December 7th 2014, is just one day shy of the 10 year anniversary of the death of one our most missed fallen brothers in Heavy Metal. Dimebag Darrell was shot by a gunman while on stage during a performance with Damageplan. Millions of fans around the world were devastated, and still are. Dime, the phenomenal guitarist of Pantera, hero to many, and really genuine nice guy.
Machine Head stormed this set, promoting new album 'Bloodstone & Diamonds'. There was beer spilt, heads clashed in the mosh bit, armpits ended up in faces. It was a bit of a rvashing affire, but all in the spirit of Heavy F*cking Metal. The energy from the crowd was ecstatic, immense, extremely highly spirited.
It is this night in London that Machine Head play tribute to Dimebag Darrell. They play Pantera cover 'F*cking Hostile' with Mike Carrigan from Darkest Hour on guitar, and Robb on vocals. "Sing it with me" says Robb as he then sings "I don't know a f*cking word" jokeingly. I don't know how it was even possible, but the room just got that much more excited, and highly spirited. Robb said tonight "You can work out your problems in this room", and looking around seeing how happy everyone is, everyone seemed to have left anything negative at the door – this is what it's all about!
 Machine Head play an adept, exhilarant, Pantera Melody featuring: 'A New Level' / 'Primal Concrete Sledge' / 'I'm Broken' / 'Mouth for War' / 'Cowboys from Hell' / 'Domination' / 'Walk'. Rob Flynn and his bandmates, the crew,  all stop to take a shot in honour of Dime.
"You're at a Heavy Metal concert you can me be as loud, and as stupid as you want" says Robb as the band go into 'Aesthetics of Hate' from The Blackening.
The best part of this gig, was the feeling of being part of music history, paying our repects and Machine head playing a triumpent tribute to Dimebag Darrell, and Pantera. I thank Machine Head for this tribute, it's good to remember and celebrate our heroes.
Rumours of a Pantera re-form have been flying around, I see this as a positive, of course nobody could replace Dime, but it will be a great chance to celebrate him, and allow him to live on.
You can read more about Robb Flynns memories of Dimebag Darrell below, as he has written in his general journals, 'DIARY OF A FRONTMAN… AND OTHER RAMBLINGS':