Olly Steele of progressive metal band Monuments gives a guitar Masterclass to the students of the Academy Of Contemporary Music (ACM) in Guildford. Olly tells us: "I will be playing some tunes and then answering any questions. I generally talk about things like technique, touring, or the fact that I play extended range guitars." He is here to give advice to future bands and students wishing to work in the music industry.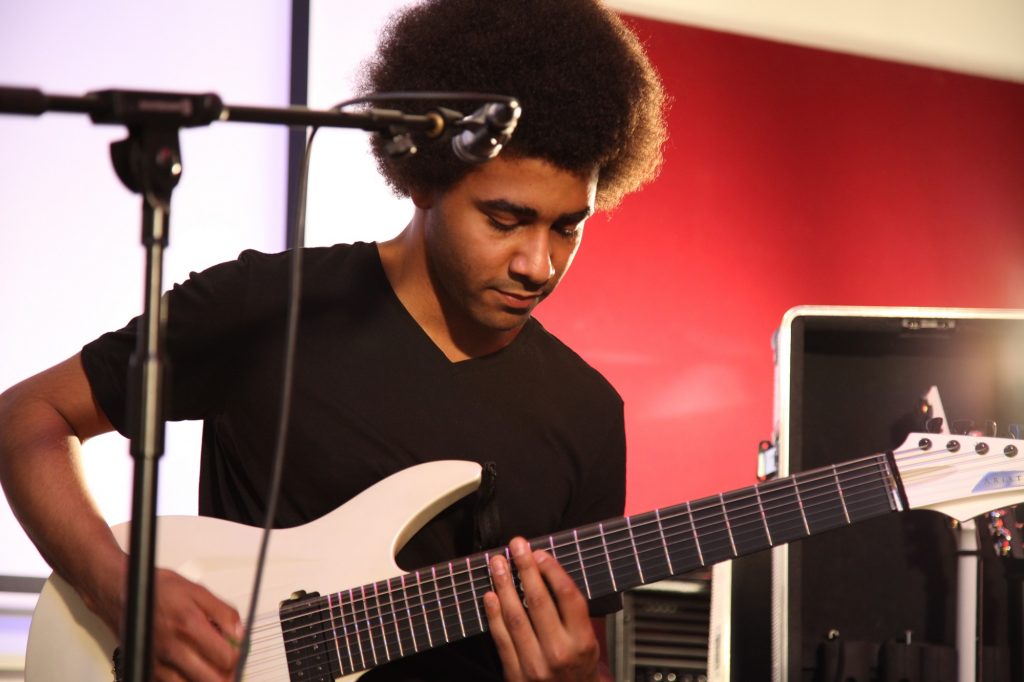 Walking through a spaceship-like building, I head to the main reception of ACM, where Roger Taylor's (Queen) drum kit is showcased. There is also a vast Wall Of Fame for all of the industry professionals that work at the academy. Students here are learning first hand what it's like to be in the music industry from their teachers. Walking through the corridors of ACM, it's clear to see that students study music here; they have everything they need and there is a multitude of practice rooms full of equipment.
Partnered with, amongst others, the famous Metropolis Studios in London, students have really great opportunities here as I discovered after speaking with some of the students who recently had the chance to record a single there produced by one of their tutors, Ace of Skunk Anansie.
The members of Lost In Venice spoke of studying at ACM: "It's really cool, and it's fun. We have lots of rehearsal space. The tutors are world class, so we can experience the real world; rather than us looking at answers down on paper, they have been there and done it, so they can talk to us from experience."
You can see our interview with ACM band Lost In Venice here.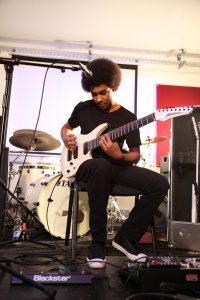 Olly Steele tells us of his positive experience at a similar music academy after being a self-taught guitarist. "ACM seems like a really cool atmosphere, inspiring and quite big," he says. "I really think that it puts you at an advantage here being around other people; it's great to be around other people who are learning, honing their craft. With music, where it's creative, you need a lot of that around you. You need different examples of where you can take things. I think it's brilliant, it's a great idea."
We asked Olly, if he could give one piece of advice to aspiring musicians, what would it be? He tells us, "try and work out what you sound like! Don't worry too much about what's going on around you. Obviously paying attention is cool, that helps a lot when you are trying to figure out how you sound, but I wouldn't let it influence you because the one tool that you have over anyone in the music industry is that you have your own ears, hands, you have your own voice and sound."
We notice that Olly has quite a few endorsements, in fact Monuments as a whole are endorsed by Steinberg, Line 6, Toontrack, Mayones Guitars, Aristides Guitars & Basses, Bare Knuckle Pickups, Mesa Boogie Guitar and Bass Amplification, EVH Guitar Amplification, Meinl Cymbals, Tama Drums, and Vic Firth Drumsticks. Olly started off just buying what he could afford, and then got approached. Olly tells us his advice in gaining an endorsement saying, "I think the way the internet is now with things like Facebook and Youtube, the more noise that you make using someone's guitar or someone's product, it's more likely that they will take notice." So, if you are looking to get endorsed by a particular brand, make sure that you are using them in the first place!
Monuments has been out on a huge tour in the states with The Contortionist, but had to drop off early due to "a bunch of things that was just out of [their] control". However, Olly tells us "we still played a good 30-35 shows, it was great, they are a great band – all the bands were great, actually. That really impacts your mentality, your vibe from the get-go; you're trying to work out what the other bands sound like live."
Olly plays a range of his tracks to students, a lot of it sounding very heavy, but not shy of melody. He talks the students through processes such as tuning, the importance of decent equipment that works, and advice on touring. Previous master classes have included the likes of Skindred, and Motörhead's Phil Campbell. The students of ACM benefit from learning directly from the people in the music industry. If ever there was a real life school of rock, ACM is just that.
Being surrounded by like-minded people in any field that you work in is always incredibly important for your own progression. That seems to be one of the many highlights for the students studying at ACM, whether you are learning bass, drums, performance, vocals, or management, ACM provides people with a place to network and share ideas.