While She Sleeps are a band that have arguably redefined what it is to be a metalcore band in the 21st century. Now, after the release of their debut album This Is the Six, which was amazingly well received by critics across the board, they have a slot as main support to Asking Alexandria on their UK/Europe tour. I sat down with guitarist Sean Long to chat about the tour, This Is the Six and to get told to stop being so nosy:
Happy new year! Good Christmas?
"Yeah man, sweet"
You've got an upcoming tour with Asking Alexandria, have you played with them or any of the other bands before?
"Yeah we've done a little Europe tour with them before, it was almost exactly a year ago now"
A lot of people are quite dismissive of AA as a metal band for being quite physically attractive is that a feeling you share?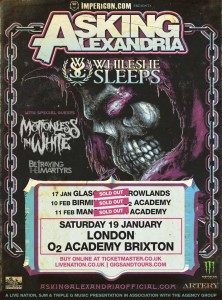 "[laughs] No they're not for me mate, no"
Some of the places you're playing are going to be a lot bigger than you're used to, what's it like knowing you're going to be playing in front of that many people?
"We can't wait, I think it's going to be a good chance to see where we're at, y'know to see how many people we can handle on a regular basis"
Do you think playing to festival crowds has helped with that?
"Oh yeah totally, I don't think it'll be a nervous sort of thing, but that many people inside a building and inside a venue is so much different to when it's outside, especially on a regular basis, and it's going to be a huge show every night. As main support we've got quite a lot to prove going on, after two good bands as well"
Are you planning on any festivals this summer?
"Not that I can say right now"
(so watch this space!)
You're playing Soundwave in Australia though, have you been out there before?
"We did a small Australian tour in something like August last year with a band called House Versus Hurricane, so it's going to be our second time going to Australia, but apparently those shows are mental so I can't wait!"
What's been the weirdest thing to happen to you at one of your gigs?
"Hmm [thinks] I should know these but I don't! Maybe Loz cracking me round the face with his mic, or Aaran smacking me round the head with his bass. Not really that weird but it was painful…"
What do you think you've learned from your tour off the back of This Is the Six?
"I feel like we've become more professional, I don't know, like we all feel more confident in our set and our staging. It does feel more, like now we've got all these new songs in the set, we have a bigger set, we've got a decent intro and all that sort of stuff it feels more stable and strong, and we all can't wait to get back out and play to be honest."
Did you have live shows in mind when you were writing This Is the Six?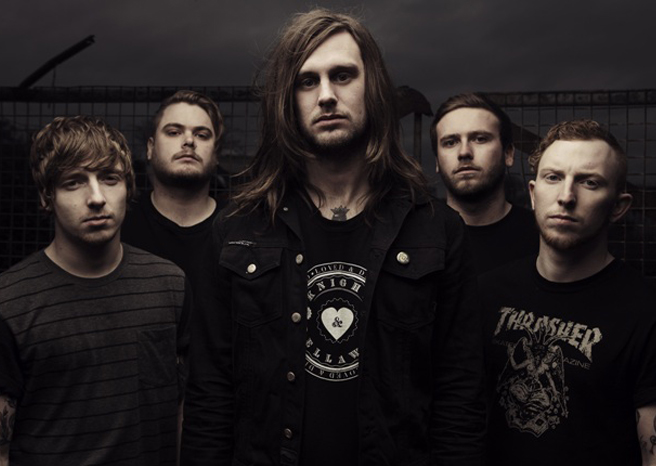 "Not so much no, well I write most of the music anyway, and I write for how it sounds, at the time, and then hopefully it will come through live as well. They were quite hard to do live as well but now we've done them it's quite easy to do."
So you just build the live set around what you felt?
"Yeah totally, I mean maybe I'll write some songs for live, but most of them are just for album quality, and then hopefully they'll sound good live as well"
You got mentioned in a lot of 'album of the year' lists [Ourzone Magazine and the Metal Hammer Podcast placed it 1st] how did that feel?
"I don't know, I think they're all mental [laughs] but no it's amazing man, just the whole reception we got this year is just stupid, so I'm shitting myself now I've got to write a better album…"
Have you got any plans for some new stuff in 2013?
"[laughs] maybe, I can't tell you!"
(again, watch this space!)
You have the film with Getdeluxe, for people who don't know, what's that?
"That's like a year teaser, if you know what I mean, for 2013. It's like a "get ready for 2013". We'll be releasing some sort of thing, in that year [laughs]"
What do you think your highlight of 2012 was?
"Definitely winning the Kerrang! Award [WSS won Best British Newcomer] that was one of the best days ever, I f*cking cried my eyes out for God's sake [laughs]. Playing Download, selling out the Electric Ballroom, releasing This Is the Six in general, we had our first tour bus… there have been so many staple landmarks as it's just been a really really good year, it's been our best year for sure."
Amazing! Have a good new year from us at RAMzine!
"Yeah thanks man, you too."
So there you have it! As always keep checking RAMzine for updates on While She Sleeps, and make sure you catch this tour, it's sure to be absolutely insane.
| | | |
| --- | --- | --- |
| Date | Venue | Location |
| Jan 16 | Mandela Hall | Ireland, United Kingdom |
| Jan 17 | Barrowlands | Glasgow, United Kingdom |
| Jan 19 | Brixton Academy | London, United Kingdom |
| Feb 10 | O2 Academy | Birmingham, United Kingdom |
| Feb 11 | Academy | Manchester, United Kingdom |