Anthrax are just a brilliant band. They're probably the only member of the Big 4 of Thrash Metal that really don't get spoken about as much as the other three (Metallica, Slayer and Megadeth). However, musically it can be argued that Anthrax are far superior to these bands across their whole careers. Today, the subject of RAMzine's 18th Classic is Anthrax's second album "Spreading the Disease".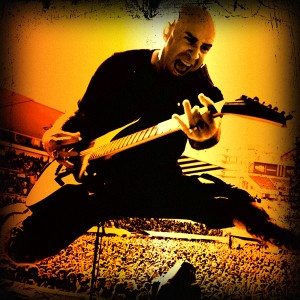 This album is the first to feature vocalist Joey Belladonna and bassist Frank Bello, two members of the classic Anthrax lineup. The lineup is completed by guitarists Scott Ian and Dan Spitz, and drummer Charlie Benante.
"Spreading the Diesease" kicks off with "A.I.R", a song which is a statement from the band. With two new members in their lineup on such an important album, it was imperative that they opened the album strongly. The song develops into a fantastic classic metal number, really powered on by Benante's machine gun drums. Belladonna's vocals really give Anthrax that commercial edge on this album, his high vocal style really complementing the aggressive riffs.
Next up is "Lone Justice", based around a fantastic rumbling bassline from Bello and another brilliant riff from Ian. The lead parts from Spitz take more of a lead on this song, giving the riffs some more melody, and once again the commercial nature of Belladonna's vocals shine through. The chorus has a real call and response feel to it, and it has become a staple of Anthrax's live shows to this date.
Following this is "Madhouse", one of the band's best known songs. The main riff is simply iconic and this has a real foot tapping rhythm. It made Anthrax much wider known in the metal world, and got them really noticed. The chorus is such a great one to sing along to, and this commercial vibe is a departure from the first album "Fistful of Metal", and allowed them to reach a much wider audience while still staying true to what they do best.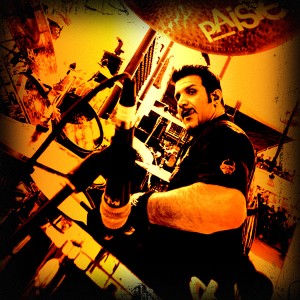 Up next is "S.S.C/Stand or Fall", which opens with an interesting wild west style guitar part. The main guitar then kicks in with some serious palm-muted picking and really fast riff. This is Anthrax in their natural environment; accessible speed metal. Belladonna's voice is right at home in the organised musical chaos of the band's music, almost bringing some order to proceedings.
Next is "The Enemy", with a fantastically 80s drum intro. The guitar effects here are brilliant and add a real different dimension to the sound. This song has a much more funk edge to it, and shows the bands versatility; they are not just a classic metal band. The main riff absolutely drips with groove and allows the vocals to run riot and soar over the top.
Following this is "Aftershock", a speed metal masterpiece. The linear drum fills at the start are played perfectly and the double bass drum accompanying the aggressive guitar downpicking is just perfectly done. The way Anthrax manage to create speed metal that is accessible to a variety of people is just genius, they really are a special band. This song in particular is a huge highlight of the album, and is one which gets stuck in the listeners head for days.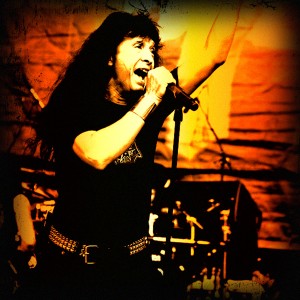 Up next is " Armed and Dangerous", which is a slight departure from the rest of the
songs on the album as it includes acoustic guitars, which is a brilliant surprise. Belladonna's voice gets to absolutely fly above the beautiful sonic landscape created in this song, and the variety in their sound is just brilliant. This song is probably one of the most underrated metal power ballads of all time, most likely because it develops into an absolute heavy metal cracker with stunning lead guitar. The real highlight of the album and a song which is recommended to anyone who enjoys a good sing along.
Following this is "Medusa" a real foot stomping metal masterpiece. The guitars and bass complement each other brilliantly and Benante's simple groove shows his skill as a drummer; he knows exactly what to play for the song at the right time. The chorus again is one that gets stuck in the listener's head and along with the chorus riff is just utter musical genius.
Closing the album is "Gung Ho", probably the fastest song on the album. The sheer speed of the guitars and drums is absolutely breakneck and yet it is so musically tight. Their confidence to be able to write songs at this rate and still keep it tight musically is wonderful. What a fantastic, underrated heavy metal band.
In closing, this album should be ranked up there with the best heavy metal albums of all time. It has killer riffs, amazing drums and most of all accessible brilliant vocals. Anthrax seemed to be making a statement with this album. Well, they certainly did that. As they're still producing albums as good these days, we can only hope there will be much more to come from Anthrax in years to come.
FOR FANS OF: Metallica, Testament, Megadeth