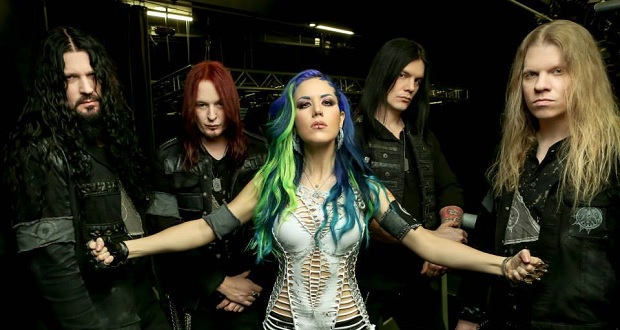 After a storming set at Bloodstock, and many other festivals, this summer – heavy metallers Arch Enemy have revealed the video for 'The Eagle Flies Alone'. Check it out below:
This is taken from the new album Will To Power, released September 8th.
Guitarist and founding member Michael Amott had this to say about the track:
"Strangely enough, this is a song I wrote in sunny Mexico last year, but fear not – Arch Enemy hasn't gone Mariachi on you! On the contrary, this song is steeped in classic Metal and melancholic Scandinavian atmosphere. Lyrically, this is an anthemic warcry to all fellow individualists around the Heavy Metal world. We shot the video with our director Patric Ullaeus in Sweden on the coldest outdoor shoot I can recall ever doing! The end result was totally worth it, it turned out beautifully. I guess sometimes you really have to suffer for the art!"
'The Eagle Flies Alone' will be offered as an instant download, along with their debut single, 'The World Is Yours' , with all digital pre-orders of Will To Power.
Arch Enemy are also playing a number of live dates around the UK in 2018:
09.02.2018 Glasgow (UK) – ABC
10.02.2018 Nottingham (UK) – Rock City
11.02.2018 London (UK) – Koko
13.02.2018 Manchester (UK) – Ritz
14.02.2018 Bristol (UK) – Academy
Check out what we thought of Arch Enemy, as well as many other bands at Bloodstock 2017, in our festival highlights. Full review coming in issue 15 of RAMzine.