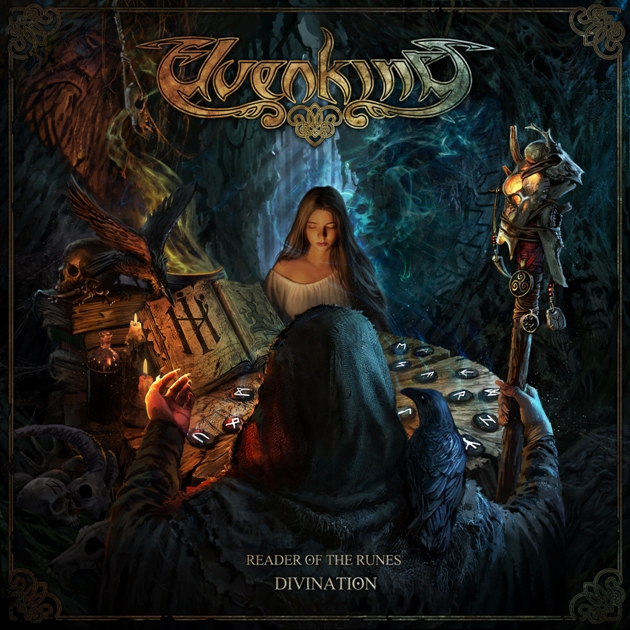 Italian pagan metal band Elvenking has a new single out ahead of their tenth album Reader Of The Ruins – Divination, due 30th August on AFM Records. The single is 'Silverseal' and you can watch the video for it right here at RAMzine.
Reader Of The Ruins – Divination is a concept album relating an adventurous journey into a mystic world of runes, magic and ancient powers far away from the visible.
"For the first time in our career we've created a whole world that will accompany the songs," said the band. "We were finally ready to write a story that could embrace and contain the essence of this band, the concept of our message and the atmospheres of our music.
"Divination is the first chapter of the Reader of the Runes story that will continue and will be developed in our next albums. In this first chapter you will get to know the characters of the story, through the songs and the lyrics, through the runes and magic".
Vocalist Damna, guitarists Aydan Rafahel, violinist Lethien, bassist Jakob and drummer Lancs share a collective excitement in the album they've put together, saying:
"The new material explores all our sounds and influences, and it probably contains the straightest material ever done by the band as well as the most extreme. Expect big melodies, folk tunes, lots of acoustic breaks and heavy stuff in an album that those who already listened to it already consider (one of) our best ever".
Reader Of The Runes – Divination is available as a digipak, on clear red or blue vinyl (Limited to 200 pieces each), blue-white splatter Vinyl (500 pieces as an AFM exclusive) and a box set featuring digipak, six rune stones in velvet pouch, 22 tarot cards, map, story booklet, hand signed autograph card, and certificate of authenticity To get your copy click here.
Elvenking will be performing at HRH Vikings II on 30th November taking place at O2 Academy Sheffield. Tickets are available here. .. In the meantime catch the video to 'Silverseal'.