Chicago-based slide guitar virtuoso and singer-songwriter, Joanna Connor, one of the reigning queens of blue rock guitar, celebrated her most recent album, 4801 South Indiana Avenue, with it hitting the number one slot Billboard's Blues Albums Chart.
Released back in February, and her 14th album thus far, it is the follow up to her critically acclaimed studio album Rise. Produced by Joe Bonamassa and Josh Smith, it was released on Bonamassa's new independent record label Keeping The Blues Alive.
"We chose the album title 4801 South Indiana Avenue because it was the actual street address of the hallowed funky blues sanctuary Theresa's Lounge," said Connor. "We want the listener to open that door, walk in and feel to their core some of the magic that a place like that brought night after night. It was an honour to bring this to you, the listener."

The lady has played guitar with the who's who of blues including the likes of James Cotton, Buddy Guy, Jimmy Page, and Junior Wells. Debuting at Chicago's premiere blues club Kingston Mines in the 1980s, she played there three nights a week ever since, in between gigs at larger clubs and festivals, before the spread of the pandemic earlier this year.

An aggressively edgy and highly innovative blues rock guitarist with a tight groove that encompasses jazz and funk, the new album reflects an entirely new experience from the way Joanna has recorded music in the past. "This album is a homage to the blues school that I attended in Chicago," said Connor. "We attempted to capture the spirit of tradition and inject it with raw energy and passion."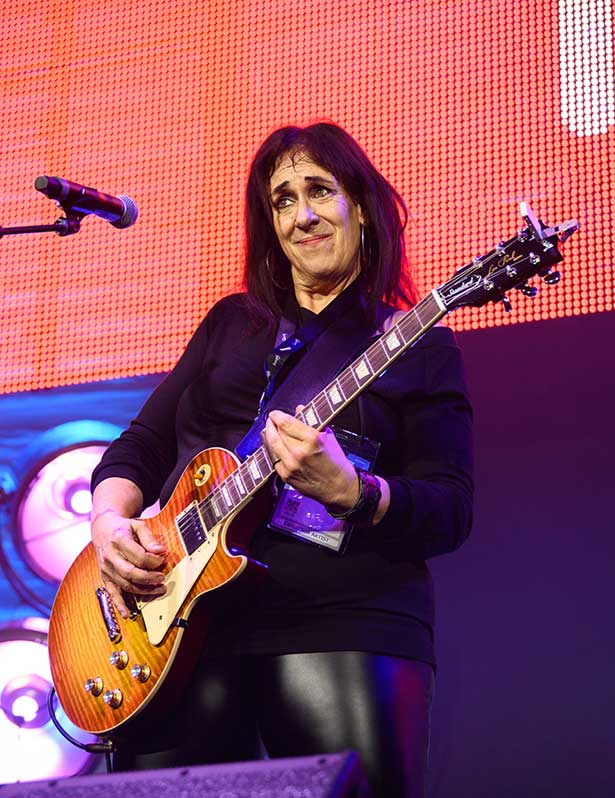 Connor's connection with Bonamassa runs deep, as she explained: "He opened for me years ago at the House of Blues Backporch Stage in Chicago, where I played weekly for years! Joe was totally aware of me for years. He wanted to make an album for me that he felt I needed to make and had never really made.
"We used no effects, lots of cool guitars and vintage amps, which is new for me. We tried to redo it to portray the deep history I have in the blues genre, bring out the thousands of sweaty hours in those blues clubs in Chicago and deliver it to the record."
"All the songs on the new album were lovingly hand-picked by Joe and Josh Smith and were ran by me for final approval," said Connor. "Each song was true to the original but were given a few twists and turns with subtle and not so subtle shifts in approach, rhythm, and attack."
She discussed each song in turn, as you can read below:
'Destination' – "This is a real house rocking tune written by a somewhat overlooked band called The Assassins, led by Jimmy Thackeray. It was made sweeter by the soulful background vocals of Jimmy Hall. Joe and Josh joined on as well. It's a great showcase for my frantic and frenetic guitar work."
The track has also been released as a single, and you can watch the official video for it right here at RAMzine. Suitably impressed you can order your copy here.
'Come Back Home' – "This song features killer blues piano performed by Reese Wynans. Joe encouraged me to play some raw and old school slide guitar."
'Bad News'– "This is a Luther Allison song, and we chose it because we were all huge fans of his. I toured with him in Europe for almost ten years as his opening act, so it was an honour to record this haunting piece. Joe came up with the bell idea to further capture the mood."
Connor's most recently released single, you can watch the official video for it here at RAMzine.
'I Feel So Good' – "This is one heavy boogie tune. The opening note I held was a fun challenge! This tune absolutely burns. Joe used some interesting microphone technique on the vocal and overdrove it purposely. The drummer (Lemar Carter) and I were flying by the seat of our pants so to speak and miraculously ended the fade out together. I particularly love the way the musicians come roaring back- all Joe's idea!"
The first single released from the new album, you can watch the official video for it right here at RAMzine.
'For The Love Of A Man' – "This is our Albert King tune! What blues album would be complete without one?!
'Trouble Trouble' – "This song features slinky horns and stellar Josh Smith guitar licks. It's another facet of the classic blues genre that we wanted to cover."
'Please Help' – "This is our tribute to Hound Dog Taylor. I believe he would have liked it."
'Cut You Loose' – "This is one of my favourite songs that features a hypnotic rhythmic shift."
'Part Time Love' – "This song is a real staple in the repertoire in Chicago. I think we did it justice. A cracking horn section really makes it shine."
'It's My Time' – "This song was written by Josh Smith. It was Joe's Idea to have me do a spoken word and make some of the verses personal to me. Joe and I perform a slide duet, conjuring up Ry Cooder."
'I Feel So Good' has just been released from the album as its first single and you can watch the official video to it right here at RAMzine.
4801 South Indiana Avenue by Joanna Connor can be pre-ordered by clicking here.