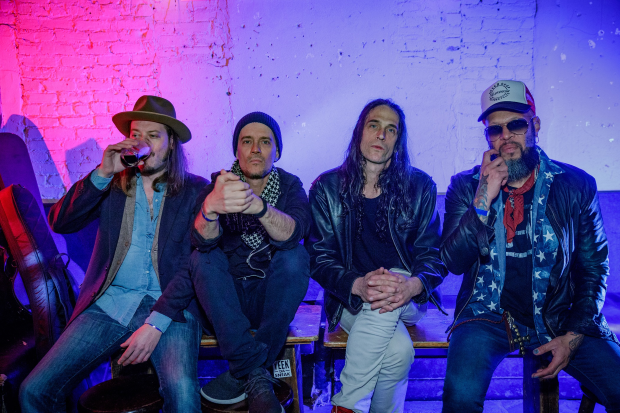 Watch out for PSSR a band with affiliations to act as diverse as Guns N' Roses, The Allman Brothers and The New York Dolls!
Apparently, fans of AC/DC, Aerosmith, Motorhead and The Stooges will find equal pleasure in their music, the band having signed with Golden Robot Records, and their first offering being the single 'Busted'.
"'Busted' is one of those songs that covers a little social commentary about game players that perhaps don't really play fair or at least don't consider the consequence of some of their actions; women, drugs, police, lies?" offers vocalist and guitarist Eric Jakobssen.
 "A little self-awareness could keep you out of trouble. Because in the end all we have is are self to blame if things go wrong and our self to credit when it goes right!'' 
Their man at the back is Guns N' Roses drummer Frank (Thunderchucker) Ferrer, with the aptly named Fred Bass being his rhythm partner on the four string, an instrument he's previously played supporting the late Greg Allman, with lead guitarist/producer Rob Bailey, who's played with everyone from Delta Goodrem to David Johansen rounding out the line-up.
Debut single 'Busted' goes that extra mile and even features Ferrer's Guns N' Roses band mate Richard Fortus on guitar.
Talking about their signing, Mark Alexander-Erber (President & Founder of Golden Robot Global Entertainment) said:  "Having a few bands now with connections to Guns N' Roses, through Dizzy Reed and Gilby Clarke, it made perfect sense to sign PSSR to Golden Robot.
"I love their rock style and total disregard for the norm, with Frank on drums and Eric and Rob doing their thing, I feel PSSR is going to quickly find fans not only in the GNR camp but for lovers of real rock 'n' roll, stay tuned as their songs are killer."

You can also check out PSSR on Spotify.