RAMMSTEIN are (in my opinion) one of the best bands that you could ever go and see live. They put on a show that is much more then music, it's theatrical. You enjoy the music in all it's senses, you see things you never thought you would. I love their whimsical style.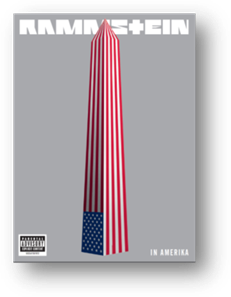 You will now be able to watch their eccentric stage show over and over, as they release new DVD 'RAMMSTEIN IN AMERKIA' with a double DVD that also includes 'LIVE FROM MADISON SQUARE GARDEN'. The Live show in New York, was the bands first time in America for 10 years, to play a sold-out concert (18,000 seats).
The feature-length (2 hour) documentary was directed by Hannes Rossacher.The DVD is said to be a chronological exploration of the band's history, from the members' shared experience of limited touring and other creative business opportunities. The DVD follows Rammsteins first trip to the U.S. in the early '90s, and follows their international touring. This includes the 1999 arrest of two of the band's members in Massachusetts for elements of their stage presentation deemed by local police to be "lewd and lascivious behavior." A 20-minute film about the making of Rammstein's sixth album, Liebe ist für alle da, is also included. All this and so much more!
The DVD will also feature many special quest including: Iggy Pop, Chad Smith (Red Hot Chili Peppers), Moby, Melissa Auf der Maur, Marilyn Manson, Kiefer Sutherland, Steven Tyler (Aerosmith), Jonathan Davis (Korn), CJ Ramone, Scott Ian (Anthrax), Slipknot, System of a Down, KISS, and Taylor Momsen.
The DVD is set for release on September 25th via Island/UMe.
Watch the trailer here: