Whoever says that the metal music scene is dead in Cardiff need to stop applying their eyeliner and take a minute to go and support the huge amount of local talent around the south Wales area, who regularly play Cardiff!
One event that brought a handful of these bands together was the '15 Die A Day' all-dayer which took place on the 4th August, hosted by FREAKSCENE.
On route to the gig I came across three of these 'scene is dead' f***tards whilst they were admiring my new rock boots on my way to the Moon Club in Cardiff. I took the opportunity to inform them about the heavy rock and metal all-dayer, thinking their little faces would light up with delight but the reaction I got was… well… as you expect. All I can say is they bloody missed out big time and missed out for being part of a good cause too, with the festival managing to raise £764.10 for the charity MAG 'Mines advisory group'.
It all kicked off at 1pm with Culver, a six piece who describe themselves as 'just music and heavy drinking' and when they got going it was clear to see why. They got straight down to business with the singer, Liam Anthony trashing about like crazy on the floor in front of the stage, storming from one side to the other. Refreshingly energetic and full of passion, he screamed his was through heavy riffs backed up with a steady beat by Shaped by Fate drummer Carl Richards.Their whole set was brilliantly entertaining and ended perfectly with a dynamic track in the company of a slower tempo which then exploded with the double bass towards the end. This was a cracking performance and was just what was needed to wake every one up and set the audience off for the day yet to come.
With a doomy groove, Thorun were the perfect second act to follow such a high energetic band such as Culver. Although their instrumental style is a little more niche, they still had a captive audience. The bassist certainly knew how to move on stage whilst he wasn't being endearingly sarcastic to the crowd. Over all they were a pleasure to watch. With a slow and steady stoner rock sound in their first few tracks they then turned more heavy with some really funky sections to each track which all flowed really nicely from one part to the next. Thorun are currently writing for a third EP, and if you like bands such as Sabbath, Kyuss and Weedeater then I would highly recommend you check these guys out.
In-between the live bands there was a nice mix of music played which complemented the day well. With the sounds of such bands as Deftones, Mastodon, Future of The Left, Hot Snakes and Kong to name a few. Shadow Of The Sun were on next, Unfortunately they did not get off to a good start with their D string braking mid way through the first song, but they pulled it all together quickly enough and were soon back on to playing their heavy rock. The singer took a while to warm up, but then his voice was heard loud and clear and had a lovely sound over nice melodies teamed with cool guitar solos.
The band have given up on trying to define their style but did mention to me "it's like throwing in all our favourite ideas, heavy sections, dark moments, off-kilter rhythms & grooves, and trying to ram them into a five minute Foo Fighters track." They also mentioned that they were really pleased to have been invited to play the charity event and although not a political band, were happy to help any cause for peace.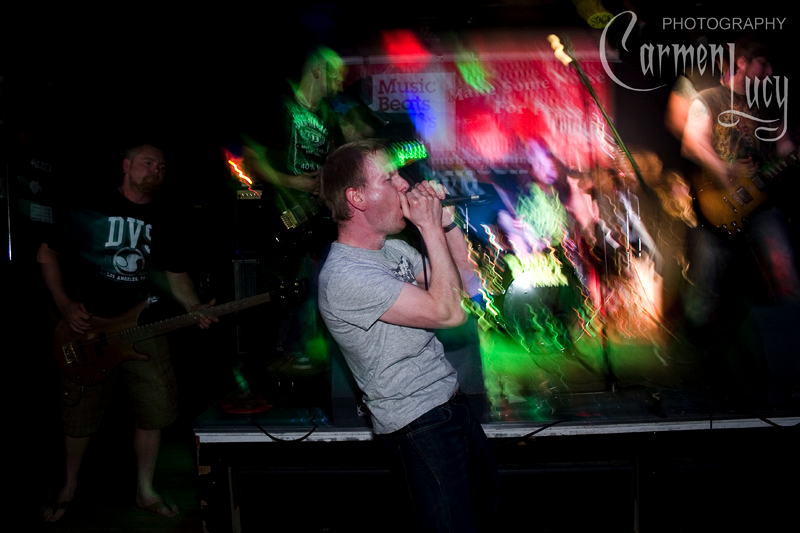 The sound check for Atomçk who described the day as a 'heavy and loud homecoming' was impressive enough. With their music short, fast and loud and influences from Agoraphobic Nosebleed, Napalm Death and Black Flag, they blasted their way through their set with ultimate energy and were all moving around like kids on E numbers. It was a mad start and the crowd went wild as soon as they started playing. The singer was crawling around all over stage and they definitely set the mood for what was going to be a wild drunken day.
Atomçk began as a home recording project and slowly took on a live dimension. Things went on for a year or two that way, then after a gig supporting the legendary Insect Warfare they acquired a human drummer and began increasing live activities. European and UK tours then followed then in 2011 Atomçk played the big and scary Obscene Extreme festival. The band have lot of things planned, and are soon recording for a four way 12″ with three other mysterious ugly sounding UK bands. Once that is done they will think about booking another tour.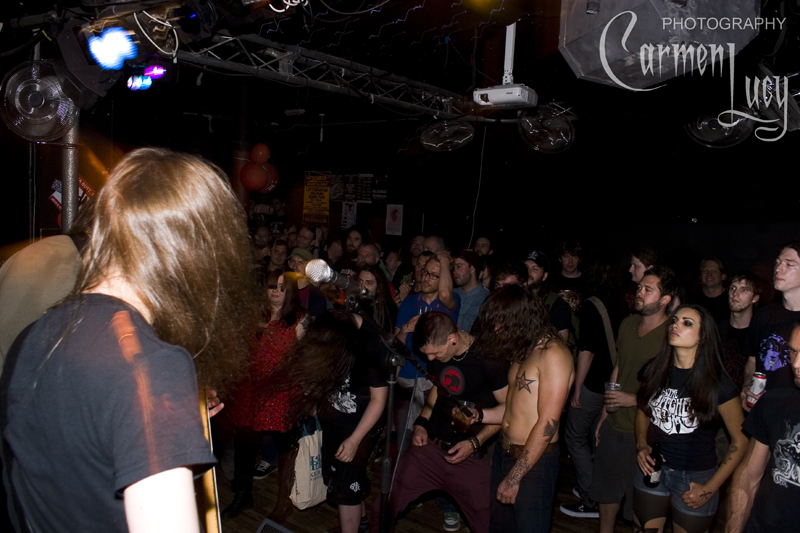 Chaos Trigger followed suit and was formed from the remnants of a band called PowerWordKill. Adopting their name from a mosh pit incident at a Strapping Young Lad concert, there have been a few line-up changes over the years. Notably, their original drummer, Darren "Trukk" Davies, who left to form another band on drums, later came back as their singer and still is the current singer. Chaos Trigger is a "chaotic high tempo sonic pummelling, twisting timings and lashings of doom and death all mixed together." They view themselves as progressive but still love to write songs you can hurt your neck moshing to. Currently when they are not being influence by horror movies, politics and things that concern humanities future, Chaos Trigger are finishing up on the recording of "Outpost 31", an album based entirely on "The Thing" (John Carpenter's version).With blast beats and progressive sound they mix mainly harsh with the very occasional clean vocals as if Randy Blythe and Devin Townsend joined as one.
Next up was Spider Kitten. They formed in 2001 as a two-piece ambient/harsh noise project. They then acquired instruments and members and haven't looked back since. Being a massive doom fan myself, I was excited to see the guitarist sporting an Electric Wizard T-shirt and thought I might be in for a treat. I wasn't wrong! Both the guitarist and bass player sung slow, low, loud and heavy. When I asked them what they thought of the other bands playing, Chi (guitar and vocals) jokingly announced "I think they all suck and clearly we are the best band on the bill. I think we should just play 12 times" …but joking aside the music is mesmerizing and enchanting. If you are into your Doom then I would highly recommend seeing them live! They don't tour but try to do one off gigs around the UK so if you are near The Unicorn, London then go and check them out in November. I thought their name was pretty unusual (and funny) so I asked how they acquired it and Chi told me "I saw a picture of a two headed, eight legged, two tailed Siamese twin kitten mutant in a magazine in about 1999. Plus I like kittens and hate spiders." At the end of their set, Spider Kitten had the biggest cheer up until this point in the evening and it was definitely well deserved! Spider Kitten are planning on having a new album out in October called "Cougar Club".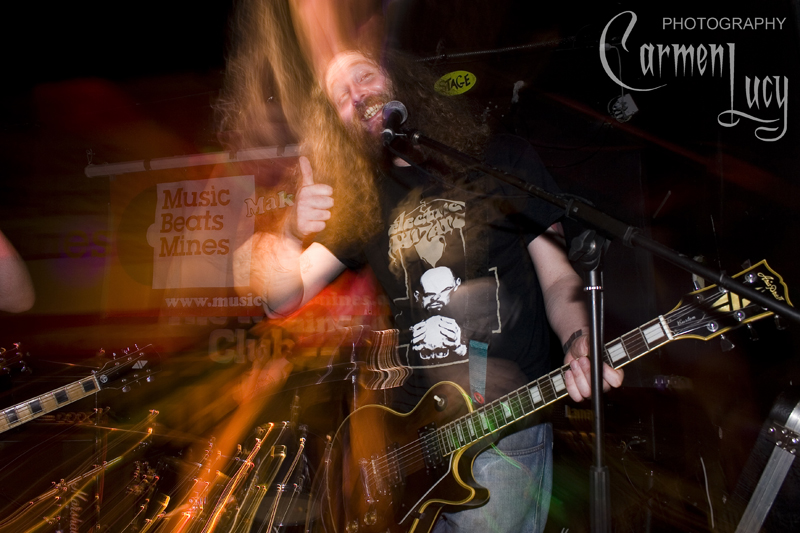 Akb'al were the seventh band plaything the evening. They formed as an idea in Michael Young-Temple's head a few years ago when he was working in South Korea. He saw real potential in some of the songs, so brought the idea and the concept of the band to a friend from University, Thoby Davis, when he got back to Cardiff. Michael knew Rob Miles from University days and knew he was a great guitarist and a great producer, so asked him to get involved also. After their initial drummer had to step out, Mic (Desecration, Onslaught, Extreme Noise Terror) stepped in.
Being progressive, their sound is also a mix of a few different styles and genres with strong elements of metal, psychedelic, alternative and hard rock. Electronic musical influences were also noted and when playing live I noticed a Kaos pad being used for effects. The majority of the band are very much into electronic music, be it breakcore, techno, dubstep, Gabba, electro, ambient, etc so it is clear to see this influence. The music has ambient soundscapes, driving hard rock and brutal metal involved in a progressive journey and visually they were great to watch and got really involved in the music.
Akb'al has spent the majority of its life as a band, constructing and recording songs, and playing some gigs. Their album "…Of Darkness and Light…" is now complete and out in a few months time and then they aim to do a mini European and UK Tour.
I have seen The Witches Drum many times live and they never fail to produce a top quality performance. Matthew Fry (singer) has so much passion and puts the most amount of energy into his shows. At each gig you will see him covered in different coloured glitter and mixing up his mad outfits. One thing you will never see him with out though is his bright yellow marigold gloves. So yes… He is as crazy as he sounds!
From evidence of the way The Witches Drum act on stage, it is apparent the whole band are genially pleased to be there and play their heavy psychedelic rock.
The Witches Drum have played many gigs- everywhere and anywhere- mountains, warehouses, cafes and barns, places where you can get loose, so naturally some of the free party dance scene vibe sneaks into the music. They have recorded a couple of demos, then got a proper EP done – "Future Kings of an Empty Throne", released in July 2012. Plans are to hopefully start recording again later in the year.
Half way through their set the crowd went rock and roll mental and started picking up Matthew whilst he was still singing and drinks were thrown everywhere. Everyone was thoroughly enjoying themselves and it was an amazing atmosphere. They were really well received and many people were looking forward to seeing them play. It was a fantastic show.
Ironbird are a local love in Cardiff and after seeing them live it is easy to see why. Eli (singer) has deep, strong vocals over heavy, low, laid back melodic riffs with a southern twist. With influences from Kyuss, Clutch, Blood Ceremony and Motorhead, they have a cool, iconic sound that transcends live immensely well. When they started playing Eli, was standing with his back to the audience with his arms up over his head and his palms together. When he started singing he turned to face the crowd, it was a dramatic beginning to a thunderous set. They stormed through their set with great praises and lashings of support!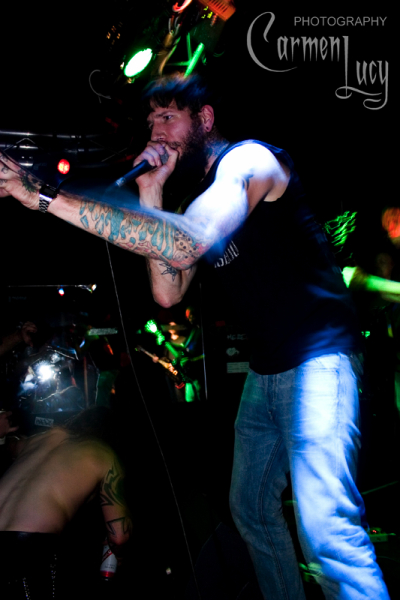 Hogslayer were up next and was their first gig as a new band. Hogslayer are a heavy rock band combining the vocal attack of Paul Fortescue from Shaped By Fate with the mighty riff worship of Zonderhoof, which they were billed as for this first show. There was mixed reactions from people about having Paul's vocals with the killer sludge/doom group as they are mostly instrumental, but as soon as started to play it was obvious to be such a perfect fit and after the show many people commented on them being their favourite band of the evening. They had a lot of support from the other bands and the room was packed out and was the busiest time of the evening. Singing and stomping along, Paul massively entertained the metal masses and already being on the local 'scene' creates a good support as most of the bands they know already and have done gigs with over the years.
Zonderhoof first released their three-track demo in 2006 which led to the release of their debut EP/Mini album on Sound Devastation Records in 2007. Now with their new name confirmed for their other band, recording and touring will be on the cards.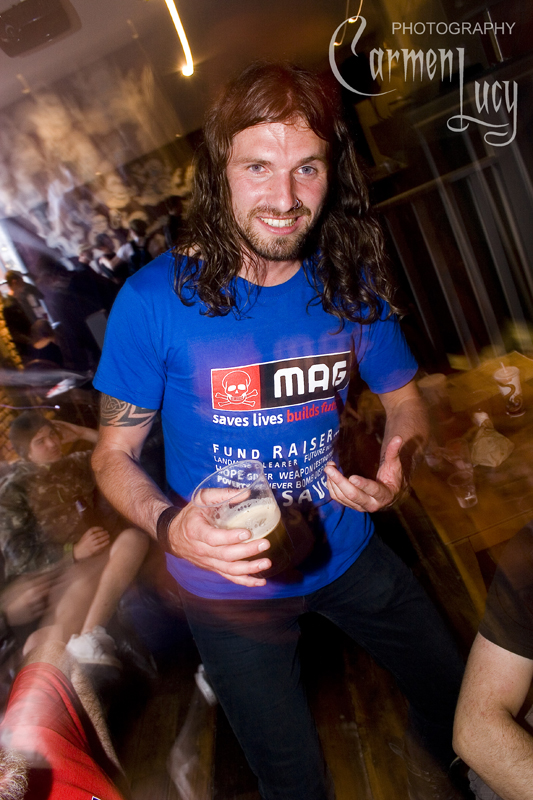 Unfortunately when the last band of the evening, Ghast, came on there weren't many people in the venue. Everyone had exhausted themselves so much from Hogslayer that they were all outside getting fresh air. Slowly but surely people started to trickle in.
Ghast formed in 2004, apparently had a terrible name, and then changed it in 2007 to reflect the state of their music, which was beginning to sound more miserable, aggressive and sinister. Old black metal and old northern doom is the basis of their obsession, but they usually draw inspiration from contemporary pieces also.
Standing quiet and mostly still, even with the fewer people as the evening draws to an end, you could feel the massive appreciation from us all watching Ghast. Everyone in the room transfixed to the harrowing sound, some, with their eyes closed. Once finished people were shouting out for one last track and they were kind enough to oblige.
Ghast were glad to be a part of the charity event and also said "We are always astonished when far more talented bands, who perform likable music play before us!"
The overall feeling from everybody who was at the gig and participated thought it was amazing. Supporting the gig showed we were "peaceful people who see violence, as a means to deal with conflict, as a true failure in real communication, tolerance, respect and love." It is great that there is an organization, which helps clear up explosive devices and other arms protecting the innocent from the result of war. War kills even after it is over.
As well as being proud to take part or support this charity event, it was also a fantastic opportunity to support the local scene and this line-up showcases the amount of varied and talented bands that are active in South Wales, not to mentioned the efforts people are regularly putting in to things like this, to which the mainstream Rock and Metal world is seemingly oblivious.
Not being genre specific gig catered to a range of people and these types of Multi-genre day festivals allows you to experience music you may not have heard yet. It gives the opportunity to see people expressing their creativity in a number of different ways. One music fan said "I hate it when I go to a show and the support bands are just watered down versions of the headline band. I think all the bands involved are united by a love of loudness and intensity, whatever style they're rocking".