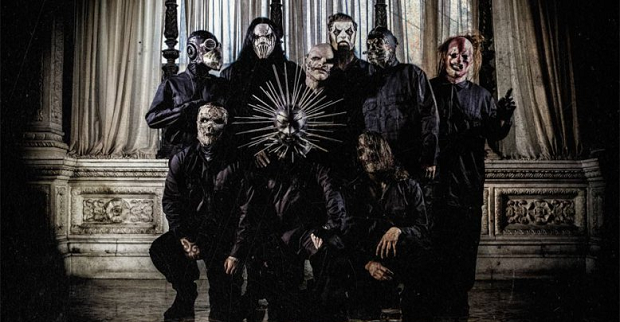 This is the first of a new style of live coverage. The RAMzine blogs will be accounts of fans and team members at the big gigs around the world. This will be a personal account and different to the usual live review. Don't worry, the traditional reviews are still being published but you may see more blogs popping up from time-to-time. The first is from Claudia Mancino who went to SlipKnot's gig at Alexandra Palace this month. Enjoy!
Slipknot causing mayhem again during their London dates.
Slipknot arrive in London on the 9th of February for the first of two memorable nights at Alexandra Palace. They are supported by Sikth and Suicidal Tendencies. As soon as Sikth start the band and the fans go crazy and a sold-out venue is in for a treat from one of the premier acts in modern British metal. Their show confirms once again that Goodman and Hill have unquestionable talent and just like the rest of the band they rock the stage like they never stopped. Suicidal Tendencies keep the energy up, with Mike's preaching in between songs, their anger and passion make the crowd jump and mosh like there is no tomorrow.
Before Slipknot take over the stage we listen to the punching bass tones of David Bowie's 'Ashes To Ashes' and it's only soon after that the metal circus can begin in this very historic hall, a show that probably the Victorians didn't expect to host when they built the place. Even Corey Taylor says: "This could be the classiest venue we've ever played. I don't know if they'll ever have us back after what we do tonight." Opening with The Negative One, the venue is filled with energy and adrenaline. A whole crowd of 'maggots' constantly moves and head bangs throughout the whole gig.
Slipknot put up an exclusive live experience, they are brothers on stage but they also feel like they are playing to one big family. "My friends…," barks Corey Taylor with arms wide open before correcting himself, "my bad…my fucking family". During 'Spit It Out' everyone is crouching down on the floor before jumping up at 'FUCK ME, I'M ALL OUT OF ENEMIES'. This is a carnival of chaos, a constant soundtrack of a horror movie of which every single person doesn't want to miss a second. Psychosocial, Wait and Bleed, Duality and The Devil In I have everyone singing at the top of their lungs and they even play Metabolic which was never played in London before. When the lights turn out, the maggots go home knowing that this was definitely a gig to be remembered.
Set List:
The Negative One
Disasterpiece
Eyeless
Skeptic
I Am Hated
Killpop
Dead Memories
Everything Ends
Psychosocial
Wait and Bleed
Duality
The Devil In I
Metabolic
(sic)
Encore:
Surfacing
Left Behind
Spit It Out