Carnifex is an American death core band from San Diego, California. Formed in 2005, they are currently signed to Nuclear Blast after having been signed to Victory Records and have released four full-length albums and one EP. The name of the band is derived from the Old English Latin word äúexecutioner; literally meaning, "executioner"
 You see the name Nuclear Blast and immediately know you are in for a good full on, in your face metal fest and Carnifex certainly match up to that description. Immediately infiltrating the brain and getting to work on all the places a death metal band is supposed to, Carnifex do not disappoint on that score. Ravishing the aural, plain and simple! Chillingly sweet!
Salvation is dead
The intriguing beginning makes for an interesting track with the distinctive presence of an over powering vocal extravaganza that scours the depths and scales the heights.  The muscular virulence is overwhelming and provides sustenance for a compelling intense track to open with plenty of rhythmic passion of potent energy!
Dark days
Stretching into a piano concerto and is then turned onto its head by a thrilling barrage of sudden addictiveness. Crafted into a sonic perplexing of delicious brain damage! A very poignant track with far-reaching vibrant guitar and vocals to literally die for.
Condemned to Decay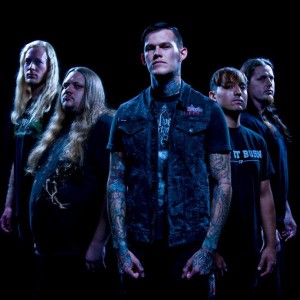 Thunderous powerful beats sculpt this tack into an array of instant liking. Aurally teasing and absorbing it brutally inspires and like all the tracks so far have that compelling edge!
Die without Hope
A rather ambient track with bone chilling, eerie sounds, that move straight in for the kill, with a vocal scathing that is punishing and unrelenting. Niggling and gnawing on the senses it also holds a melodic swagger that is both pleasing and coaxing, evoking in rasping detail.
Hatred and Slaughter
Incites pure hatred as it speeds into a dark and powerful rapaciousness – you can feel the pulsating rhythms through the speakers hitting the gut, whilst the vocal cavalry ascends around you in smothering darkness.
Dragged into the Grave
Pulling no punches this dives into the aural and leaves one choking for breath. Its attitude is formidable and charged with potent and slightly sinister ambience, it breeds urgency through its narrative veins.
Rotten Souls
Pulsating and then explodes into a fiery chasm, dragging its victim with grasping claws into a malevolent hell hole. It epitomises sadistic assault and battery on the senses ignoring any cries for mercy as the guitar ravages the soul.
Last Words
If you have any before this track begins, then say your peace as slowly this track will snuff out your existence! The bludgeoning beats will rip the ears with devastating consequence.
Reflection of the Forgotten
Like its title, it is a very reflective and poignant ensemble. A very clever and diverse master piece that offers some respite from the aching neck. With clean guitar and no vocals to impede on its glory.
Where the light dies
A good strenuous ending to an outstanding album. Heavily crafted with a slaughtering groove that dramatically infects with a very pleasing lure of contentment.
This album is without a doubt a typical death metal album, but offers muscle bound splendour helped along with bucket loads of scintillating vocals, ravenous guitar, bludgeoning beats and strong bass hooks, with ambient splashing's of melo-drama thrown in for good measure. The only thing I would say against it is that it does sound particularly similar in places, but its saving graces are the monumental vocal content that brings everything together plus the very reflective track which I find uplifting. On the whole a very creative album, strongly produced and certainly a pleasure to wallow in.
8½/10
Carnifex 'Die Without Hope' is to be released 3rd March 2014 via Nuclear Blast Records.