The transgressive Welsh ragga-muffin crew 'Skindred' are now – rightly so – internationally renowned for their innovative approach to heavy metal – (their exotic blends are splashed and spiced with pinches of ragga, dub 'n' metal and hip-hop.) But it was not always this way. When I first started to write about the band (formed in Newport, Wales in 1998) – they were just rising – soul-like – from the drying bones of their previous incarnation entitled 'Dub War'.
In 2002, Skindred released their début album 'Babylon' and I eagerly sought it out. I discovered that it had all the maturity and extrinsic natural aggressiveness of Latin Metal purveyors (like New Jersey's Ill Niño) and a refreshingly tropical atmosphere with a hook-filled groove that was attentively re-recreated in the studio. I was snared immediately. A few years later I experienced my first live Skindred show (I've seen many since then) – and the band simply took my breath away. There is no argument – Skindred are probably the best live band in the world.
If you can imagine a cunning blend of Cyprus Hill and Korn – with sounds deftly spliced in the studio – then displayed for all on a glorious giant plate – a feast of colours and textures – then you can imagine the title track 'Kill The Power' that opens their fifth album. The percussion wheezes and gags – and the chorus is ripe and fruity.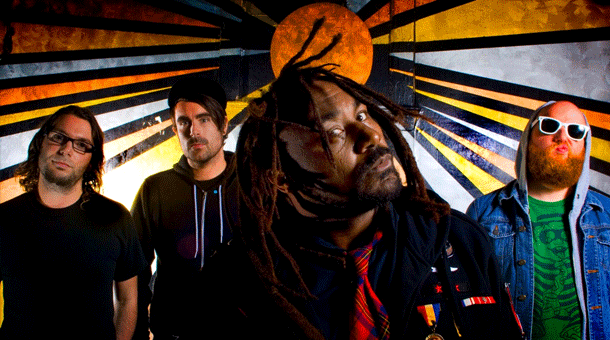 'Ruling Force' has a splashing of guitars then a high-velocity drum (Arya Goggin) that barks as if it has been trodden upon. Benji's voice is both euphonious and liberated – and the chorus rises as it sublimely connects with the blanket of closely inter-woven guitars.
UK dub-step is a smart thing ( I know you may not agree) – and the Skindred track 'Playing With The Devil' is about to persuade you that dub is not as bad as you think. The song starts like a freshly resurrected 'Police' single (from back when they were good i.e. about 1977) but then it splendidly expands itself into dub-step territory like a condor spreading thick black wings across open horizons. The emotion of this song is so complex and righteous – you feel the need to learn every word. And the vocals have a warmth and sincerity to them that will sink deep into your muscles and help you to relax. Which is a good thing – because any minute now and you will jump out of your skin – and explode into dance.
'Worlds On Fire' unrolls like a newly unwrapped tube of spaghetti with the surf rockin' Dick Dale – Misirlou-type intro (also heard on Black Eyed Peas song "Pump It".) Then the song ripens into a sunny stomper.
'The Kids Are Right Now' has Pugsley's black-ink bass at its heart – creating belligerent oil-slick bubbles against Mikey's silvery fuzz. This song is easy to get into and seems the perfect fayre for bored & affluent West Coast teenagers – but it is actually about kids living in UK inner-city squalor- so it is far more subversive than it first appears. "Loud music … my salvation…" You just have to agree. And if the kids want a smattering of dub in their tangled metal numbers – then why not? This is an obvious single – and will get the band noticed across all nations.
'We Live' has some strident guitars and the kind of mega-fast beat that makes you believe that you are crawling with biting creatures. Then 'Open Eyed' (featuring UK singer Jenna G) erupts out. This is a quick thinking number with a perceptive sense of its own purpose. Incisive ideas are rammed home with some quality mixing and some more rumbustious beats. For me, this is a little too unruffled and over-produced – but it is a highly nourishing piece of work. And should go down well on the other side of the Atlantic.
Highly syncopated 'Dollars And Dimes' (witty lyrics include: "reasons to be tearful – 1-2-3") has an edgy piano and nimble percussion. 'Saturday' is quite nicely coloured – it's like an explosion in a Hawaiian Shirt factory. 'More Fire' completes this accomplished album. This is clean and soft. The ska-beat wil infect you. The vibrations will flow through your veins. And the song will take over your frontal lobes. And you will be possessed.
'Kill The Power' is vigorous, radical and – most importantly – buoyant. The clever use of the 'Power of Darkness' imagery ( used by the Rock Against Racism band TRB in 1978 ) suggests how far we have all come. And, as for where we're all going … and how much further we still have yet to travel … Just ask Benji. There is no doubt that he will tell us to all hold hands as we go down the road to nowhere. And just bounce.
9/10
Skindred 'Kill The Power' will be released Monday January 27th 2014, via Cooking Vinyl.