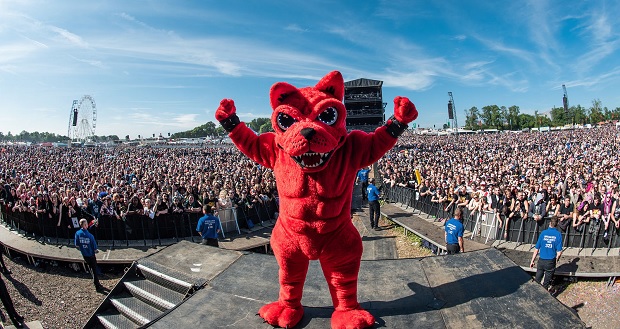 Now in its 16th year, Download Festival is the biggest and most anticipated weekend in the rock music calendar. Not only does the festival live up to its hype in it's UK home but the Download name is now being used around the world. in 2019, is it an honour for bands to grace the stage at Donnington Park, as well as a must for all live music fans.
Seeing as the fans are the most important element to Download and the whole live alternative scene – we asked the adoring fans to choose which bands you should – nay…NEED- to see at this year's Download Festival. Many thanks to Download Single group on Facebook as well as my friends who have taken part in this feature.
Die Antwoord
"Die Antwoord. They're my happy music. Everywhere we go my mates request them for me. Even bought my ticket without knowing who else was going " Kelly, Gateshead.
"Die Antwoord there amazing! And think would be visually awesome, and Tool" Laura, Lincoln.
Although not the most obvious band to play Download, South African hip-hop collective Die Antwoord have been a well-received addition to the line-up. Ninja and Yolandi Visser are known for their eye-catching live shows and sometimes controversial lyrics. Check out the video for 'Ugly Boy' below which features Marilyn Manson, Jack Black, and RHCP bassist Flea.
Tool
"I saw A Perfect Circle last year and that was pretty much the best thing I've seen in my life (better than boobs). If Tool is half as good as that it'll bring a grown man to tears" Nick,  Newcastle.
"In 2002 I missed the chance to see TOOL due to my mock exams and regretted it ever since. 2019 provides me with a chance to set that right, even if I should probably still be focusing more on academia – I can't wait!" Wayne, Gateshead.
James Maynard Keenan's long-lost supergroup are possibly 2019's most unique act on the bill and they are headlining Sunday night. This performance will be a good insight into the material Tool have been working on for their new album. Their last record was released in 2006, so this is a welcome return for the LA alt-metal band.
https://www.youtube.com/watch?v=yMMz2VwbhVI
Fever 333
"Fever333. They killed it last year and not only have they got a cracking album behind them, seeing them second headline the avalanche tent before Shikari is gonna be pure energy, but I'm also so excited. Also Queen Zee. They're going places and it's super awesome they're at Download" Tash, Newcastle.
California cross-over supergroup Fever 333 hit us out of nowhere in the past 18 months. With fans of previous bands spreading the good word – Fever 333 has become a must seen for this year's festival-goers.  Following the release of their latest album Strength In Numb333rs, this should be an exciting set.
Slayer
"There is a lot of bands on the lineup I want to see, and few of them are bands I've never seen before, and some I've waited a long time to finally see. But it is one band I won't dare to miss. That would be Slayer. They have been around for long and this Will be the last time they are performing. Their last shows I've seen have always been solid gold. And they do deliver for their full set a show that I Will enjoy from start to finish. When they come out on stage and thereby now well-known intro starts. I know for sure its time to get ready. Time disappears and I fall into the universe that is Slayer. Nothing goes wrong because their set is always pure gold." –Leon (location undisclosed)
"Slayer – because obviously" Mick, Donnington.
"Slayer is a quality band, and just an outstanding live performance guaranteed. They've given so much to me it feels remiss not to honour them by paying tribute in attendance at their last ever UK gig. Blood, sweat – and maybe even a few tears – will definitely be shed" Gerard, Dublin
"If I had to pick bands, Lamb Of God or Slayer because even though I've seen them both countless times, it's for good reason as I know how good they are live" Lucas, Sunderland via Oxfordshire.
Download Festival 2019 sees Slayer's final UK performance. If you haven't seen the thrash legends live before, you need to. This is your last chance. You don't want to regret this. Even if you aren't familiar with Slayer's back catalogue, this is going to be a fantastic performance. Their farewell tour has seen Kerry King and co. explore their vast career playing classics like 'Raining Blood' and 'Angel Of Death' up to their latest album Repentless, released in 2016. Expect to hear many random 'SLAYERRRRR!!!' exclamations, even when they aren't on stage…
Def Leppard
"Despite numerous opportunities, I've failed to actually see Def Leppard once in the last 15 years, so seeing them at Download would be a truly magical experience" Rory, Ireland.
There's no doubt about it, Def Leppard are British Metal legends, returning to Download for the third time. Fresh from their Rock N Roll Hall of Fame induction, the Sheffield icons are said to be treating us to a 'greatest hits' set following the success of their compilation The Story So Far, released last year. 2019 is the year of legends as Def Lep play alongside Whitesnake, Slayer, Slash, Smashing Pumpkins, and Rob Zombie (among many others). If anything, this is the year is a master class of amazing rock music through the ages…a 'Rock Of Ages' you could say…get it? Nevermind.  What's your favourite Def Lep track? Let us know in the comments.
Alien Weaponry 
"For me personally it's just the combination of catchy, heavy riffs and fantastic melodic sections. Each chorus is equally memorable and huge. There is a lot of potentials, it will be interesting to see what comes next."
You're forgiven for possibly not being familiar with the New Zealand experiment metallers, Alien Weaponry. The young band were a surprise hit at Bloodstock in 2018, and hope to bring that energy to Download this year. To describe their sound: full-on metal, mixed with traditional New Zealand Te Maori music. I don't think that's been done before. A lot of their music is written in the Te Maori language and include Maori chanting. Think Roots-era Sepultura with a New Zealand twist.
SlipKnot
"SlipKnot! They always pull it out the bag and they've got a new album coming out!!" Sophie, Reading
"SlipKnot is the quintessential Download band, they have headlined many times before and we see them grow as a band each time. I'm looking forward to their new material and new masks!" Neale, Tyne and Wear.
What can you say about SlipKnot that hasn't already been said? The nine-piece nu-metal survivors embody what Download is all about: celebrating the current rock and metal scene with a nod to the past. Like Def Leppard, Corey Taylor's merry men have headlined the festival on many occasions. Having both remained consistent yet changing with the times, this could be the most anticipated set of the weekend. With a new album and tour, SlipKnot brings with them new masks. These are inspired by cult horror movies (no surprise there then) and are said to be their best yet. If the Iowa band's new material is as good as their recent track 'Out Of Life' – this should be one of the best Downloads ever.