One of the biggest names announced early on for Bloodstock 2017 was one of the big four, thrash metal legends Megadeth. Through ups and downs over the years they are still coming out strong, the best evidence of this is their 2016 album Dystopia, which got a huge critical and commercial success. We were lucky enough to sit down with seasoned guitarist Kiko Loureiro and founding bassist Dave Ellefson to talk about festivals, the evolution of metal, their recent success and new bands.
…
So it's the last day of Bloodstock 2017, how does it feel to round off the weekend?
Dave: Great! I mean we played here about 3 years ago. It was raining and muddy…an awesome English festival. So it's always good to be invited back. The feeling here at Bloodstock is warm and inviting. The people here, you can tell they are very passionate about this. It's 'Bloodstock Open Air'… It's cool now because there is a lot of these going on around the world. It's cool that England still has one of their own though.
Do you feel more excited for Bloodstock, because it is catered for fans of your style of 'metal'?
Dave: Well I think that the unique-ness of the festival is indigenous to the culture of people in England. In Germany there's one, and even in America (!) there's a dozen of these festivals that are all based on the template of the European festivals. There's on in Ohio, one in Texas, one in California. When I was a kid we had that like 'California Jam' and 'Texas Jam', you know, and for a while they went away. So in America, we are copying what you have done for many, many years. The die was cast over here.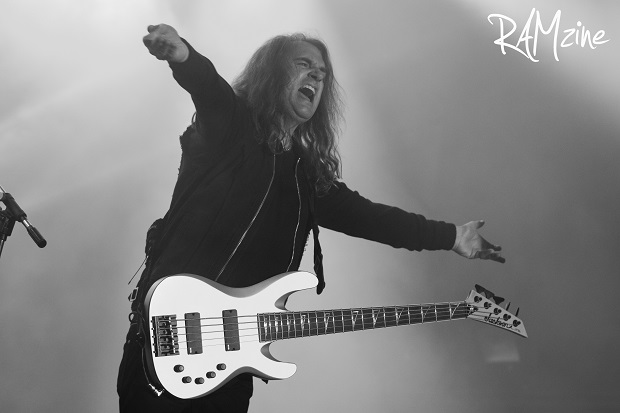 You are still touring with last year's Dystopia, will this set be mostly material from that album?
Kiko: It's about seven songs from that record…
Dave: When I came back they were doing the End Game tour – with the Rust In Peace 20th anniversary too, which was the first time we went deep down in to that record. I feel the same with Dystopia.
Kiko: It's a lot of songs. (they laugh).
Dave: and a lot of variety! from 'Conquer or Die!' or 'Poisonous Shadows', 'The Threat Is Real'…heavy stuff, fast stuff… Dystopia's very melodic much like 'Symphony Of Destruction' or 'Peace Sells'. So there's a lot of nice little places we can go with it and keep the setlist fresh, yet still play the classics people want to hear from us.
Although a year has passed, the record is getting a great reception. Do reviews and how the fans react still matter?
Dave: This one we went through so many changes. A lot of internal shake-up in the band. Our motto is -'When you're down to nothing, you better be up to something'. We needed this, not just for the fans, but us internally. If you don't feel good about something you've made yourself, there's no way you're going to convince the fans (laughs). So we walked out of this, especially with Kiko coming in, and really gave him a platform to bring the best of what he does in Megadeth – and take Megadeth to a new level.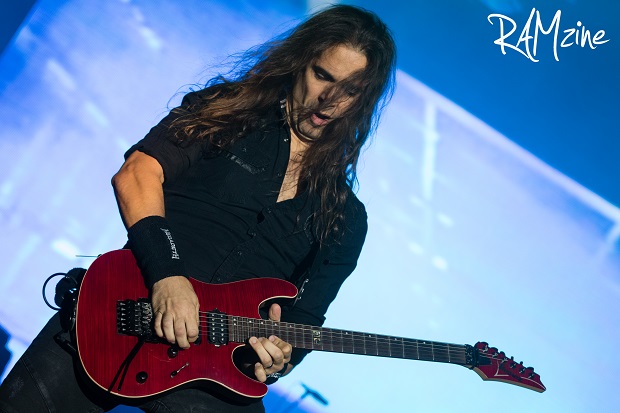 I have to ask about the cover of Dystopia. Everyone where I'm from (the North East of England) thinks it's the Tyne bridge. Is it? or is it a totally different bridge all together?
Dave: It's an anonymous bridge. When I see it, I think of the Brooklyn Bridge.
Kiko: It does look like Sydney though.
Dave: It's a bridge that gets blown up in a city that's falling apart… (laugh).
Having been part of the industry for many,many years do you feel metal, and the music industry has changed much over the years?
Kiko: It changes, but at the same time – when I travel around the world the fans are the same. You have new bands doing new stuff. Like modern stuff, using more strings, as many as 8 or 9 strings! So this is all modern compared to what we do but at the same time the fans remain the same.
Dave: Yeah, and it's these festivals where the see what they want to see.
Kiko: And you notice the differences in the festivals, this year we have played with UFO, and Arch Enemy, who aren't the same as us. But it's the same stage. It's brilliant.
Dave: We're at a festival…we're here to be 'festive'. And that's part of the enjoyment…
Kiko: It's good to be different. It's fun to watch several hours of different bands, or else it would be boring.
Do you get time to watch any bands at these kinds of festivals?
Dave: Yeah! In Spain we had a few days off so we just drove back to the festival to watch more bands. Some of them are out friends, so it was nice to see them.
Kiko: We got to see Arch Enemy, UFO, the Cavaleras…
Dave: Steve Harris! His band British Lion, it was  fun to see that. Sometimes of course we are busy but you can still hear them. The other day Last In Line played before us. We have toured with these bands, and grew up with them. It's great to still see bands you had in your record collection growing up on the same festival. There's a little kid inside you that's saying "wow, this is soooo cool".
So what have you got planned after the live dates?
Dave: We've got a run with the Scorpions. Double headline tour across Europe. A lot of big places , and we were going to finish up in South America in October/November. Those dates have been announced now, and then after that we are talking about getting started on the new record.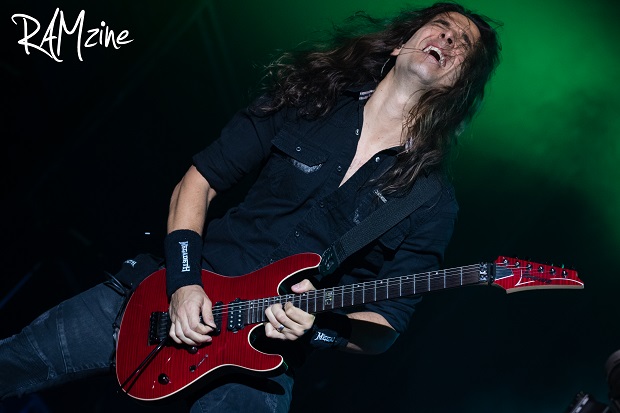 So what's this album going to be like?
Dave: We can talk about it all we want but we won't know until we get in to the studio. The feeling is that Dystopia re-calibrated Megadeth. We've been touring a lot with this line up so now we are going in to it feeling like a band – that is an actual band. It will have a lot of character and personality passed on from the four of us. At the end of the day…it just needs to be Megadeth.
So after all the line up changes, does this feel like a new band?
Dave: For me it feels like a new band. Yet, there's still a benchmark everyone has to rise to. Me and Dave [Mustaine] included. And I feel like we have exceeded that. Which is cooler because we don't just get to be the Megadeth of the past, but of the future.
Kiko: It's a new band to me. You kind of have to look back and respect the legacy. But also have to build the legacy for 2020 (laughs). Looking forward and not back. A big sign of that is we're are playing so many songs from Dystopia.
Not sure if you have heard of the 'New Blood' stage at Bloodstock, for new and unsigned bands. What advice would you give to these bands?
Dave: I think it's a great idea. You need to create and move things forward. 'Heavy metal' as a genre: We, including myself, been guilty of 'keeping it old school'. Which really shows how dated you are, it shows a closed-mindedness about it. I love listening to new music, Kiko and I were in the car driving over and the guy had a radio station on with all kinds of new stuff. A lot of it I didn't like, some I hear and think 'They definitely listen to Metallica',  or 'they listen to Judas Priest'. I guess the point of it is: the new guys and girls need to be coming up with something else to keep the genre alive. It can't rest on the laurels of it's past. So yeah, the New Blood stage is a great idea.
…
Check out our highlights of Bloodstock 2017 here! A full review of the festival will be featured in issue 15 of RAMzine.
Check back at RAMzine.co.uk for more interviews from Bloodstock including Skindred, Possessed, Hatebreed, Courtesans and many more.