Delain have had a lot happen in the last few months. They've visited some truly exotic tour locations, switched record labels, taken part in some very unique events, announced their newest release and a set of UK dates due in January 2014. Amongst all these wonderful new happenings for Delain, we were able to speak to front woman Charlotte Wessels to gather some clarity on what's going on with Delain and what fans can expect in the near future..
RAMzine: So we'll get started by talking about your upcoming release Interlude, what was the inspiration behind something which seems to be quite a unique release?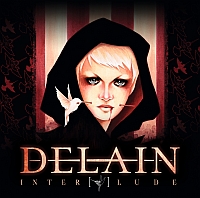 "Basically over the last couple of years we collected a load of material of which, initially, we thought we will revamp this and then maybe put it as a bonus on a record or a single. But then at one point we just put together what we had and we thought we had so much material that it deserved a record of its own. It was also because a lot of these records contain a lot of unfinished songs or demo tracks but some of these songs were so well produced that just hadn't made it to a record for other reasons. Most these songs were recorded for We Are The Others but because we wanted the right balance for the record they never made it to the album. We were really bummed out that some of these songs never made it, so we're happy these tracks have made it to CD after all."
RAMzine: There are also a few covers included on Interlude, what influenced the choice of which songs you would cover?
"We really searched for songs where we loved the originals so that was how we started looking for them. Then, I guess, the ones that made it were the ones that made it were the ones with the best combination of respect to the original and our own interpretation so they work well with a Delain mixture."
RAMzine: You've also recorded a new ballad version of the song We Are The Others and a new single mix of Are You Done With Me. If you could re-work another song from any of your past albums, which would it be and how would you change it?
"The We Are The Others song stands for itself. I re-worked the lyrics for We Are The Others quite often so after I'd written them there were big changes because of course it was such a heavy subject that I really wanted to get it right so I weighed every word. When we were doing that I would often just sing along to a piano to test the new lyrics and at one point we realised: this song in a more introverted version with just vocals and piano actually worked quite well. Also, with the lyrics, it's a bit more down and this version suits the topic so we chose to do that. Then when we worked on Interlude with it piano and vocals aren't cool enough so we added strings and went a bit wild with it and I really like how it ended up. For Are You Done With Me, we wanted this song to be a single since we didn't really feel like we'd played out its potential yet and in that case it's just some minor changes we made to make it more commercially suited."
RAMzine: So one half of Interlude is made up by studio tracks and the other half is made of live recordings, what do you look for in a live track?
"I think it's a combination of, first of all, simply the recording quality and how well everyone played and stuff. But second and I think this is really important, is the kind of ambience that you feel from listening to the tracks. Of course, in the studio you just have everyone playing but with live tracks you hear the audience response and I think that is quite cool. It's cool for us because it brings back a lot of good memories and I hope, for people who were there as well; it brings back good memories for them too. And then people who haven't seen us yet will think 'Oh this sounds like a party, I should go and see these guys'."
RAMzine: You've been touring with We Are The Others for a while now, how has playing the new material at shows been for you?
"It's been really good. We've been playing the material for quite some time now; we were playing a lot of songs even before the album was released. They turned out to be really cool live tracks. I also think songs like Delain tracks have changed a bit over our three albums because you play more and more and we kind of start adjusting our writing into playing live. We understand what kind of vibes and what kind of feelings work well and we want to have that cool feeling more and more. Unconsciously you start writing more and more with the live performances in mind."
RAMzine: You've just come back from playing in South America, what were some of the highlights of your time there?
"Playing in Suriname was really cool. I think we were the first female fronted metal band to do so it was quite unique. It was also our first time in Argentina and that was really cool; the fans were really warm and energetic. In Brazil, when we came back for the second time, it was just lovely to see all the people again and even some new people. It was really good, we had an awesome time."
RAMzine: You were also part of the 70,000 Tons of Metal cruise. From an artist's perspective, what are the big differences between a cruise show and a regular show?
"Just imagine the sun shining constantly, being served free food, metal music everywhere and lovely people all around you. It was very special and I certainly hope we can go again next year or the year after. A lot of people ask me if it's strange because we're on a boat for a week with fans and don't they get annoying or whatever. But the thing is its way much more relaxed because if you have one gig in a city or in a country everyone's like 'I've got to get a picture now or I'll have to wait till next year'. But because we're there all week everyone is way more relaxed, you'd just be sitting by the pool and someone will ask for a picture and it's just a lot easier going. The staff were lovely, I can't think why anyone wouldn't want to go there; it's perfect."
RAMzine: While you're in Europe later in the year you'll be playing a few festivals. If you get some time off to watch some other bands, who would you like to see?
"Well we're playing Fortarock this summer and Rammstein are headlining there so I'd love to see them. I've seen their shows before and they totally kick ass so I'd love that. I'd like to see Motörhead as well, I know they're playing. They are on the top of my list. There are loads of other festivals I haven't looked into the line-up for yet so I might be missing out on some fantastic names. These are the ones I've set out because it's not long till that festival is due."
RAMzine: You've also just announced a set of UK dates supporting Within Temptation for January next year, are you excited for a return to the UK?
"Yes, very very excited. We will actually return to the UK next week on May 11th for the Dames of Darkness festival, but still we're very excited to come and join Within Temptation of course. They play very large gigs so I'm very excited for us, we just hope to do a good show and hopefully gain some new fans. We played a couple of shows with them in 2007 and that was very good for us as a band."
RAMzine: In relation to the January dates; because they're so far away could these be in relation to the release of some new material, potentially?
"Potentially. It's quite early to say so but we're working very hard to possibly have that happen. It would be great of course; it would be perfect timing so we're trying."
RAMzine: It also says on your website that you'll be playing a special show in Haarlem in the Netherlands called Delain Presents My Masquerade to close off your We Are The Others tour. What can fans expect at this show?
"We have had special gigs for every album and it's something where we like to spend some extra energy and some extra money; have some guests over to make it a really special show. Unfortunately we can't do this for every show but once every while we like to do something very special and this is just one of those times. It's a special thing for the fans and for ourselves where we do the things we wish we could do every night. It's going to be great, we're going to have special guests, some special effects and we're going to play some songs we usually don't play. I don't want to get to specific because it's going to be a surprise."
RAMzine: You've also just signed with Napalm Records, what influenced your decision to pick them?

"Well, as we've been talking about of We Are The Others, the whole deal with Warner wasn't such a happy marriage anymore. When we were with Roadrunner everything was much better; the company chose us and we chose them. But as they got sold to Warner, we didn't choose the label and they didn't choose the band. There was a situation where there were a lot of compromises asked of everybody and we are way too stubborn artists to deal with, well, compromises basically. So, that's basically when we decided it wasn't working for any of us. A while later, Napalm came into the picture and we really felt like they were excited about us; not the thing we potentially could be but the thing that we actually are now. That was really good for us to have this feeling. Of course, you're selling a product but it's a very personal product; because music comes from the soul. It was just really cool and refreshing at the time to have a label that excited about us. When we broke with Warner there were quite a few labels that wanted to jump in so that was really good for our confidence because so many people wanted to work with us. It feels like a new chapter and it feels really cool. We're very happy with this collaboration."
RAMzine: We also heard you broke your arm whilst celebrating the signing in Austria, how did that happen?
"Well it was really silly. They were actually joking around at the time because they're all very good skiers because they're all from Austria. So was our keyboard player, Martijn, who is a very good skier. I have never, up until recently, been into sports and I've only just started snowboarding (and I thought I was pretty damn good at it) and at the end of afternoon it was just me, Martijn and my boyfriend who were still there. I just had a very weird fall and I could just hear my arm crack. The funny thing is I just said 'you go and do another round and I'll just have tea because it doesn't feel so well'. As I was just drinking tea, the adrenaline went away and I was like 'oh my god this hurts, I should go to hospital' and it turned out it was broken! So that's what happened; it was nothing spectacular. I just fell and tried to catch myself with my arms, which no snowboarder should EVER do."
RAMzine: You and other members of the band also have personal Facebook pages now where people can add you as a friend, what were your reasons for setting these up?
"Basically I never thought about it when I set up a Facebook profile. I thought I should try out this Facebook thing not knowing what it would become. If I had thought about it I would have taken an artist's profile right away because I think I'm close to the max. of my friends and I can't post personal stuff because I don't want everyone to see that. I think a lot of artists are experiencing this and I'm not looking forward to the big de-friending that a lot of people are now doing. But it is fun you know? I really like the whole social media thing; a few years ago I was really into Twitter and I was tweeting about 15 times a day but I do that a bit less now because of Facebook. It's a really direct way of having contact with the fans, sometimes I organise official Q&A sessions where people can ask stuff but even that's not necessary because people just send me questions or message me. We are the kind of band that will actually read them."
RAMzine: Finally is there anything you'd like to get out to our readers before we finish?
"Just that I'm really excited to come back to the UK and I hope people will check out Interlude when it's released. It would also be great to see people at a gig."
Delain's latest release, Interlude, is available now from Naplam Records. The band will also be on tour in January 2014 in support of Within Temptation. Tour dates are as follows:
January
24 – Academy – Birmingham
25 – Wembley Arena – London
27 – Apollo – Manchester
28 – Academy – Glasgow
29 – Academy – Newcastle
Tickets are available now.